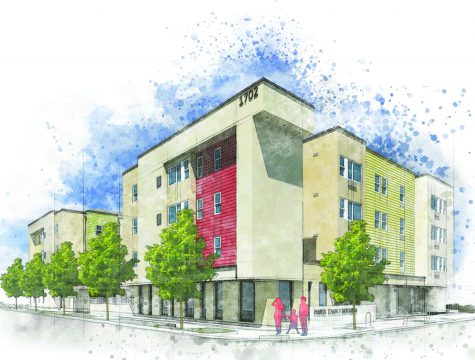 AURORA | The northeast corner of Paris Street and East 17th Avenue isn't much to look at these days.
But the plot of land at 1702 Paris St. — which has been vacant since the city purchased the old rundown 23-unit apartment building in 2010 and later knocked it down — has a lot going for it.
It sits just a block and a half west of the booming Anschutz Medical Campus and a block north of the newly revamped Paris Elementary School. A short drive away at Fitzsimons Parkway and East 18th Avenue is the new Fitzsimons Station light rail stop, and two blocks south is always-busy East Colfax Avenue.
When the folks at Brother's Redevelopment look at the site, they see all of that opportunity and then some.
Jeff Martinez, president of Brothers, said the site has the potential to link north Aurora families to the jobs at Anschutz, all while chipping away at the metro area's persistent lack of affordable housing.
This week, crews led by Brothers broke ground on a new 39-unit apartment community that developers and city officials say will help make a dent in the affordable housing crisis hammering Aurora and the metro area.
The $12.9-million project will give preferential consideration to income-eligible veter-ans with families.
When it opens next year, the complex will have 24 two-bedroom units and 15 three-bedroom units.
According to Brothers, the complex will offer affordable rental housing to households earning 30 percent to 50 percent or less of the Area Median Income, which currently ranged from $22,680 to $37,800 in gross annual in-come for a three-person household in Adams County in early 2018.
Martinez said offering housing to lower-income families is crucial because recent years have seen a dearth of affordable options.
Still, he said, while the 29 units on Paris will help that problem, the metro area still needs more affordable housing options.
"The need is large and it is daunting," he said.
Aurora City Councilwoman Crystal Murillo said the neighborhood has a major need for affordable housing so she is glad to see the project.
"This is a good step, but I would love to see more affordable housing come online," she said.
During last fall's city council race, affordable housing was the biggest concern Murillo said she heard from residents of Ward I.
"Time and time again it has been a top concern," she said.
In 2010 the city of Aurora used money from the State Neighborhood Stabilization Program to purchase the old 23-unit building at the site. Michael Bryant, a spokesman for the city, said that under federal regulations, if federal funds are used to demolish existing units, the agency is required to replace the number of units when redeveloped. The Paris project does that and more, replacing 23 units with 39.
Anita Burkhart, Community Development manager in the city's Neighborhood Services Department, said the project is part of the city's broader affordable housing efforts, which include another 361 planned units.
"Paris Family Apartments is the latest success story in the city's overall efforts to create affordable housing, a critical need for lower income families," she said.
To make Paris happen, the city donated $2 million in federal pass through funding as well as the land.
Martinez said that is an unprecedented investment by a local government.
"I don't think any jurisdiction has as much skin in the game as Aurora does in the Paris Street Apartments," he said.
Brothers has affordable housing projects around the metro area and provides other housing assistance for low-income, elderly and disabled residents around the state.
For Martinez, the Paris Street project is especially important. Martinez grew up in north Aurora and attended West Middle School before graduating from Aurora Central High School.
"There is just this great working-class community there, full of pride, that deserves opportunity," he said.
Brothers will staff the site with a person dedicated to linking residents with nearby job opportunities, Martinez said, with a particular focus on the Anschutz campus.
"We are hoping that this little community that we are providing is catalytic to bring awareness and attention for all the good things and families that are there," he said. "But also that it brings new business and other investment to north Aurora."