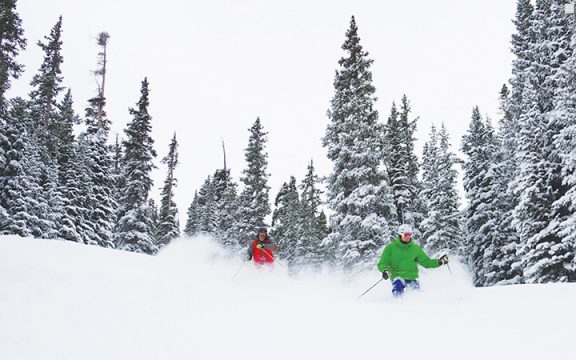 AURORA | Colorado skiers have a host of reasons to smile wide about the upcoming ski season at statewide resorts.
First off, there's been snow. After a dismal snowfall that made last season one of the most disappointing in recent memory, this year has already seen more than 3 feet of snow at many resorts, with more almost every day.
It's been enough snow to make for more runs already open — or about to — at early-Colorado slope leaders Loveland and Arapahoe Basin. And usually slow to open resorts like Winter Park and Eldora are already sending skiers blissfully down pre-Thanksgiving runs. The early snow and hope for so much more aren't the only reasons Colorado's growing ski community is champing at the bit to make some turns this year: new lifts, new terrain and the promise of a new season are a draw to get everyone up early and often.
Loveland
One of Colorado's two granddaddy ski areas, Loveland broke from its own ranks this year opening its first high-speed chairlift on its iconic and historic Lift One terrain. "Chet's Dream"
The lift is expected to keep the basin's already famously short lift lines even shorter, getting skiers to a jump off point to some of the most challenging runs in the state, and access to terrain that offers fun for every level of skier.
Long a favorite of generations of skiers, Loveland will continue its free cat rides to the ridge, giving intermediate and advanced skiers a taste of real Colorado alpine like no other resort can. Loveland continues its reputation of offering more thrills and fewer frills for one of the most reasonable day-ticket costs in the country.
See SkiLoveland.com
Monarch
With some of the biggest variety of slopes and snow in the state, Monarch capitalizes again on a fun and thrilling bowl adjacent to some of the best off-piste skiing in the state: the Mirkwood Basin.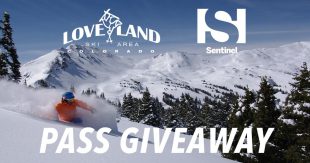 While Monarch offers cat rides into the area for back-country skiing that will wear you down before you can tire of it, the resort offers easy access to much of the area without the price and scheduling of a day on the cat.
More fun for the family is on tap this year with a new tubing park expected to open along with the resort.
The resort has long been a family-friendly place that offers fun and challenging terrain for every level of skier. It's still one of the state's most affordable places to take real Colorado turns, and being just a short ride from Salida spas and pubs is worthy of a hooky day or weekend for anyone. See Skimonarch.com.
Eldora
The Alpenglow high-speed six-person lift opened last year, and it wasn't a big enough change for this low-key Colorado favorite. Now, Eldora is skiing into the future with RFID pass perks, just like the fancy resorts.See www.eldora.com.
Arapahoe Basin
Arapahoe Basin has a whole lot of new, expert terrain this winter.The long-awaited Beaver Expansion will open in about a month, according to A-Basin Director of Marketing Leigh Hierholzer. The expansion opens about 470 acres of glades, chutes, and tree skiing. Not one run is rated below a black diamond. Plus, you have to hike 20-30 minutes after enjoying the lower section of the expansion.
While driving between A-Basin and Keystone, you may have seen tracks in these lower chutes and gullies, which were accessible through a gate. Hierholzer has skied the gnarly terrain, and said it is worth the hike.
Winter Park
Winter Park was not idle this summer. The resort invested $30 million – the most spent in one season, according to spokesperson Steve Hulbert. $21 million funded a new, 10-person gondola replacing the Zephyr Express; $4 million was spent on snowmaking equipment; and the rest is earmarked for attractions at the lower resort.                                                                                                      
Copper Mountain
Copper Mountain upgraded two of its main lifts this summer. The American Flyer can now carry a payload of six riders from the resort Center Village, and the American Eagle can carry eight up the mountain from the same zone. The new lifts should help disperse crowds from the base area – a worthy investment.
Steamboat
There are no new lifts or lodges at Steamboat this season, but the resort will debut a snowcat food truck serving street tacos, Mexican street corn, Mexican sodas and beer. The cat won't be on the move during day operations, said Steamboat spokesperson Maren Franciosi, so you won't have to worry about being mashed on the slopes by the giant taco joint.
Crested Butte
The scuttlebutt at crusty butt this year is that the umpteen-headed monster known as Vail Resorts officially purchased the resort in the Grand Mesa Uncompahgre and Gunnison National Forests in September, opening up the mountain to holders of the Epic pass for the 2018-19 season. Purchased for a cool $74 million, the acquisition by Vail also granted Epic pass holders access to Okemo in Vermont and Mountain Sunapee in New Hampshire, which were owned by the same parent that controlled CB.
Keystone & Breckenridge
Located just a few miles apart as the crow flies, two of the Summit County juggernauts both updated their snowmaking facilities this year — although hopefully they won't be needed quite as much as last year. And so far, Ullr has provided plenty of the white stuff the old fashioned way. Breckenridge has already reported tallying 71 inches of snow this season, with Keystone a bit behind with 37 inches. Both resorts opened Wednesday, Nov. 7.
Vail
The mountain synonymous with well-heeled Europeans sporting a mortgage's worth of fur is still steep, (hopefully) deep and (fingers crossed) gonna be filled with fluffy bowls this season. Set to open Nov. 16, the mountain will be kicking off the season with free concerts from Nathaniel Rateliff & The Night Sweats on Dec. 14, and Shakey Graves Dec. 15. Also new this year, but not quite finished just yet, the resort last month sold several acres of land in East Vail to develop seasonal and year-round workforce housing. The project is still a few years away from completion as Eagle Valley politicos and residents still have to sign off on the development.
Telluride
Much like their neighbors to the north at Crested Butte, the 2018-19 season marks the first time that Epic pass holders will have access to the jagged peaks of Telluride in southwest Colorado. Vail Resorts announced the partnership last winter, but the merger won't take effect until the resort opens Nov. 22. That leaves plenty of time for Mo'Na' to add to the mountain's current 42 inches of snow.
Silverton
Not for 'gapers, 'ginners or sissies, the state's eminent place for big girls and boys is getting bigger itself this year.
On Nov. 24, get ready for new heli-skiing terrain, "Zone 8." 
For nearly 20 years,  these mashed potato-drenched peak sin the San Juans have magnetized powder hounds and whirlybirds. Never groomed and featuring some of the steepest terrain in North America, Silverton Mountain offers thrill seekers a chance to test their skills through guided tours and helicopter drops. New this year, Silverton is expanding its unique unguided pass season, which will now run on weekends from March 21, 2019 through April 14. For $250, pass holders get unlimited unguided skiing during the aforementioned timeframe, $2 beers all season, and three free days at more than a dozen partner resorts around the country, including Powderhorn, Monarch and Sunlight here in Colorado.
Wolf Creek Ski Area
Old timers will find it hard to believe that Wolf Creek will open its 10th chairlift this year — a high speed quad. Once a place where t-bars towed a handful of rural skiers each day, Wolf Creek has become a cozy and competitive area offering what is arguably the best liftable snow in the state, or at least the most of it. The new lift offers another 55 acres of pristine fun for avid Colorado skiers.
Echo Mountain
Echo is open to the public again, and just a short ride from Denver in Evergreen. Previously closed to all but ski teams for practice, this small but lively plot among the pines is expanding with a new tubing hill and conveyor lift this year. They're making snow for an early open and RFID gates for fast lift loading. Look for more beginner area to learn the ropes of Colorado skiing.