WASHINGTON | The attorneys general of the District of Columbia and Maryland plan to file subpoenas seeking records from the Trump Organization, the Treasury Department and various other entities as part of a lawsuit accusing Donald Trump of profiting off the presidency.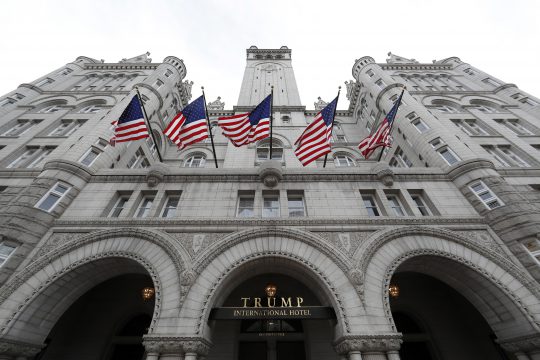 The flurry of subpoenas follow U.S. District Court Judge Peter J. Messitte approving a brisk schedule for discovery in the case alleging that foreign and domestic government spending at Trump's Washington, D.C., hotel amounts to gifts to the president which is a violation of the Constitution's emoluments clause.
The subpoenas target 37 entities, including 13 Trump-linked bodies and the federal agency that oversees the lease for Trump's Washington hotel. Subpoenas were also being delivered to the Department of Defense, General Services Administration, Department of Commerce, Department of Agriculture and the Treasury Department, which have spent taxpayer dollars at the hotel or have information on Trump's finances relevant to the case.
Other Trump entities that officials are planning to subpoena include those related to his Washington hotel and its management. Eighteen private entities including restaurants, venues and hotels that compete with the Trump hotel are also being subpoenaed in an effort to "illuminate the unfair nature of that competition," said Maryland Attorney General Brian E. Frosh.
"We are confident that at the end of discovery we will be able to prove our case — that President Trump is violating the Constitution's emoluments clauses, America's first anti-corruption laws," Frosh said in a statement.
While media outlets have reported how groups representing Saudi Arabia, Kuwait, Bahrain and the Philippines have hosted events at Trump's D.C. hotel since he took office, the subpoenas offer the best chance to get a complete picture of which foreign and domestic governments are spending at the hotel, how much they are spending and where that money is going. They're also trying to determine how Trump's hotel is affecting the hospitality industry in the District of Columbia and Maryland.
The subpoenas seek to prove that hotel revenues are going to the president through his affiliated entities, including The Donald J. Trump Revocable Trust. Most of the records are being requested back to Jan. 1, 2015.
The Justice Department declined to comment. Neither the Trump Organization, Trump's personal attorney on the case, William S. Consovoy, nor the White House responded to a request for comment Tuesday.