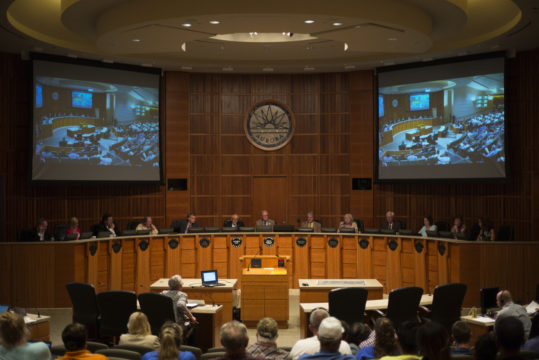 AURORA | The list of those wanting to be the next face of Aurora has grown suddenly long.
Who leads the city of Aurora next is up to the city council. They're tasked with appointing the person who will fill out Mayor Steve Hogan's term, which is set to expire in 2019. The list has grown to 13 candidates, three with experience on the city of Aurora's city council and one of Hogan's sons.
As of Wednesday morning, 14 hopefuls had offered applications for the job. One has already said he's withdrawing his application. The list is official but not validated by the city clerk's office as of 10 a.m. Wednesday.
Hogan died earlier this month, days after announcing on Facebook that he would enter hospice care. He was diagnosed with cancer earlier this year. 
The application window closed late Tuesday afternoon. Council members now have 45 days to appoint a person to a vacant mayoral position, per the city charter.
Three of the applicants are no stranger to the dais. Councilman Bob LeGare, an at-large member with 16 years of experience on the council, put in his application early on. He's served two tours of duty on the city council. Former Ward II councilwoman Renie Peterson submitted an application, too. She's said she's also pulled a packet to explore the possibility of running in 2019.
Peterson said if she got the appointment she wouldn't run for the seat. 
"I believe mostly what's important is the transition for the city council members and city staff and the citizenry, Peterson said. "It's a good idea that the person has the experience. As far as my vision, (it) would be to always work as a team and listen to my colleagues and move forward in the best way for all of our citizenry."
Peterson left her seat last year due to term limits. She endorsed Nicole Johnston, who won, for the seat.
LeGare also said he wouldn't run for mayor in 2019 — his council seat is also up then. He said the best person for the job is somebody who understands the ins and outs of city government and has a background of council. Currently, the charter dictates the city must seek application from the community. LeGare went as far as to say he wouldn't mind a charter change that allows council to ask for those applications, but doesn't require it so that a current member could be appointed.
If LeGare was appointed, that would trigger another 45 days to appoint a new council person to that seat.
Debi Hunter Holen lost her seat as an at-large member in 2015 after one term. She ran for as a Ward III candidate last year, but with a handful of other self-described Democrats in the race splitting the vote, Marsha Berzins won the seat. 
Other candidates for the appointment are: Eric Mudler, Steven Lawrence King, Joseph Crossley, Collette Bowdish, Timothy Hogan, Toni Ricks, Debi Hollemann, Jonathan Scott, Alex Vidmar and Joseph Guerrero.
Mulder is a Libertarian candidate for the Arapahoe County Sheriff race, according to Colorado Secretary of State documents. He also serves as a member of Aurora's veterans affairs committee. Crossley is a security adviser and vice president of Armor Security Services Inc., a Denver-based company. Bowdish works for the U.S. Department of Veteran Affairs and lives in Aurora's Mission Viejo neighborhood.
King, 34, is an Aurora native and graduate of Gateway High School. A registered independent, King is making his first run for elected office. He works for the Colorado Department of Human Services and attended Community College of Aurora, Metropolitan State University of Denver and University of Colorado.
Timothy Hogan, the mayor's son, is the COO for Elite Sterling Security, which sells bullet-resistant clothing. 
Holleman, 61, has lived in Aurora for 35 years. She currently works for a hospitality company as a document reader and volunteers for a nonprofit called Rebuilding Together Colorado. She previously worked with the city's Human Relations Committee and served on the Governor's Youth Council.
Guerrero owns Tech Mountain, a managed IT service business that works with businesses providing hardware, software and could-based products. He hasn't run for office before.
Vidmar, 22, is a Aurora native who just graduated from Brown University. He said he's returning to the city this upcoming weekend.
Scott, 35, is an assistant pastor at the Woodside Baptist Church in Denver. He's lived in Aurora for 28 years, helps run a food bank and coaches community soccer.
David Gallagher, 47, originally submitted his application, but then withdrew it, according to a city spokeswoman. He lived in Aurora from 2005 to 2010 while serving in the Navy and moved back to Aurora in 2015. A registered Republican, this is his first run for elected office. He currently serves on the Arapahoe County Citizens Budget Advisory Committee and works at Northrop Grumman.