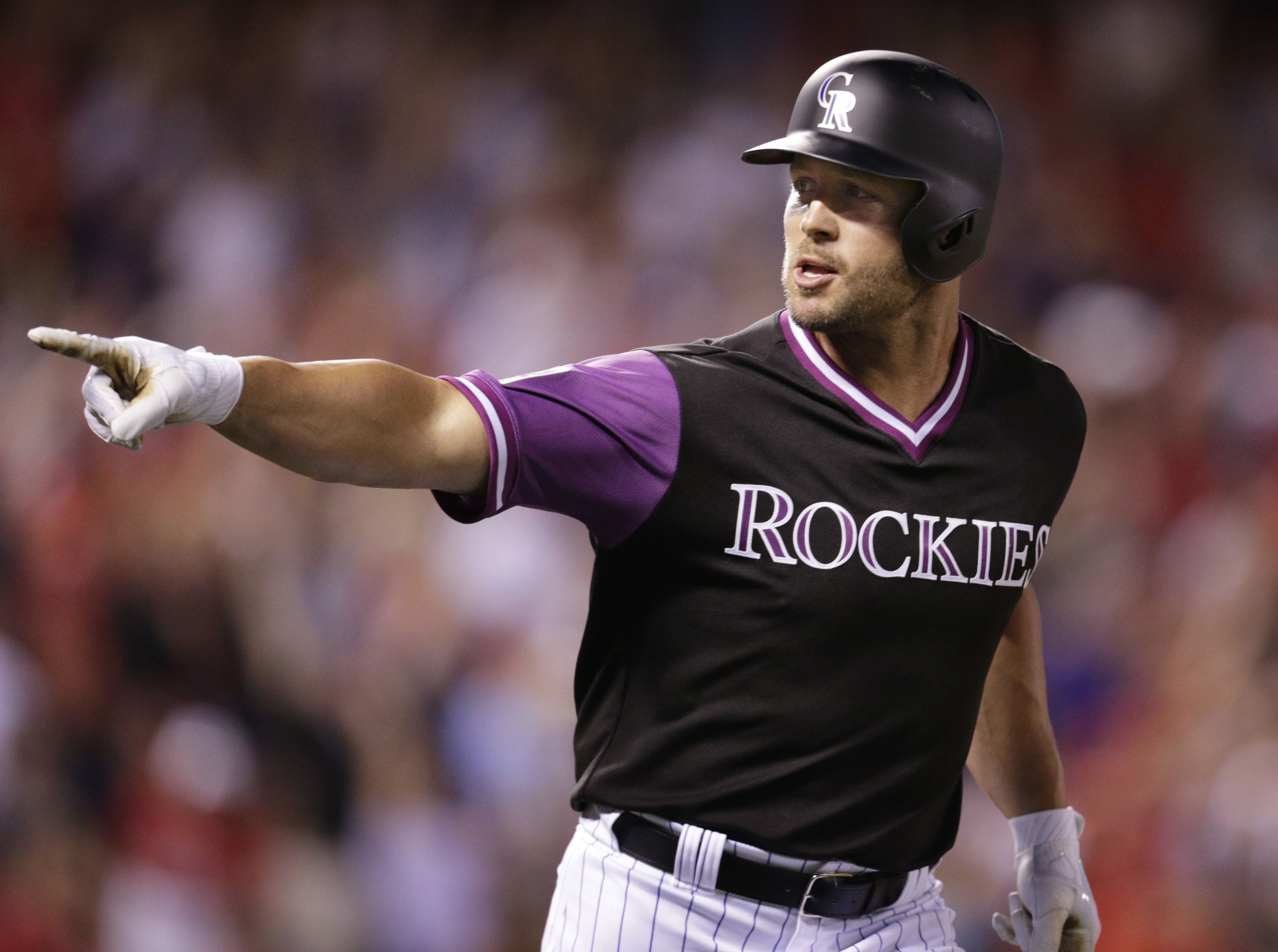 DENVER | Late in the game, the Colorado Rockies quickly turned a pitchers' duel into a one-sided slugfest.
Pinch-hitter Matt Holliday launched his first home run of the season in the seventh inning, Carlos Gonzalez sparked an eight-run eighth with a tiebreaking double and the Rockies beat the St. Louis Cardinals 9-1 in a matchup of NL playoff contenders Saturday.
"It took us a while to get going," Rockies manager Bud Black said. "Then it snowballed."
The loss snapped St. Louis' nine-game road winning streak. The surging Cardinals had won four straight and eight of 10 overall.
Holliday, out of baseball before signing a minor league contract last month, was called up this week by the Rockies — his original team. His homer broke up a scoreless game and marked his first with Colorado since 2008.
A seven-time All-Star who also played for the Cardinals before joining the New York Yankees last season, Holliday swung at a pitch in the dirt before connecting on John Gant's next offering, driving it deep into the left-field bleachers.
"I was a little amped up. I needed to take a breath, kind of gather myself and kind of get back into the situation," Holliday said. "But that was fun. I enjoyed contributing. It was a cool moment."
St. Louis evened the score in the eighth. Harrison Bader doubled off Adam Ottavino to start the inning and went to third on Greg Garcia's infield hit. One out later, Bader raced home on a wild pitch.
Ottavino (6-2) retired Yadier Molina on a popup and struck out Jose Martinez, stranding two runners.
After making little headway against Gant, who allowed one run and three hits in seven innings, the Rockies broke loose against the St. Louis bullpen in the eighth. They sent 14 batters to the plate against four relievers, collecting 10 hits — five of them doubles. The Cardinals made one error during the inning.
Dakota Hudson (4-1) gave up a leadoff single to DJ LeMahieu and successive RBI doubles to Gonzalez and Nolan Arenado before getting Trevor Story on a groundout. The Rockies then got six straight hits against two relievers, including LeMahieu's second of the inning, an RBI single. Arenado also had two hits in the inning.
"The way the game was going early, it was all about pitching," Gonzalez said. "After Holliday hit that big home run in the seventh, we settled down. They ended up tying the game but then DJ led off with a single. I was just trying to follow up with another single, but I was able to drive the ball in the gap and DJ did a good job going from first to home. After that, the rest was hit after hit."
The game began with Gant and German Marquez alternating zeros. Marquez went seven scoreless innings, allowing three hits — all singles. He struck out nine and walked one.
Gant did not allow a hit until Gonzalez's two-out single in the fourth.
"John Gant was terrific," Cardinals manager Mike Shildt said. "Holliday got him on a breaking ball. But he was fantastic. Marquez was equally as good. Just a good old-fashioned pitchers' duel in a hitters' ballpark. We went to the bullpen and they've been great. One of those days. Those days are going to happen. We're not going to think too much about it. Just move forward."
TRAINER'S ROOM
Cardinals: 2B Kolten Wong strained his left hamstring legging out a grounder in the second. He was replaced in the lineup by Yairo Munoz. Wong is day to day.
UP NEXT
Cardinals: LHP Austin Gomber (3-0, 2.98 ERA) is slated to start Sunday's series finale. He'll try to become the first Cardinals left-hander to win at Coors Field since Kent Mercker beat Darryl Kyle and the Rockies 10-2 on July 24, 1999.
Rockies: LHP Tyler Anderson (6-6, 4.45) is 0-3 with an 8.44 ERA over his last five starts.