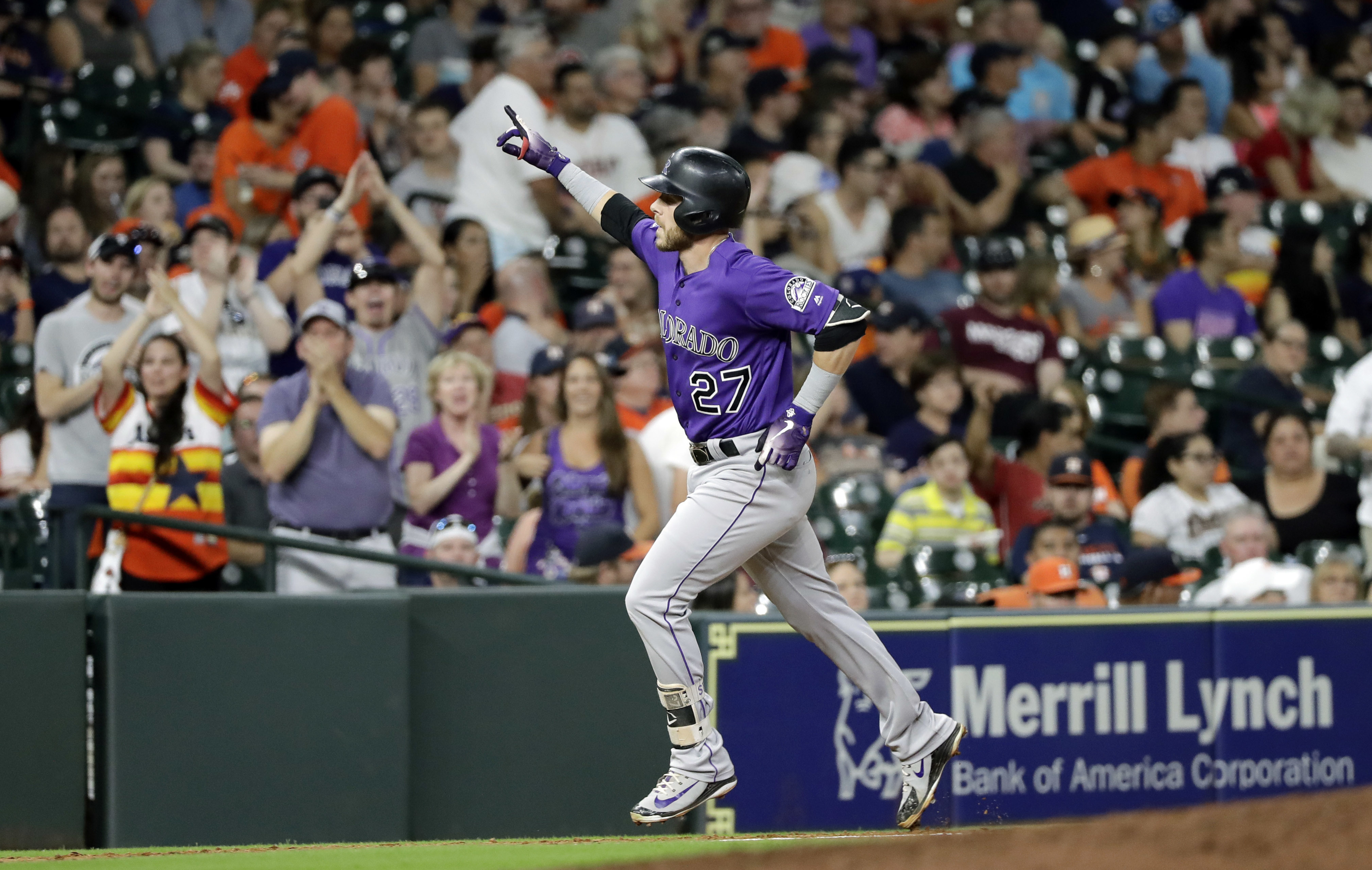 HOUSTON | Nolan Arenado hated his first career appearance at designated hitter Tuesday night.
However, the Colorado slugger couldn't be mad at his results at the plate.
Arenado and Trevor Story each went deep, German Marquez pitched well in a clash with Justin Verlander, and the Rockies beat the slumping Houston Astros 5-1.
Colorado trailed by 1 and Verlander (11-8) had retired 13 of 14 when DJ LeMahieu singled with two outs in the sixth inning. Arenado then smacked a 96 mph fastball into the third row in right field for his 30th homer to put Colorado up 2-1.
Arenado, who has spent his entire six-year career playing in the National League with Colorado, had made each his 825 career appearances at third base entering Tuesday's game.
"It was awful," he said of not playing defense. "I didn't like it. I hope I never have to DH."
His work at the plate made him the fourth player in franchise history to hit at least 30 homers in four straight years. Arenado didn't think it was gone when he hit it and had to wait for the crowd's reaction to know for sure.
"It got caught in the lights and then I heard the crowd go: 'oh' and that's when I knew it was still going," he said. "I just tried to stay on top of the ball."
Houston has matched a season high with five straight losses and extended its home skid to nine games, its longest of the season.
Oakland beat Seattle later Tuesday to move within a game of Houston in the AL West. The Astros have been in first place since June 14 and led the division by six games in late July.
"You feel like nothing's going your way and you're a little snake-bitten," manager A.J. Hinch said. "We're going to have to do more, obviously, and it's a challenge for me and our coaching staff to get more out of these guys to have a little bit more fun, a little bit more life. This is a very, very tough game and we're getting beat up, mentally and physically."
The Rockies have won four in a row after losing the previous three and improved to 12-5 against the AL this season to set a franchise record for interleague victories.
Collin McHugh took over from Verlander for the seventh and hit Ryan McMahon with a pitch. Tony Wolters lined a double to right field with one out to score McMahon and push the lead to 3-1.
Story, who had two hits, made it 4-1 when he connected off Brad Peacock on his 25th home run with two outs in the eighth inning.
Ian Desmond tripled and scored on a single by Charlie Blackmon to extend the lead in the ninth.
Marquez (10-9) allowed just three hits and a run while fanning seven in seven innings.
Verlander was denied his 200th win again as he dropped his second straight despite striking out 11 in six innings, allowing six hits and two runs.
After being swept in a four-game series against the Mariners this weekend, Houston's woes continued against the Rockies after a day off Monday. The top three batters in the order went 0 for 11 on a night the Astros managed just three hits as they look for a way to jumpstart their once-powerful offense with reigning AL MVP Jose Altuve out indefinitely with a sore knee.
Marquez walked two Astros and plunked Yuli Gurriel in the first four innings, but Houston didn't get a hit until Gurriel tripled on a ball to right-center field to start the fifth. Josh Reddick followed with a liner to right to put the Astros up 1-0.
The Astros had a chance to add on in the eighth when Marwin Gonzalez doubled with no outs. Reddick reached on catcher's interference with one out, but Marquez retired the next two batters to end the threat and his night.
TRAINER'S ROOM
Astros: OF George Springer (sprained left thumb) went through a full workout Tuesday and should be able to come of the disabled list when he's eligible on Friday. … Altuve, who has been out since July 25, has been running on the treadmill and is expected to begin hitting soon. Manager A.J. Hinch said there still isn't a timetable for his return. … RHP Lance McCullers (right elbow discomfort) began playing catch Tuesday in the first step toward his return. … C Brian McCann, who has been out since June 30 with a knee injury which required surgery, will begin an extended rehabilitation assignment with Triple-A Fresno on Thursday.
MILESTONE VICTORY
The win was the 800th in manager Bud Black's career.
UP NEXT
Houston's Gerrit Cole (10-5, 2.75 ERA) opposes Colorado left-hander Tyler Anderson (6-4, 3.94) when this series wraps Wednesday night. Cole looks to bounce back after losing his third straight start by giving up six hits and four runs in 7 1/3 innings of a 5-2 loss to Seattle on Friday.