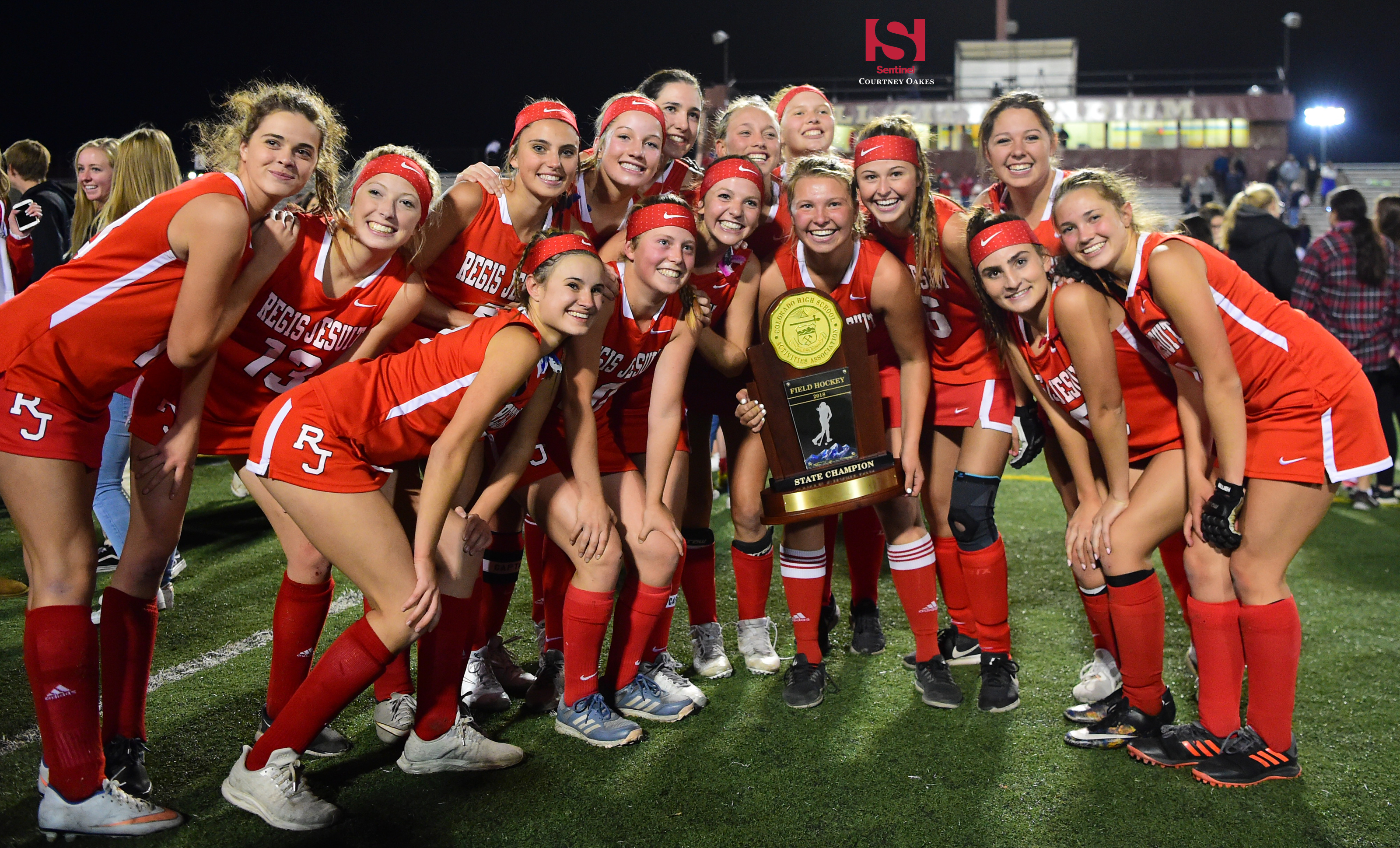 DENVER | Lauren Pendergast went right when she usually goes left and it made state champions out of the Regis Jesuit field hockey team Thursday night.
In the biggest moment of the season — overtime of a state championship game showdown with undefeated Cherry Creek — the junior midfielder went away from her usual spot when taking a penalty stroke and converted to put her team in front.
Pendergast scored both goals and coach Spencer Wagner's Raiders, who were poised to win in regulation before the Bruins scored in the final second, held on to win the program's first state championship. It came in front of a record crowd of more than 1,000 spectators at All-City Stadium, many of which created a red sea of celebration around the victors when the game was over.
"Every time I practice going to the same spot, and it's on the left side," Pendergast said of her stroke philosophy. "But I went right this time because I feel like the goalies anticipate us going left, so I decided, 'You know what? I'm going to go right. And it went in.
"It's the best sound there is in this sport (the ball hitting the back of the goal)."
Regis Jesuit became the second Aurora program to win a state title since field hockey became a sanctioned sport in 1997 and first since Smoky Hill won the 1999 crown.
Eight different programs now have won at least one state championship and the Raiders took down the biggest all-time winner in Kent Denver — which 10 state titles — in the semifinals two days earlier.
Wagner's team finished the season 15-2-1 with its only losses coming to Cherry Creek (3-1) and Colorado Academy (3-0) in the regular season. Meanwhile, the Bruins — who had been seeking their first state title since 2007 and third overall — lost for the only time after coming in with a 16-0-1 record.
"They earned it and they did everything I asked them to do and more," Wagner said, just before he got a bath of ice water from the team.
"Every game we gave them a plan and we said do this and you'll win and every game they came out and they did it," he added. "So my thanks to them for doing it for us, doing it for this community and for every player that's come before in this program."
Pendergast's goal on a short corner play, which came off a feed from senior Elizabeth Dewey, with 21:43 remaining in the second half looked like it might stand up, but Cherry Creek's desperate pressure finally yielded the tying goal.
Ella Pratt's shot off a short corner pass skipped off the turf and over the foot of Regis Jesuit goalie Shay Zilvitis into the goal just as the scoreboard clock hit all zeroes.
The Raiders' defense weathered an early Cherry Creek flourish in overtime before the ball was pushed up the sideline and towards the goal, where an infraction in front resulted in the penalty stroke awarded.
Pendergast, who alternates taking strokes for Regis Jesuit with junior Zoey Dale, stepped up and scooped her shot right and past Cherry Creek's goalie — who kicked the ball towards midfield after it went in — for the go-ahead score.
"It's happened to me before in the state playoffs 10 years ago, so I was used to it; I was waiting for and I thought, I know what to do next, play overtime and win it in overtime," Wagner said of the buzzer-beating Bruins' goal.
"So we did. I gave them their next plan and they did it. They took the ball up the sideline, got it right where it needed to go, took a great shot that would have been a goal, but was a stroke instead. I told them in practice this week, if it comes down to a stroke, here's what you do and they did it."
The celebration was extra jubilant for Regis Jesuit's handful of seniors — captains Dewey and Sarah Tartell, Ella Brooks, Hannah Bannec and Abby Loveland — who finally reached the pinnacle of the sport after losing to Palmer Ridge in each of the past two postseasons (in the quarterfinals in 2016 and semifinals in 2017) by a combined score of 6-1.
"My first year on varsity we went to quarterfinals and got beat pretty badly and it seems like our team has kept growing and developing from there," Tartell said.
Pendergast finished as the consensus most valuable player of the tournament as she scored four of the Raiders' five goals in three games and assisted on the other, which was scored by Dale in the first round game against St. Mary's Academy.
Zilvitis and the defense allowed only the last-second goal to Cherry Creek in 190 minutes of postseason play.
Courtney Oakes is Sentinel Sports Editor. Reach him at 303-750-7555 or [email protected] Twitter: @aurorasports. FB: Sentinel Prep Sports
REGIS JESUIT 2, CHERRY CREEK 1 (OT)
Score by halves:
Regis Jesuit    0  1  1 — 2
Cherry Creek  0  1  0 — 1
SCORING
Second half
Regis Jesuit — Lauren Pendergast (Elizabeth Dewey), 21:43
Cherry Creek — Ella Pratt (Amelia McCarthy), 0:00
Overtime
Regis Jesuit — Pendergast (penalty stroke), 2:10