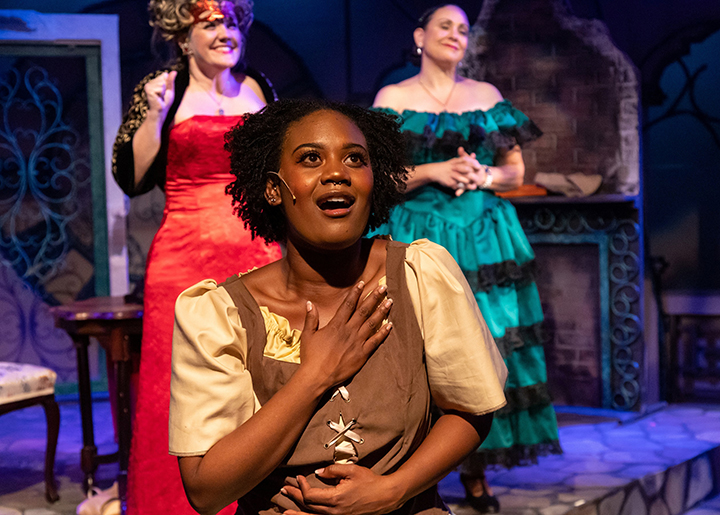 AURORA | COVID-19 case rates may yet again be rising across the metroplex, but so are curtains on shows both venerable and original this holiday season.
In-person theater performances are still on the docket for theaters across the region this holiday season, including that classic work from the 19th century's most famous Chuck D, as well as lesser-known, off-off Broadway samples intended to expand artistic horizons.
Here's a quick hit of what to expect on local stages through the beginning of 2022.
The Aurora Fox
Vaccination and mask policy: Masks are required. Vaccination not required. Ticket information can be found at: aurorafoxartscenter.org
'A Very Merry Unauthorized Children's Scientology Pageant' through Dec. 19
7:30 p.m. Fridays and Saturdays, 2 p.m. Sundays Nov. 26 through Dec. 19 at The Aurora Fox, 9900 E. Colfax Ave. Adult tickets start at $28. Visit aurorafoxartscenter.org for additional information.
Eat your heart out, Tom Cruise. And Elisabeth Moss. And Juliette Lewis. And Kirstie Alley. And … well, the list goes on. One of the holiday shows set to grace the Aurora Fox stage this season focuses on the very special sect created by the very special L. Ron Hubbard. Kyle Jarrow's one-act, one-hour musical is a sort of satirical, sort of straight-as-it-comes take on Mr. Hubbard's personal odyssey from science fiction writer to religious zealot. From Dianetics to Xenu, it covers the bases in a way that has been enjoyed by audiences across the country. And now, it's Aurora's turn. Here's to moving up the grades — fingers crossed for a path to "clear" soon — this holiday season. Note: the show features kids, but is not suitable for kids. Go figure.
The Vintage Theatre
Vaccination and mask policy: Masks are required. Proof of vaccination or a negative COVID-19 test required to attend. Ticket information is available at vintage vintagetheatre.org.
'The Twelve Dates of Christmas' in the Bond-Trimble Theatre Dec. 3 through Dec. 26
Tales of soured love during the holidays are, oddly, as synonymous with the season as mistletoe, a certain Christmas film featuring Chevy Chase and conifers in the living room. Hallmark has made an entire empire on the genre, for goodness sake. The Vintage is jumping on the tinsel-coated train next month with the one-woman show "The Twelve Dates of Christmas." Featuring Emily Ellet, the production centers on a woman who ventures to find love once again after watching her long term relationship evaporate after the discovery of infidelity. It's melancholic, it's zany and it may just be a bit sanguine, too.
'Cinderella' in the Nickelsen Auditorium through Jan. 9
They just don't write gibberish like they used to. Seriously, "Salagadoola mechicka boola bibbidi-bobbidi-boo" is an all-time great series of words to spew out of a mouthhole at any given time. Combined with "supercalifragilisticexpialidocious," Disney was on a real tear back in the day. Luckily, the very namesake tale of that former incantation is hitting the stage at Aurora's Vintage Theatre this season with a slightly retooled book compliments of Douglas Carter Beane. Director Christopher Page-Sanders is breathing life into Rodgers and Hammerstein's beloved telling of "Cinderella," complete with travelling pumpkins, transparent footwear and, hopefully, some equally tasteful epaulets as those found on the shoulders of the leading gentleman in the cartoon telling. (Alright, we just wanted an excuse to use the word "epaulets," but … worth it.)
'Who's Holiday' in the Bond-Trimble Theatre through Dec. 31
Whatever happens to those b-storyline characters in our most beloved children's tales? Like, what happened to Slugworth after he approached Charlie Bucket for Wonka's secret sauce? Or Dopey the dwarf in "Snow White?" Or Thing One and Thing Two from "Cat in the Hat?" The latest work at the Vintage asks that question of one of the side characters in Seuss' "The Grinch Who Stole Christmas." The show by Matthew Lombardo visits a very adult Cindy Lou Who and recaps what her life has looked like since that fateful Christmas with that green and fuzzy Grinch. Notably, this show is very, very not suitable for children.
Denver Center for the Performing Arts
Vaccination and mask policy: Masks are required. All patrons over the age of 12 must provide proof of vaccination prior to attending — a recent, negative test cannot be substituted for lack of vaccination. Children 5 to 11 must show proof of vaccination or a negative COVID-19 test, and children under 4 must show a negative test. Ticket information can be found at: denvercenter.org/tickets-events.
'A Christmas Carol' at the Wolf Theatre at the DCPA complex through Dec. 26
Well, we're back at that time of year when a diminutive boy named Tim graces stages from coast to coast beside a chain-covered Marley and a frowning Scrooge. That's right, folks, it's "A Christmas Carol" season: That chunk of late fall and early winter when community and very, very professional theaters alike are all but obligated to thrust Mr. Dickens' work in front of their scrim. Sure, sure, we all know the tale quite well by now: ghosts spook curmudgeon into being slightly better human being. But it's the act and tradition of actually going to the theater each holiday season that makes "Carol" what it is.
'The Lion King' at the Buell Theatre at the DCPA complex Dec. 2 through Jan. 2
After getting waylaid by the pandemic, Timone, Pumba and the rest of the crew attached to this blockbuster musical will be storming into Denver's Buell Theatre this December. If dyed-in-the-wool Christmas tales aren't exactly your thing, take a respite from the season of tinsel and candy canes with the likes of Simba and Scar. And remember: The show is merely warming up the stage for the big event, "Hamilton," this February.
'The Other Josh Cohen' at the Garner Galleria Theatre at the DCPS complex Dec. 11 through May 1
Psst. Here's a little secret: The cabaret in the DCPA's Garner Galleria Theatre is often tighter, funnier and far more fun than the stuff that inhabits the much, much bigger stages just across the way. But you didn't hear that from us. If you need another break from the holiday schlock this season, be sure to catch the DCPA's off-beat musical sometime in the next few months. The award-winning, woebegone tale centers on a guy who just can't catch a break, until he does — though, of course, it doesn't come without a bevy of strings attached.
PACE CENTER
Vaccination and mask policy: Masks not required. Vaccination policy not outlined. Ticket information can be found at parkerarts.org.
A Classic Parker Holiday at the PACE Center in Parker Dec. 3 through Dec. 5
Everyone knows that the week after Thanksgiving is the official, commercial start of the holiday season, and the folks at the PACE Center in Parker are kicking it off in style. The Parker Chorale and the Parker Symphony will be performing a slew of holiday classics at the facility on Pikes Peak Avenue this weekend, with a few surprises in store, too.
'The Nutcracker' of Parker at the PACE Center Dec. 9 through Dec. 18
Well, it wouldn't be Christmas time without at least one mention of a giant wooden being designed to mince nuts. The two-act ballet is storming onto the PACE Center stage for a few weekends this December, giving residents of the metroplex a chance to revisit Tchaikovsky's beloved masterpiece, originally penned all the way back in 1892.
'Legally Blonde The Musical' at the Schoolhouse Theater Dec. 18 and Dec. 19
Yeah, yeah, sugarplum fairies are great and all, but a chance to hang with the zeitgeist's favorite, flaxen-haired 1L should always be taken. Parker Arts is hosting a youth theater performance — using actors ages 11 to 15 — of the tale of Elle Woods, from the 2001 film that inspired a generation of women to wear pink and take names. Don't miss this one-weekend-only event.
More
'Camp Christmas' at the Heritage Lakewood Belmar Park through Jan. 2
It's the season for frequenting local theaters, sipping hot cocoa and torching your eyeballs with incandescent castles of tiny lights. Why not fold all three into one convenient outing in Lakewood? "Camp Christmas" is all of the over-the-top Christmas schmaltz you need, and somehow more. With cocktails, Santa visitations and a holiday carousel, the decked-out haunt on South Yarrow Street has everything you need to shake off your Grinch and embrace the holidays.
Factory Five Five
Masks required for ages 3+. Guests ages 12+ must provide proof of vaccination or negative COVID test taken within 72 hours of the event. Audience will be socially distanced. Visit factoryfivefive.com for ticket information.
'Winter Tales' children's theater at Factory Five Five, 10255 E. 25th Ave. in Aurora Dec. 3 through Dec. 19. Aurora's theater scene has a delightful habit of finding tasteful equilibrium just when it's needed most. It has a habit of giving us a tad of sugar and a tad of spice, if you will. While the Aurora Fox is slated to host a production of "Who's Holiday" an adult, fictional telling of Cindy Lou Who's life story following her famed Dr. Seuss debut, north Aurora's Factory Five Five Theater is hosting a series of children's shows for a cool $8 a ticket. Directed by Christopher Page-Sanders, the series offers various tellings of classic morning kids stories, including "The Chanukkah Guest," "Li'l Rabbit's Kwanzaa," "The Legend of the Poinsettia" and "The Shortest Day." So head to the Vintage by night for a slightly more mature offering with some NSFW language and content, and Factory Five Five for a more family-friendly affair during the daylight hours.