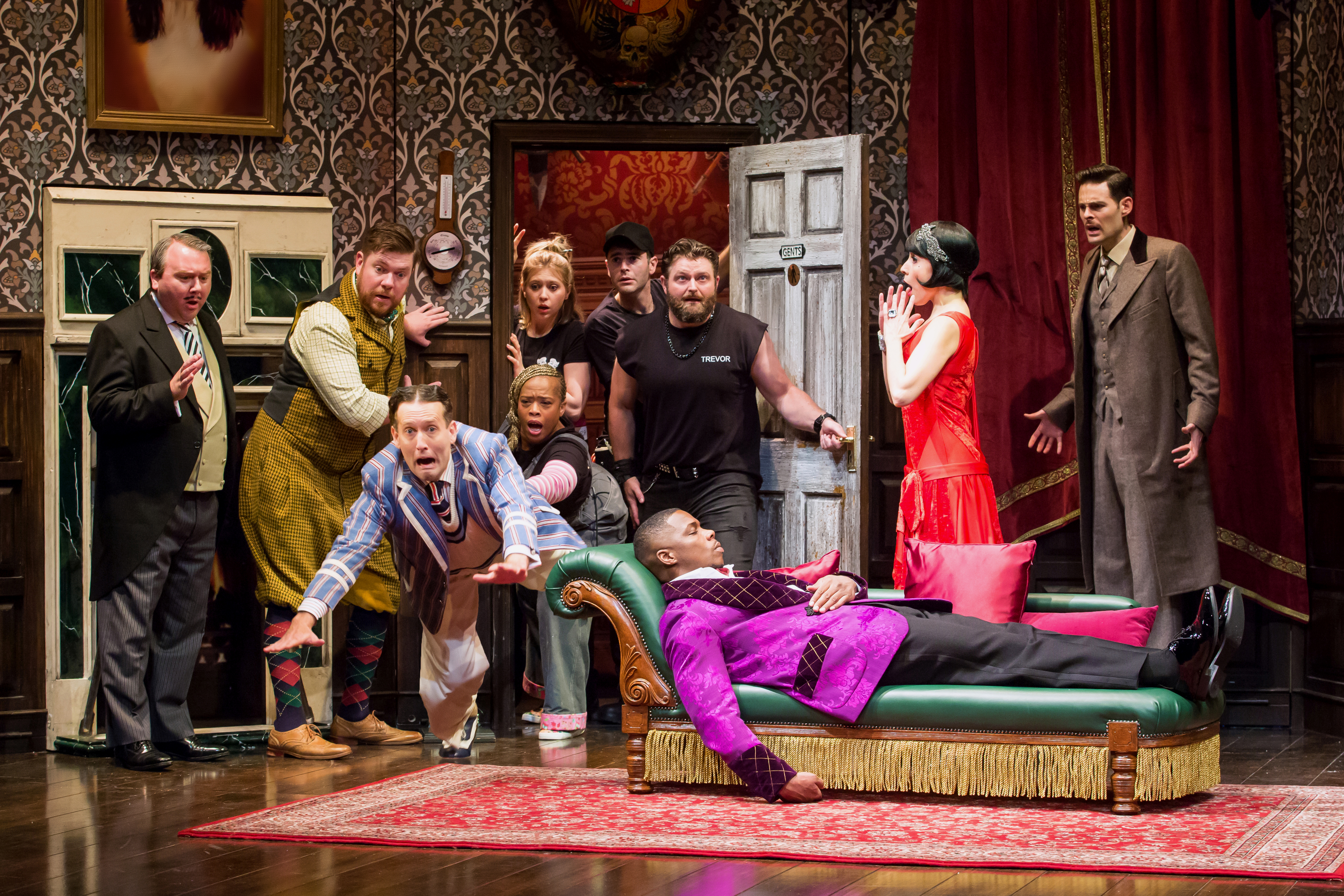 If this show is wrong, this reviewer doesn't wanna be right. 
From the opening miscue to the final pratfall, the touring production of "The Play That Goes Wrong" at Denver's Buell Theatre elicited one of the most impressive cross-sections of breathy chortles, ear-piercing cackles and rib-crushing snickers Denver theater buffs may ever have been subjected to. 
I'm still blotting the spittle that was joyously sprayed onto my lapel. 
Directed by Matt DiCarlo, the touring production of "The Play" is a masterclass in physical comedy and pitch-perfect satire. It blends Lena Dunham's millennial malaise and constant quest for approval with the sui generis farce of John Cleese's motley band of fools to an exquisite degree.
The show pokes, prods and elevates every faux pas that keeps drama nerds awake the night before a premiere. For those who memorized the entire "Wicked" soundtrack before learning the Pledge of Allegiance, it's a basketful of divine easter eggs capable of giving any performing arts major the proverbial vapors. For those less thespian attendees, it's two hours of enough trips, slips and bonks to make a certain trio of stooges blush.
The action centers on a play within a play: The Cornley University Drama Society is debuting its production of a Christie-esque thriller deemed "The Murder at Haversham Manor." The players weave over and through the fourth wall as they muscle through a seemingly endless stream of set failures, missed cues and injured peers. 
Whatever the opposite of the Midas Touch is, this crew has it.
It cannot be understated just how brilliantly the touring cast of this Broadway darling dances through the show's rollicking patter and physical shticks. Penned by Henry Lewis, Jonathan Sayer and Henry Shields, "The Play" follows a spectacular rhythm of constant set-ups and punchlines that hardly gave the Buell's few thousand attendees on Tuesday night a chance to inflate their lungs between spit-takes.
There are no standouts among the cast members; the entire crew rises to the Marx-inspired levels required to make this thing sing.
But there are favorites: Angela Grovey as an impromptu Florence Colleymoore shines, and Ned Noyes' wildly over-the-top pantomiming as Max (Cecil Haversham) resulted in a bruised hand from one too many knee slaps. 
Particular praise belongs to Scott Cote as Perkins, a marble-mouthed butler of sorts, who expertly lands a series of much-appreciated mispronunciations. A la Charlie Kelly and Tobias Funke, Cote mutilates any word worth more than $3. To name a few: Facade becomes "fakade," morose morphs into "morris," and cyanide repeatedly turns into "kaianeedey." Cote's delivery and timing are supreme.
Of course, the production at the Denver Center For The Performing Arts rightfully belongs to Scenic Designer Nigel Hook's purposefully ramshackle set. Producer Kevin McCollum previously called the production's Broadway stage the show's 11th character, and the set thankfully blisters into that role in the touring version. You have to see the show to appreciate it, but let's just say "The Play" won a 2017 Tony Award for "Best Scenic Design" for a reason. 
From the Duran Duran miscues to Chaplin-approved yuks, "The Play" is a theatrical Swiss Army knife that demands to be seen. Thankfully, this version is in town in for about another two weeks, and bopping across the west and midwest throughout the spring. 
Go. Just don't forget to wear a bib.
Five out of five stars
"The Play That Goes Wrong"
Now playing daily — except March 11 — at 7:30 p.m.; 2 p.m. matinees on Saturday and Sunday through March 17 at The Denver Center For The Performing Arts' Buell Theatre. 1350 Curtis St., Denver. Tickets start at $35. To purchase tickets, call 303.893.4100 or visit denvercenter.org.