AURORA | Award-winning journalist Kara Mason has been named managing editor of Sentinel Colorado, assuming day-to-day operations of print and digital products. 
Mason joined the Sentinel in 2017 and has extensively covered local government and politics for the Sentinel and other Colorado media outlets.
"Kara will bring the same diligence to managing all the Sentinel's local and regional coverage as she did in making sure readers were informed about the city and regional issues she was always on top of," said Sentinel Editor Dave Perry.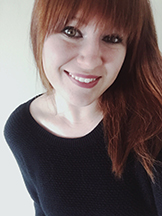 Sentinel reporter Grant Stringer will focus coverage on city and regional government and political issues. An announcement of a new reporter on the Sentinel team is forthcoming.
While on the city beat, Mason won awards for breaking news coverage and for her investigative reporting on city council races and the north Aurora U.S. Immigrations and Customs Enforcement Agency detention center run by GEO Group Inc. 
Originally from Pueblo, Mason graduated from Colorado State University-Pueblo with a degree in journalism in 2015. She went on to work as a reporter and editor at PULP Newsmagazine in southern Colorado. She's also written for Colorado Politics.