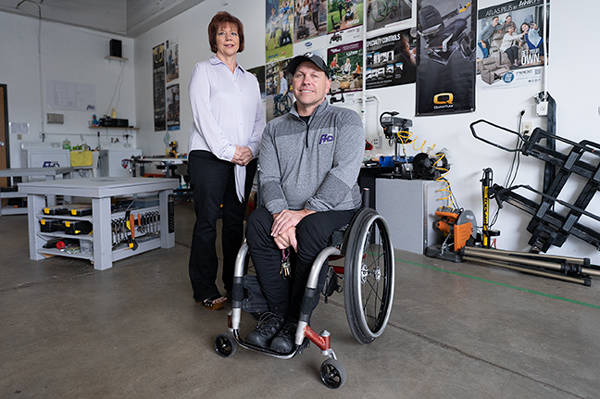 AURORA | The empty 24 Hour Fitness building on South Abilene Street in Aurora is a big motivator for the three owners of FWD Mobility, a small wheelchair servicing business that sits just across the street in a small, nondescript strip mall.  
The former gym has the potential to take on a new life as a Paralympic arena, equipped to enable people in wheelchairs to train and participate in sports such as basketball, lacrosse, rugby, tennis, yoga and more, the trio of wheelchair specialists say.
"It's just a logical thing for a company like ours to provide this," co-owner John Vcekla told Gov. Jared Polis and Lt. Gov. Dianne Primavera this week, pointing to a vision statement for the arena that hangs on the lobby wall. "So that's our goal."
Polis and Primavera visited the business as part of their "Powering the Comeback Tour" in an effort to highlight economic relief aimed at small businesses and the work the administration said it has done for disabled Coloradans. 
This year the governor has signed bills that eliminate sub-minimum wage for people with disabilities, create a state disability hiring incentive pilot, and several programs that benefit people with disabilities.
"We definitely made sure to highlight the arena," Vcekla said with a laugh after the tour. 
He anticipates it would take $8 million to $10 million to buy the building if it came up for sale. It's been closed since the onset of the pandemic.
FWD Mobility co-owners — Vcekla, Nancy Moore and Matt Didsbury — have all agreed they have a fourth of the stake in the company. The fourth partner is the arena, Vcekla said. The remainder of the profit goes into making it possible.
A sports complex dedicated to people like Vcekla, who has played sports in a wheelchair for more than 15 years, would be a big deal, he said. Nothing like it exists in the Denver metro region, despite having one of the best wheelchair rugby teams in the country. Oftentimes, he said, Denver Harlequin players have a hard time finding anywhere to practice, especially in colder months. 
"We've got seven of the best players in the world on our team. And yet, they can't get a gym to practice in because nobody wants to let him play there because they put Stickum on their hands in order to grip the ball and Stickum gets on the floor," he said. 
The three owners left a national wheelchair company late last year to carve out their own business they hope will be more tailored to the clients and provide quicker service.
"The more you're around people in this community, the more you understand how sad it is that there are people literally feeling like they don't have options," Moore said. "The chair is a means to an end, and so whatever that end is, their life begins after they're in a chair that works for them. And when it doesn't work for them, they need it fixed quickly. So when we look at the whole scheme of things, it really is about making sure that the people have options, they're aware of the options, and they receive encouragement to understand that the end goal is not just to get you in that chair to put you in your little corner. That's not why you're in there. It's to be part of the world, and they deserve that."
Fixing chairs is highly specialized, though there is no school to teach people how to do it. That was often a big barrier at the last company he worked at, he said. Too few service technicians with not enough training or experience would cause major delays for clients and they'd often end up without the right help.
The goal in this new venture is to avoid that scenario, Moore and Vcekla agreed.
Just a few hours before the governor arrived for a tour, Medicaid notified FWD of accreditation, Moore said. That was the remaining hurdle, as about 80% of business is made up of Medicaid and Medicare clients.
Vcekla said he also hopes FWD can help people service their chairs before they need major repairs. Being visible and involved in the community is one way to do that, he said. 
An arena would play an even bigger part in that.
"To have so many people here and everything is so parched out to be able to have one place where people can just go and meet other people that are in a similar position…just makes it logical," Vcekla told Polis. "So we're like, you know, we keep looking at that building across the street."