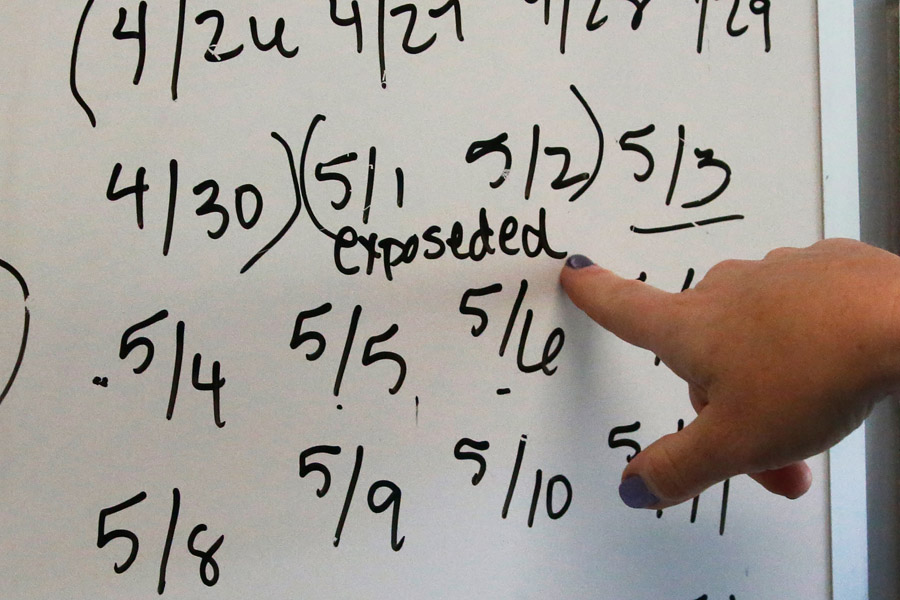 AURORA | Nearly four months into the COVID-19 pandemic, public health workers are settling into their role in preventing the spread of the potentially deadly virus, but their preventative work — most notably in contact tracing — hasn't come without some roadblocks and dead ends.
Tri County Health Department now has a team of about 20 contact tracers to help piece together the web of spread from a single confirmed case. Tri County, which oversees public health in Arapahoe, Adams and Douglas counties, plans to ramp up their team by 10 people each week throughout July.
"There isn't immediate gratification in this (process)," said Ashley Richter, the agency's communicable disease epidemiology manager.
Success, eventually, will look like fewer cases, she said.
When a contact tracer calls a person infected with COVID-19, they ask questions about who else they may have exposed to the virus while contagious. Then, contact tracers ask for contact information of those people who are believed to have had prolonged exposure, which is generally described as being within 6 feet for more than 10 minutes.
The process, which has been tried and true for decades, is suddenly now mainstream, but it doesn't sit easy with everybody a tracer contacts.
"We've definitely seen some hesitation," Richter said. 
Some people declined to give information, although Richter says it's not extensively intrusive. 
"We're just collecting very basic information," she said. "Date of birth, where you live, symptoms, and if you've been tested and where you work."
That information is stored in a database only available to public health workers. That hasn't been enough to calm fears about giving an arm of the government personal information even if it's crucial to public health.
If a person declines to cooperate with the contact tracer, there isn't much wiggle room for further investigation. "We have the right to issue a public health order, but we haven't done that yet in regards to case investigation," Richter said. "But we can issue if we need to."
For Richter and others in public health, the discussion around contact tracing has become one of acting for the greater good. The majority of people contacted by local tracers have been helpful, she said. 
"We really need to think about how not to use just our authority, which we have relied on in the past, but how to convince people of the importance of this and their communities," said Dr. Lisa Miller, a professor of epidemiology at the CU Anschutz Medical Campus' school of public health. 
Miller, who worked with the Colorado state health department for 24 years, saw plenty of instances where contact tracing worked, but never anything on this scale. That seems to be the biggest variable now.
"I think public health has been successful at this but on a much smaller scale," she said, highlighting how the process has worked especially well with tuberculosis cases and sexually transmitted diseases. 
Tri-County Health can attest to that, too. Richter said the department used the same contact tracing strategies in December when it learned of two measles cases in a family. 
"From that we were able to contact every single person that they had contact with, and through our intervention there were zero associated cases," she said.
The other major piece for contact tracing to be successful is adequate testing. The U.S. battled with getting enough tests for weeks while the virus spread rapidly. State leaders even took to secretive means to obtaining tests and personal protective equipment.
Now, as states around Colorado see sharp increases in COVID-19 cases, there is some concern about another testing shortage. Earlier this week, the testing center at Denver's Pepsi Center announced it would reduce hours "due to a shortage of test kits" before ultimately reversing that decision.
"We are continuing to ramp up our testing efforts. It's true that some entities are reporting difficulty getting testing supplies due to increased demand, but the state has not yet had any challenges obtaining supplies," a Colorado Department of Public Health and Environment spokesperson told the Sentinel. "There is always the chance of future shortages as cases go up across the country."
Keeping up the level of testing is imperative, Richter said of Tri County Health's tracing efforts. 
"If nobody got tested, we wouldn't think it's circulating," she said.