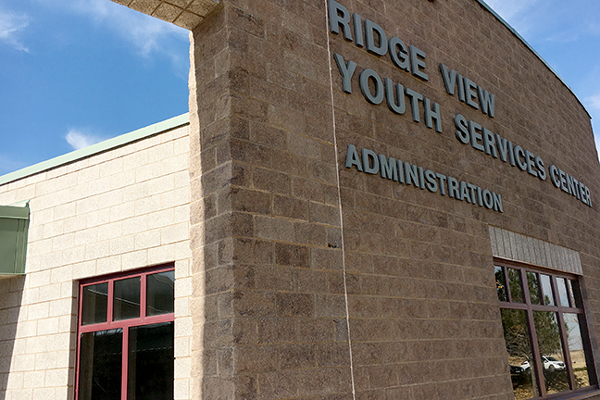 AURORA | A gaggle of state and city politicos on Monday got a glimpse of what could soon become a sprawling homeless and recovery service center in the far eastern reaches of Arapahoe County.
Gov. Jared Polis led a bevy of Aurora leaders through a roughly hour-long tour of the former Ridge View Youth Services Center on East Quincy Avenue, laying out his vision for converting the former complex for committed youth to a multi-pronged hub for chronically unhoused adults.
"We've all essentially agreed to invest in reducing homelessness and housing, and this is very much the nexus of the two," he said. "… It could make a significant dent in homelessness and provide a real recovery route for those experiencing homelessness."
The current proposal calls to mimic a similar state program operated outside of La Junta known as the Fort Lyon Supportive Residential Community. That program takes referrals from various service providers across the state, as well as applications submitted by individuals, and provides up to 250 residents with up to two years of housing, workforce training, community college classes and other resources.
The defunct Arapahoe County facility, which technically falls within the municipal boundary of Watkins, would be well-suited to replicate the Fort Lyon model due to the expanse of dorms, classrooms and vocational infrastructure already in place, officials said.
For two decades, the complex operated through the Division of Youth Services provided a slew of resources to as many as 500 children at a time, though numbers have slowly dwindled since the mid-2000s, according to Anders Jacobson, director of DYS.
"We really just ran out of a need to utilize the beds here," he said.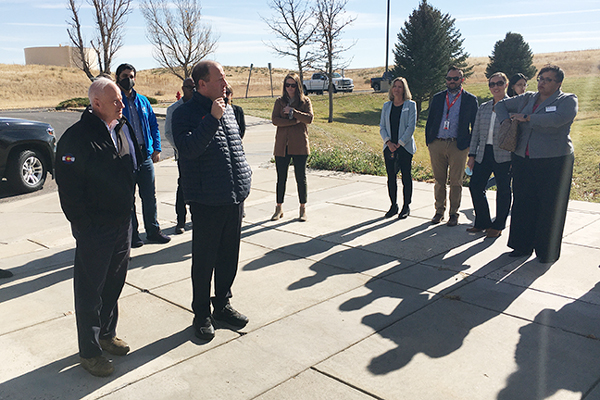 Across the state, the number of committed youth in Colorado has shrunk by about 60% in the past 16 years.
The Watkins facility was shuttered earlier this year following various allegations of impropriety on the some 565-acre campus. In June, state officials elected not to renew its contract with the Nevada-based private contractor who operated the facility, Jacobson said.
The some 30 youth who were still living at the complex earlier this summer were then transferred to various other portions of the state foster care system and youth correctional network throughout the summer.
Fossils of a hasty exit from the Quincy Avenue hub were scattered across the campus' empty bowels Monday, including class schedules still penned on dry erase boards, hand-drawn art taped to dorm room walls and a half-eaten doughnut sitting atop a counter at the on-site restaurant.
To further convert the current facility, Polis' proposal calls to utilize various pots of one-time funding allotted to the state, Arapahoe County and the City of Aurora via the American Rescue Plan.
Polis has proposed spending $45 million of that money on the Ridge View project. A similar proposal for somewhere in Denver would get $50 million, according to Polis' 2022-2023 budget proposal.
While totals are still murky, he said that costs would be 90% lower than those associated with standing up a new facility from scratch, which he estimated to tally more than $150 million.
"It would be hard to figure out if it wasn't for the one-time funds that kind of everybody is looking at," Polis said. "It would be a thing where you'd have to figure out some bond and probably go to the voters … We have an opportunity here between the county, the city and the state to really just do it."
Several details regarding the scope of services provided at the facility, and how many people it could serve, still need to be ironed out, officials said.
In theory, the center could provide detox services currently offered by Aurora Mental Health in the middle of the city, though some officials worried that exporting such offerings to the eastern plains would inhibit success.
"The governor was talking about making the detox center here, and I don't think that would be a good idea," outgoing Aurora City Councilperson Dave Gruber said. "I think the primary one has to be in the center of town and then do a triage, and if they're doing ok, then bring them out here."
The number of available beds also remains up in the air, though capacity would likely total several hundred upon opening. The current layout of the campus boasts seven dorms that each house about 72 people in four-person rooms.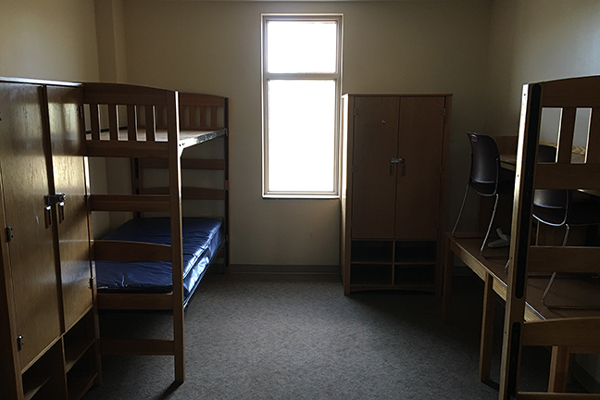 The final product would likely be a mix of congregate and solitary housing options.
"Some people want to be by themselves and have that safe space," said Kristin Toombs, director of the office of homeless initiatives for the Colorado Department of Local Affairs. "It might be the first time they've had that safe space. So put a door, and give a single person their room. Some people don't want to be alone and therefore having shares might actually help, so it would likely be a combination."
Françoise Bergan, the Aurora City Council person for the nearby Ward VI, said she wasn't concerned about community pushback to the project because the campus is so far removed from any residential setting. Some of the closest large structures are the Arapahoe County Fairgrounds and the Arapahoe Park racetrack a couple miles to the west.
"It's pretty far out here, so I don't think we're going to have that kind of reaction," she said.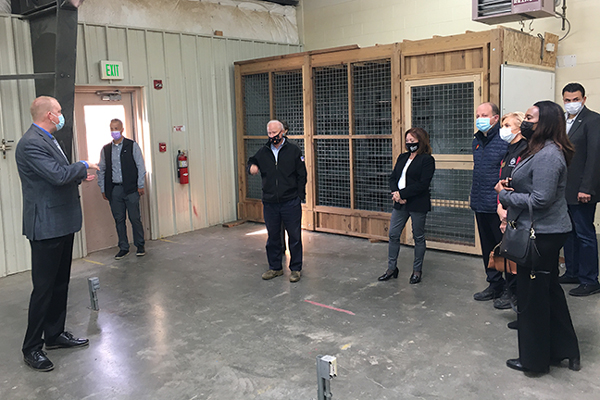 Aurora played host to an acrimonious political spat while service providers attempted to stand up the Ready to Work program, an idea spawned out of Boulder, several years ago. The program was prevented from opening in its originally slated location following intense community pushback.
Several other Aurora leaders, including Mayor Mike Coffman, City Manager Jim Twombly, Ward IV City Councilperson Juan Marcano, Ward V City Councilperson Alison Coombs and state Rep. Naquetta Ricks, attended the tour Monday afternoon.
Polis' idea will still have to clear recommendations from a pair of transformational state task forces currently mulling how to spend some $850 million in funding in the coming decade. The legislature would likely have to sign off in some form, and technical changes like zoning amendments would also likely have to work through the system, officials said.
All told, Polis said the project could open for service in one to two years.