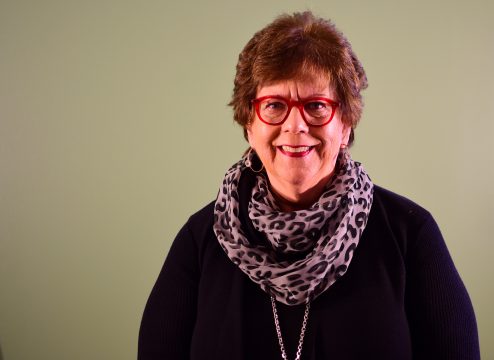 AURORA | In Aurora's House District 41 race, a vote for Dahlia Weinstein is actually a vote for former Arapahoe County Commissioner Lynn Myers. 
That's something Myers is hoping to educate voters on before ballots are due on Nov. 6. Myers said her campaign is so far all grassroots; she's garnering the support from friends and family.
Myers, who describes herself as a moderate Republican with close ties to the community, wants to unseat incumbent Rep. Jovan Melton. He has, so far, declined to resign his seat after being encouraged by Democratic House leadership to do so after media reports revealed Melton was investigated for domestic violence twice since 1999.
One incident, in 2008, was dismissed. Melton pleaded guilty to harassment in 1999.
Myers currently works as the Senior Vice President of the Denver South Economic Development Partnership.  
"Having lived and worked in Aurora for 40 years, I just could not sit on the sidelines anymore," she said. "The citizens of HD41 deserve a voice in the Legislature that can work across the aisle and solve problems. That is how I approached my work as an Arapahoe County Commissioner, where we found ways to build consensus across the public and private sectors to build roads, parks and libraries. And that is what I want to bring to this race."
Myers, who was chosen by an Arapahoe County Republican Party vacancy committee Friday, said her plan is to reach as many voters as she can in the central Aurora district about the voting process in the  before Election Day.
A bulk of that outreach could be to unaffiliated voters, she said.
Ballots, already printed with Weinstein's name, are expected to hit mailboxes this week. Weinstein dropped out of the race late last month — which originally triggered the vacancy committee. 
Rich Sokol, the county party's chair, said the party was especially interested in filling the candidacy after the news about Melton came to light. 
Myers is a Republican. She said she sticks close to the middle of the spectrum. 
"I'm very comfortable in the middle of the road," she said, adding that she believes a lot of Aurora voters are, too.
Having served seven years as a county commissioner, Myers said she has a strong background in the state's infrastructure issues, particularly transportation, and the Gallagher amendment, which regulates the actual value of property.
Myers told the Sentinel she'd be interested in taking a look at a "red flag" bill, like the one that was introduced by GOP Centennial House Rep. Cole Wist this year. The bill would have allowed courts to temporarily confiscate guns from people who pose a threat to themselves or others. The effort ultimately died along part lines in the Senate. 
"It's not one bill, but there's a lot of money coming into mental health," Myers said. "We need a holistic approach, but I wouldn't be opposed to taking a look at that."
The candidate also said she'd prefer that abortion laws remain the same in Colorado. That issue typically finds debate in the Legislature each year. 
On oil, while Myers said she  believes rules should mostly remain uniform county to county she highlighted that she believes "there's some room for civility."
Myers served as chairwoman of the Arapahoe County Commission for two terms. She served as chairwoman of the Centennial Airport Board and sat on the E-470 Public Highway Authority Board.
Currently, Myers serves on the Arapahoe/Douglas workforce board and on the board of Developmental Pathways.