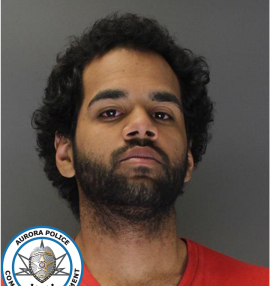 AURORA | A man accused of sexually assaulting multiple women in Aurora and Kansas days after he was released from prison last month is now suspected of sexually assaulting a third woman in Cherry Hills Village during his crime spree, according to a Cherry Hills Village Police Department press release.
Cherry Hills Village police believe Tre Carrasco, 23, broke into a home in Cherry Hills Village Feb. 12 and sexually assaulted someone.
In a press release, police did not specify where in the city of about 6,000 people the assault occurred.
Carrasco is currently in the Arapahoe County Jail facing a litany of sexual assault and theft charges tied to multiple crimes committed last month. The charges filed against Carrasco include: sexual assault, aggravated robbery, burglary, false imprisonment and theft.
Carrasco is accused of following a woman to her car at about 1:30 p.m. Feb. 7 in the parking lot of the 24 Hour Fitness near Abilene Street and East Florida Avenue in Aurora, according to an arrest affidavit filed against him.
Police believe he then entered the car before she could close the door and said "scoot over or I'll kill you," according to the affidavit. The woman was able to get out of the car before the man believed to be Carrasco drove out of the Aurora gym's parking lot
Four days before the car theft, investigators in Kansas say Carrasco tried to rape a woman at gunpoint in Hays.
Carrasco was released from prison in Kansas on Feb. 1, according to Kansas Department of Corrections records and reports published in The Wichita Eagle newspaper.
Hays detectives contacted Aurora police on Feb. 3 alerting them Carrasco was likely in Aurora and "there was a credible, suspected threat" he would commit the same crime, according to the local arrest document.
Aurora police arrested Carrasco on Feb. 12 — the same day investigators believe he assaulted a person in Cherry Hills Village — after local SWAT officers "conducted a high risk stop" on a vehicle the Kansas native was suspected to have stolen days earlier.
The victim of the Aurora assault identified Carrasco in a police lineup the same day he was arrested in part by comparing him to the R&B star The Weeknd.
Carrasco was sentenced to prison in April 2013 for several aggravated battery charges stemming from an incident in July 2011, according to Kansas DOC records.
Carrasco had not been arrested as an adult in Colorado prior to the incidents last month, according to Colorado Bureau of Investigation records.
Carrasco is a registered sex offender.
Carrasco will be formally advised of the charges filed against him in the Cherry Hills Village case in Arapahoe County District Court on Monday, according to Vikki Migoya, spokeswoman for the 18th Judicial District Attorney's Office.
He is also scheduled to appear for a preliminary hearing in his Aurora case at 1:30 p.m. on March 12, Migoya said.