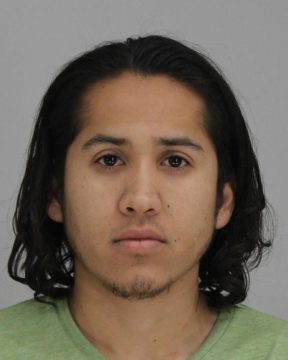 AURORA | Following a years-long, international manhunt, investigators have located the 22-year-old man accused of murdering his 18-year-old ex-girlfriend at an Aurora motel in July 2017.
Officials apprehended Arturo Garcia, 22, at an undisclosed location in Mexico on Tuesday, more than 18 months after Aurora police believe he strangled Alexandrea Raber to death at the Knights Inn Motel near East Sixth Avenue and Interstate 225.
Aurora police found Raber dead in a motel room at about 10 a.m. on July 2, 2017, after officers were called to conduct a welfare check on a woman, according to Aurora police.
Officials quickly identified Garcia as a primary suspect in the slaying as Aurora officers had repeatedly investigated charges of abuse levied against him by Raber.
Court documents filed against Garcia in Raber's July 2 slaying and in another case where he was accused of beating her detailed a string of domestic attacks. Raber told police the abuse included at least one prior strangulation attempt, kidnapping, several beatings and an attempt to extort her family using private pictures of her.
Garcia was released from jail June 22, 2017 after serving a 90-day sentence on misdemeanor assault and felony extortion charges, according to court records.
Garcia was originally charged with more than a dozen crimes against Raber and her family, including kidnapping, attempted strangulation, assault, stalking and harassment.
But prosecutors dropped all but two of the charges as part of a plea agreement.
Investigators found Raber's body nine days after Garcia was released from jail in Arapahoe County.
Garcia is awaiting extradition to Colorado in county jail in Dallas, Texas, according to Aurora police. He was booked into jail in Texas at 6:48 p.m. last night, according to Dallas County records.
Officials apprehended Garcia on an arrest warrant for first-degree murder. Local, state and federal investigators helped locate Garcia, police said.
The 18th Judicial District Attorney's Office will now prosecute Garcia.
Staff Writer Brandon Johansson contributed to this story.