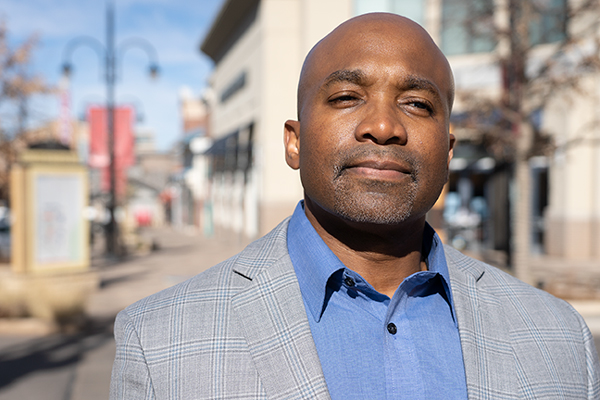 AURORA | Less than a day after Aurora City Councilwoman Nicole Johnston announced she will not seek re-election this fall, a local business attorney has declared his intent to fill her seat.
Democrat Idris Keith on Tuesday announced he is planning a bid to represent Aurora's northeastern Ward II on the 11-member city council.
"We face many challenges regarding economic development, responsible expansion and public safety, to name but a few," Keith said in a statement. "I hope to bring to this endeavor a positive message of economic growth and pragmatic approaches to address those challenges. "
Keith is a business attorney currently working for Pinnacle Assurance in Denver in the areas of workers' compensation, underwriting and auditing, according to Colorado Supreme Court records. He has previously specialized in government contracts law, and he was admitted to the Colorado Bar in 2011.
Keith narrowly lost a recent bid to represent the far eastern district three on the Arapahoe County Board of Commissioners. Republican incumbent Jeff Baker edged Keith to serve the residents of the massive, rural jurisdiction by just 167 votes. A recount in December confirmed the close margin of victory.
In that contest, Keith highlighted his desire for taut budgets and his experience settling disputes between government contractors.
"I fundamentally believe in responsible spending and this belief derives from years of working with businesses who have been disproportionately impacted by higher taxes," he wrote in response to a candidate questionnaire issued by The Sentinel last fall.
Keith has previously worked as a probation officer and was appointed to the city's Citizen Budget Advisory Committee.
He still will have to formally file his candidacy with the city clerk later this year. All candidates running for a specific ward must collect 50 signatures on a nomination petition, which the local clerk must then certify. Keith has launched a new website for the contest.
Keith's announcement comes hours after Johnston and fellow city councilperson Allison Hiltz announced they will not seek a second term on the local council. Both pointed to a desire to spend more time with their families as the primary motivation behind their decisions.
Hiltz, Johnston and Crystal Murillo, all Democrats, each won their first terms in 2017, nudging the historically conservative city council dais to the left.
Johnston has already thrown her support behind Keith.
"Mr. Keith's understanding of municipal issues including economic development, public safety, housing, smart growth and providing a transparent and accountable government are key to Aurora's long-term success," she said in a statement. "For these reasons, I strongly support Mr. Keith's candidacy."
A total of five seats on Aurora City Council will be up for re-election this November. Incumbents Murillo and Dave Gruber could each seek a second term, while Johnston's seat, Hiltz's seat and the Ward III post currently helmed by Councilperson Marsha Berzins will be open to newcomers. Berzins is term-limited.
An email to the city clerk's office seeking to clarify the names of all current candidates who have announced an intent to run for office in 2021 was not immediately returned.