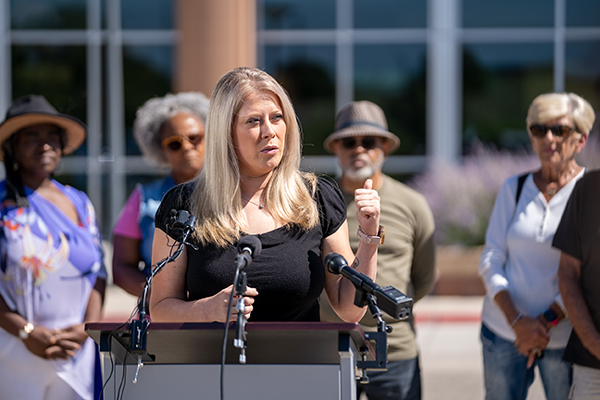 AURORA | After reportedly becoming the target of falsified child abuse claims by a former Arapahoe County Department of Human Services employee, Aurora Councilmember Danielle Jurinsky is spearheading a class action lawsuit against the department as a whole.
"What happened to me was not an isolated incident," Jurinsky said at a news conference Thursday, the day after the lawsuit was announced.
She said that she had initially planned on filing a lawsuit in an individual capacity, but after hearing from many other people with similar experiences with the Arapahoe County DHS she and her lawyers decided to expand it into a class action suit.
Jurinsky was joined by her lawyer Elliott Singer and was flanked by more than half a dozen other women involved in the class action suit. One woman held up a photo of the stepson she had been separated from while others held back tears as Jurinsky spoke.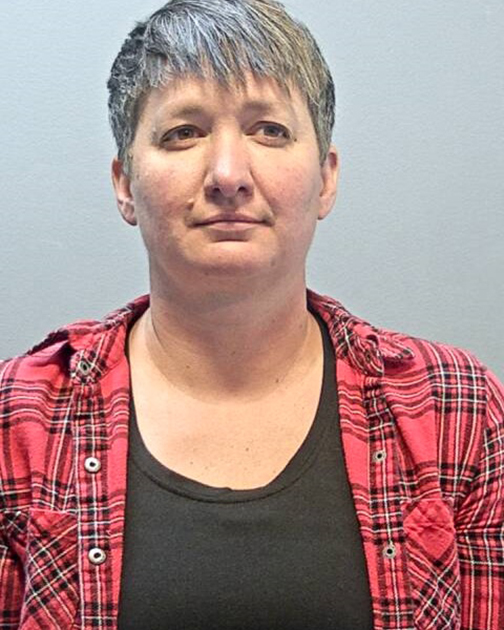 Ruchi Kapoor of Kapoor Law and Policy was also present at the conference to discuss a suit she is bringing on behalf of clients Kamel and Karima Leghouini in federal court. The Leghouinis allege that then-Arapahoe County DHS caseworker Robin Niceta mismanaged an investigation into reports of abuse against their daughter, which led to the girl being removed from the home for a year.
Kapoor is also working as one of Jurinsky's lawyers. She spoke at a news conference in May when criminal charges were first brought against Niceta.
"I told you then this was a systemic issue. Standing behind me is proof that this is something that has been a continuously egregious constitutional violation from the department of Human Services," she said Thursday, referring to the class action plaintiffs.
Luc Hatlestad, a spokesman for Arapahoe County, wrote in an email that the county was "equally appalled and concerned as our community is about the alleged criminal actions of Robin Niceta."
"We have not yet had a chance to review all of the allegations in the recently filed complaints but point out that many of them draw conclusions without citing factual specifics," he said. "We are not aware of any evidence of widespread misconduct by the caseworkers and other professionals within the Arapahoe County Human Services Department, despite what is alleged in the complaints."
Niceta was the partner of then-Aurora police chief Vanessa Wilson and an employee of the Arapahoe County Department of Human Services when she allegedly called the county anonymously to report that Jurinsky had sexually abused her own son. Attorneys for Wilson said that Niceta and Wilson have since separated.
The child abuse report was made the day after Jurinsky appeared on a conservative regional talk radio program, criticizing the chief and referring to her as "trash."
Investigators eventually determined that the allegations of child abuse against Jurinsky were unfounded, according to an arrest affadavit. They traced the phone call to the county back to Niceta after discovering that her phone number matched the number of the anonymous tipster and in light of evidence on Niceta's cellphone and county-issued laptop.
Niceta has been charged with retaliation against an elected official, a sixth-degree felony, and making a false report of child abuse as a mandatory reporter, a second-degree misdemeanor. Her next court date is Aug. 29.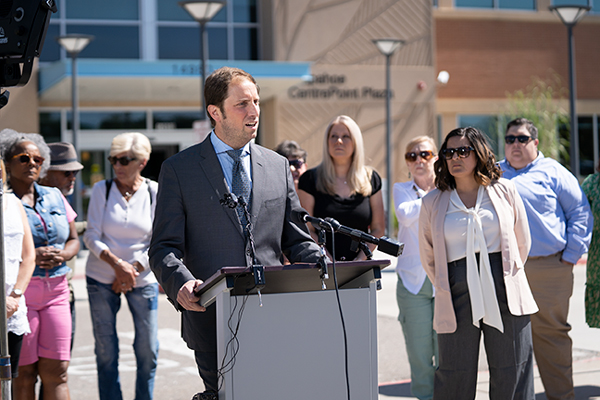 On Wednesday, Jurinsky alleged a broader pattern of misconduct in a class-action lawsuit against Niceta; the county human services department; the manager of the Division of Child & Adult Protection Services, Michelle Dossey; and the board of county commissioners.
Her lawsuit on behalf of "all children, parents and caretakers who have had their constitutional rights violated in the course of an Arapahoe County Department of Human Services, Division of Child & Adult Protective Services investigation" accuses Niceta of a litany of misconduct during her time as a county employee, including:
Submitting false abuse and neglect complaints, and other false information to separate children from their parents.

Taking on cases that she had a personal stake in.

Accessing the details of cases that she was not assigned to influence their outcomes.

Conspiring with or pressuring other county employees to give false testimony.

Attempting to "engage in sexual relations with parents and caretakers" who were under investigation, including by offering them alcohol at her home, and then retaliating when those people refused.
Niceta's lawyers did not immediately return requests for comment.
Dossey and the county were further accused of selectively considering and not sufficiently vetting evidence related to child abuse complaints, illegally seeking protection orders against parents and caretakers and otherwise acting unethically to remove children from their care.
The lawsuit alleges the behavior "occurred over the course of many years," impacting "dozens, if not hundreds (or more), of Arapahoe County families."
"Defendants have not only violated the United States Constitution and federal law in doing so but have also, through their actions in baselessly separating or attempting to separate children from their parents or caretakers, caused unspeakable trauma to so many individuals in Arapahoe County, including both children and their parents or other caretakers alike," the complaint reads.
"Defendants' activities and conduct in the course of these investigations and, on occasion, separating families flagrantly violates state and federal law, including the United States Constitution and its guarantees of equal protection and due process under the law."
Singer said that over 40 people are currently involved in the class action lawsuit, but believes that more may come forward once the news of the suit spreads.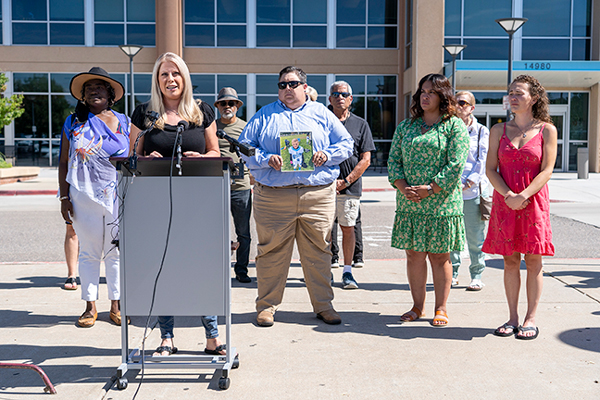 Jurinsky said Niceta was involved in about 75% of the cases of people in the lawsuit but believes the issues with the department are systemic and go beyond one individual employee. 
"I think there's a gross failure to supervise," she said.
Hatlestad later wrote that there are "many checks and balances" that the county uses to weed out false allegations of abuse, including evaluation by "multiple layers of human services, educational, medical, mental health and legal professionals."
He said that disputes that arise during investigations may be heard in court, that parties have the opportunity to appeal and that the process of reviewing complaints about closed cases is defined by the state. He also said the state is investigating Niceta's past work with the county at the county's request.
Jurinskly called on politicians at the state and federal level to impose more oversight on the child welfare system, and said that the problem is not a partisan issue.
"This issue crosses all party lines," Jurinsky said. "We are parents, and this should not happen to any parent, or any child in this county, in this state, in this country or the world, period. And this is going to end now. Robin Niceta, you picked a fight with the wrong person."