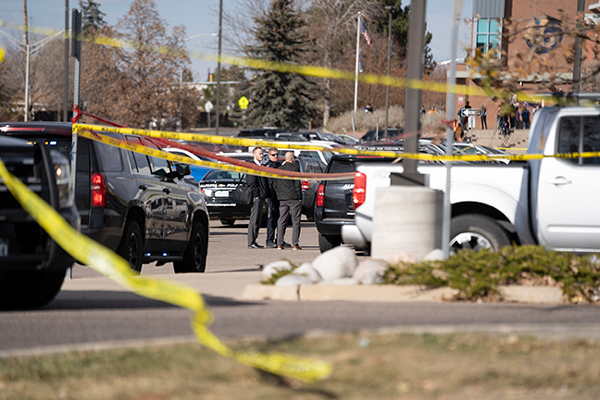 AURORA | Prompted by information made public and a Sentinel Colorado story connected to a 2021 Hinkley High School shooting, a new state legislative proposal would require all juveniles' names to be redacted from court records.
The bill, drafted by Aurora state Sen. Rhonda Fields, stems from a 2021 incident where officials now allege unreacted affidavits published by Sentinel Colorado harmed teen witnesses to a shooting at a local high school. 
To date, after several requests, neither the Aurora Police Department nor Aurora Public Schools have provided evidence to support claims that students dropped out of school and went into protective custody because of the published affidavits. 
Senate Bill 23-075, "Deletion Of Child's Name From Criminal Justice Records," was introduced Jan. 27. by Fields, Sen. Tony Exum and Rep. Naquetta Ricks, all Democrats.
Under current Colorado law, the names of juveniles are required to be redacted from court documents when they are a victim of sex assault or child abuse. The new bill would require a child's name and identifying information be redacted if they are named in court records as either victims or witnesses of a crime. Juveniles facing criminal charges are already not identified unless they are being charged as adults.
Instead of being identified by name, the designation "child victim" or "child witness" would be used in court documents, the bill states.
Fields said that Aurora Mayor Mike Coffman asked her to bring the bill forward citing an incident where a number of juvenile suspects, witnesses and victims were named in the arrest affidavits for the alleged perpetrators of a shooting at Hinkley High School.
The Nov. 19, 2021, shooting took place in the parking lot of the high school during lunchtime, wounding three students. The shooting particularly rattled the community because it came days after an unrelated shooting at Aurora Central High School, and spurred renewed discussions about youth violence and gang activity. 
Four teenage boys were originally charged as adults in connection with the Hinkley shooting. Cases against three are currently ongoing. Charges against one suspect were dropped. Affidavits for three of the suspects were released unredacted by the 18th Judicial District Court, and include the full names and dates of birth for eight juveniles, including two of the students who were shot. Those affidavits were linked to in a Dec. 7, 2021 Sentinel article announcing that a fourth teen had been charged. The witness information was not included in the written article.
Fields said she was told by the Hinkley principal that one student named in the affidavit dropped out of school, and viewed her bill as a way to safeguard minors and witnesses to crimes.
The issue is one that Fields says is personal to her. In 2005, Fields' son Javad Marshall-Fields and his fiancé Vivian Wolfe, both recent college graduates, were shot and killed less than a week before Marshall-Fields was scheduled to testify as a witness in the murder trial of his best friend.
"My son was a witness," Fields said. "I see it as a personal issue for me, because we need witnesses to help us solve crimes. And if a child is involved in seeing a crime and their information is exposed and it creates a chilling effect in various settings, then that's not going to do anything to keep our community safe."
In a Jan. 28 community town hall meeting, Coffman discussed the bill with constituents and said that because of the affidavit's publication, students are now less willing to discuss criminal activity with School Resource Officers.
"It's had such a chilling effect," he said.
Aurora police would not provide information regarding Coffman's statement.
After the article with the un-redacted affidavits was published, The Sentinel was not informed of any concerns until over a year later during a December 2022 meeting with Coffman and a Hinkley employee. After the meeting, The Sentinel removed the links to the affidavits from the article.
In a statement, Sentinel publisher Dave Perry said that publishing the names of minors involved in crimes is counter to the newspaper's policy, unless they are being charged as adults. Perry said he regretted the oversight that led to the affidavits being published without the paper doing its own redacting.
"It's unclear how un-redacted versions of the affidavits were linked to the story rather than those redacted for the sole purpose of shielding names of juveniles not accused of crimes," Perry said. "We apologize to those students and will ensure such oversights don't reoccur."
Perry said that had anyone brought the issue to the Sentinel's attention in the 11 months since the story was published online, the problem would have been addressed immediately.
"It was never our intention to link our reports with the un-redacted affidavit," Perry said.
Perry questioned the lapse in time to bring the issue to the attention of the paper and others involved given the gravity of reports of how students were affected.
He said the Sentinel, like most news media, regularly get immediate feedback from police or school officials during the course of reporting on crime or education issues. He said such a latent report from a city council office rather than police, justice or school officials is unusual.
According to City of Aurora spokesperson Ryan Luby, Hinkley Assistant Vice Principal Emily Nickerson reached out to Coffman in late July and the two met shortly afterward. In September, an aide contacted the Sentinel on behalf of the mayor "to discuss the Sentinel's release of names of the minors involved in the November 19, 2021 shooting incident at Hinkley High School."
In December, when Nickerson, Coffman and Sentinel staff met Nickerson said she had reached out to the mayor to discuss her concerns over students' names being published in the affidavit, which she said had "unintended consequences" at the school.
"We had a family that had to go into protective custody because they were named in the affidavits, and so this was just kind of the conversation I had had with the mayor around what are some next steps and things that we can do just to ensure that doesn't happen again," she said.
Nickerson, who took the meeting from her office on campus, said that she wasn't speaking as a representative of APS but in her personal capacity.
"That was my concern as a community member that now we have several kids that have been named and we have to follow up with each of them individually, some of which require protective custody or have not returned to Hinkley … and they're afraid of retaliation," she said.
Looking into Nickerson's claims has proved difficult as official sources have not been willing to comment about what happened.
"We take student privacy matters very seriously and would not share any information that may compromise that. Aurora Public Schools works to protect juvenile information in accordance with state and federal law," APS spokesperson Corey Christiansen said in an email. 
The district is not involved with Fields' bill, he said.
The police department declined to comment on whether the incident has had a chilling effect on minors being willing to speak with police.
"Publication of the names of juvenile witnesses in the media is a major public safety concern, opening them up to bullying, retaliation and additional acts of violence," interim Aurora police Chief Art Acevedo said in a statement. "The Aurora Police Department supports efforts aimed at extending the same privacy rights to minors who witness a crime as are already guaranteed to criminal suspects in the state's juvenile justice system."
Nickerson did not respond to further inquiries from The Sentinel.
The 18th Judicial District Court did not respond to a question about why the affidavits were not redacted by the courts. It's unclear how many copies of the affidavits were released, and to whom. 
Under the Colorado Criminal Justice Records Act, records custodians have broad latitude to redact things in court documents that are deemed contrary to the public interest, said Jeff Roberts, the executive director of the Colorado Freedom of Information Coalition.
"There's already the power in the law to do that," he said of redacting juveniles' identities. "This would say they must be redacted. I understand what the intent is, but I worry about making law based on one incident that perhaps was unintentional."
He said that the coalition is unlikely to take a position on the bill, but wondered about the potential impacts to reporting in the case of a school shooting or other serious crime involving minors. Even if a newspaper did not publish the names of minors, knowing the identities of the parties involved could be important to reporting on a story.
The Society of Professional Journalists professional code of ethics stipulates that journalists should "use special sensitivity when dealing with children and inexperienced sources or subjects" and be cautious about naming juvenile suspects or victims.
At its Jan. 30 meeting, the Aurora City Council voted to endorse Fields' bill. Speaking at a study session prior to the vote, Coffman argued that the release of juvenile names had a "chilling effect."
The bill is next scheduled to appear before the Senate Judiciary Committee on Feb. 13.