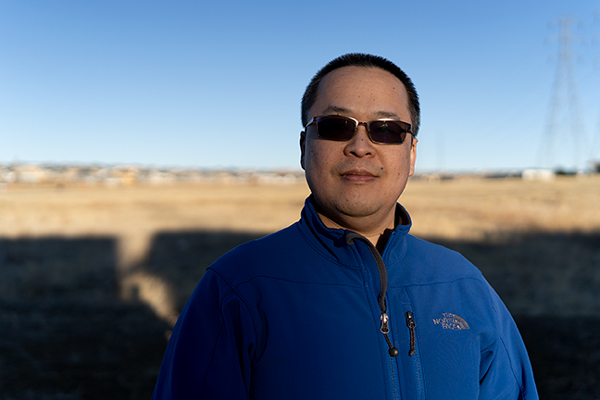 In the midst of the pandemic, an Aurora community staple passed a major milestone.
The Asian Pacific Development Center celebrated its 40th anniversary in November — and Executive Director Harry Budisidharta was busy. COVID-19 cases were on their way to an all-time-high surge, and the constellation of Asian-American communities in Aurora were suffering through a confluence of crises: illness, layoffs, boarded-up businesses and racist attacks from others blaming them for the interminable pandemic.
"Even though this anniversary could happen during better times, it does illustrate the importance of nonprofit organizations like (us)," Budisidharta told the Sentinel. "Especially during times like this when the government is doing its best, but it obviously can't do everything."
Some of Aurora's largest immigrant communities hail from South and Southeast Asian countries including Korea, Vietnam, India, China, Burma and Nepal. Residents of all national stripes flock for Asian cuisines in restaurants and otherwise hard-to-find items in supermarkets and boutiques across the city.
These communities have grown ever more prominent since 1980, when the first refugees from the Vietnam War had begun to settle in A-Town, in part because of the APDC.
Then, a group of Asian-American social workers, psychologists and attorneys quickly saw a need to integrate these new arrivals shaping Aurora's cultural fabric. They formed the APDC — a new organization with a particular focus on addressing post-traumatic stress disorder and depression among refugees.
In the years since, APDC grew with the Asian immigrant community here, Budisidharta said. The hub, at 1537 Alton St., operates now with a quiver of resources and programs: literacy and translation services, language courses, citizenship programs, mental health supports, a program to help youth realize healthy identities, and more.
And they've quickly rolled out cash assistance programs and connected residents to crucial mental and physical healthcare supports during this infamous year. Staff connect community members to financial assistance programs from the city and state and even dole out their own funds when they can.
Budisidharta, 37, has led APDC's expansion since 2017. During the pandemic, he's especially established himself as an indispensable community leader, officials said.
Mayor Mike Coffman called him "a strong and extraordinary voice for the Asian immigrant and refugee communities in Aurora."
"A visionary leader in our community, he was always committed to growth in the community, he looks beyond problems to causes, and he was always developing solutions for success," Kevin Hougen, president of the Aurora Chamber of Commerce, said in an email to the Sentinel. "A true community organizer, and provider, what a great career, we are all fortunate for his quiet behind the scene leadership."
Born in Indonesia, Budisidharta's parents sent him and his brother to Los Angeles in the late 1990s, where other family members lived, to escape a dangerous economic crisis.
"I know what it's like to be a young person and have to develop an identity where you're straddling different cultures," he said. Growing up, he said he didn't have any formal organization to help him grow as both an Indonesian and American.
That's a key goal of APDC's youth program today, Budisidharta said.
In fact, more than 40 years after APDC's founding, many of the same challenges are facing Asian-Americans in Aurora.
Budisidharta said the isolation during the pandemic has taken a serious toll on many community members' mental health. Some have practically stayed indoors for months, he said. Others have turned to alcoholism, and he's anecdotally hearing about more reports of domestic violence. He's heard this when residents come to the APDC for treatment.
On a recent walk through the Pacific Ocean Marketplace, 12303 E Mississippi Ave., he also lamented a spate of "closed" or "for lease" signs on locally-owned businesses.
Financially, many families continue to suffer from slashed hours or no work at all. Immigrant business owners have told the Sentinel throughout the pandemic that they're not sure how much longer they can weather the recession.
And Budisidharta said Asian-American locals continue to cope with racist epithets hurled on the street or in the supermarket. Since March, various Asian communities in the Denver metroplex have sometimes been blamed for causing COVID-19, which originated in China. That manifests in slurs and spit, he said.
From his home, Budisidharta has so far kept the wheels on the APDC, which is seeing its own financial hardships. Many community foundations have stepped up to plug pandemic-caused holes in their budget, including the Rose Community Foundation and The Colorado Health Foundation.
Of course, he says, he never expected to lead the pivotal organization through a "history-defining event like a global pandemic."