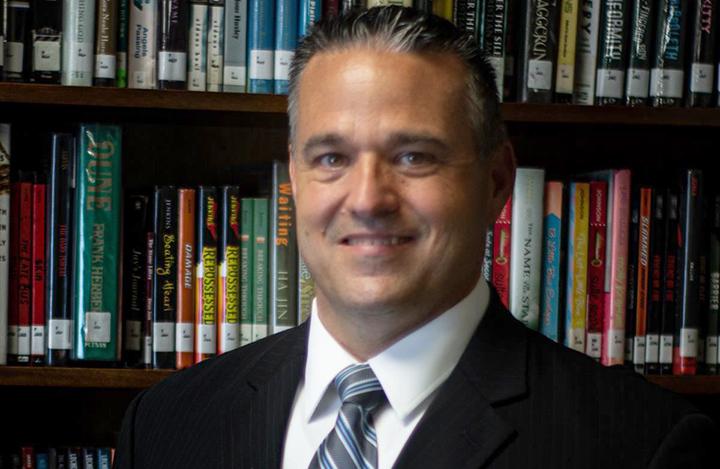 AURORA | After its former principal retired abruptly before the start of the school year, Gateway High School has tapped a Broward County "principal of the year" who was also scrutinized there after critical district audits of schools he was in charge of.
Scott Fiske has been an educator for more than 30 years, according to a Gateway High School letter from interim principal Carole Jennings announcing his hire, and has worked as a math teacher, assistant principal and principal. 
Most recently he has spent 19 years as a principal of two different high schools in Broward County Public Schools, the sixth largest public school district in the nation. In 2008 he was named Broward County's "principal of the year" by the district.
Fiske has an undergraduate degree in civil engineering and a master's in educational leadership. He is scheduled to complete a doctoral degree in organizational learning from Barry University later this year.
"In hiring Mr. Fiske, we value the depth of his experience as a turnaround leader and as a leader who has faced adversity in a difficult political climate," the Gateway letter said. "He has built confidence among a diverse community that has seen district leadership turnover, school violence and allegations of asset mismanagement. Mr. Fiske has met all of these challenges while still continuing to raise the academic achievement of his school."
According to reporting from the Sun-Sentinel newspaper in Florida, Fiske was principal of Coconut Creek High School when a 2020 audit by the district found that inventory worth $109,942 went missing from the school. (Fiske noted to the Sentinel Colorado that this was only an audit of physical property assets.) The school was then put on a corrective action plan requiring it to submit reports quarterly instead of yearly and increase training.
It was his first negative audit at Coconut Creek, but the Sun-Sentinel reported that at his previous job in the district as principal of Western High School, he received six negative audits from 2005 to 2010. During multiple years, thousands of dollars of missing property were identified, according to the Sun-Sentinel.
The 2010 audit found almost $73,000 worth of missing property and said that improvements proposed in previous audits had not been implemented.
After the Coconut Creek audit Fiske was initially recommended by the district to head its Business Support Center, a department that handles bookkeeping for many district schools, despite not having a degree in finance or business. After concerns were raised about his credentials, he was removed from the list of people being considered for the job, the Sun-Sentinel also reported.
Fiske told the Sentinel that in both instances, the schools put procedures in place to correct the issues and have not had problems since.
"Like anything else it was a learning situation, we learned from it, we addressed the situation and moved on," he said of the Coconut Creek audit.
He does not believe there will be any similar problems in Aurora Public Schools.
"I would feel confident that those issues wouldn't be a problem going forward," Fiske said.
District officials declined to comment directly, but Fiske said he was asked about the audits during one of his interviews with the selection committee.
On his LinkedIn profile page, Fiske wrote that he has aspired to leadership positions his whole life and that he considers himself a lifelong learner.
"Leading schools in the nations' 6th largest school district for the better part of the past two decades has taught me many things," he wrote. "I know that there is no 'silver bullet' in the world of education. What works is hard work, flexibility, adaptability, compassion, firmness, empathy, and a host of other elements that are as diverse as the students we serve. However, the one element that must exist to ensure success is a relationship."
Fiske said that he considers building relationships with community members a strength of his, and the first thing he plans to do once arriving at Gateway is reach out to faculty, students and their families.
"I can assure you that I'm going to both support and push my teachers and staff to make the best possible education experience for the students," he said. "And a lot of that is going to come from talking with the students and listening to them."
Fiske and his wife are avid travelers, and he said they had hoped to move somewhere out west once he put in his 30 years at Broward. He said he was also particularly drawn to APS because of its focus on student equity and social-emotional learning.
"The focus on students that exists in Aurora Public Schools was very attractive to me," he said.
Former Gateway Principal Ron Fay unexpectedly retired as principal of the 1,400 student school at the beginning of August. At the time, district representatives did not respond to questions about his retirement.
Gateway is one of two APS schools under an early action performance improvement plan mandated by the state. The district put together a plan for the school in 2019 that involved partnering with an outside organization to improve student outcomes. It switched management partners in the fall after receiving approval to do so from the State Board of Education.
Fiske's first day will be Jan. 19.