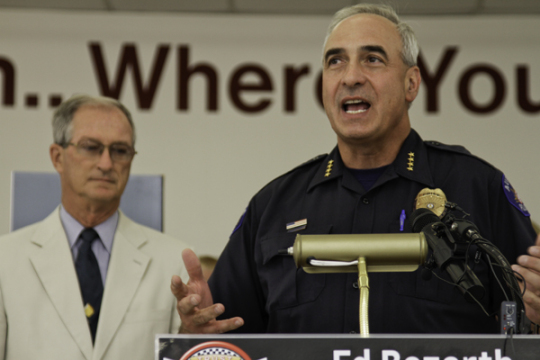 AURORA | Former Police Chief Dan Oates has been tapped to lead the Aurora Police Department again on an interim basis as the city continues its search for a permanent replacement for Vanessa Wilson, who was fired April 6.
Oates led the department from 2005 to 2014, a time period that included the Aurora theater shooting, which killed 12 people and injured dozens more.
His tenure also included controversies such as the 2013 revelation that evidence in 48 sexual assault cases had been destroyed. The gaffe impacted prosecutions and which Oates called a "grievous mistake." Even after his departure, he remained embroiled in litigation with a police officer who said he was demoted for contradicting Oates in court.
Oates went on to lead the Miami Beach Police Department and later served as a consultant for the Baltimore Police Department and the St. Louis City and County police departments on crime reduction strategies and organizational reform efforts.
"I'm honored and flattered to be coming back to help out Aurora in this challenging time," the new interim chief said during a press conference Wednesday. "Aurora has a very special place in my life and the life of my family. We raised our two children during those formative nine years, from when they were in middle school through high school."
He said building trust with the community was a top priority and also that he "loved the cops in the Aurora PD," saying "there's a lot of talent and dedication in that organization."
"Dan brings focus to crime reduction, community engagement and internal leadership that will serve our community well during this transition. He will also provide critical guidance as we begin to seek community input in selecting a permanent chief," City Manager Jim Twombly said in a news release.
Oates and Twombly also stressed the city's ongoing commitment to the police and fire reforms outlined in the consent decree negotiated between the city and the state attorney general's office.
"This is the roadmap to improving the image of the department, which, you know, cops may or may not acknowledge it, (but it) is terribly, terribly important to them. They want to feel good about the agency they work with," Oates said.
During the press conference, Twombly described the new interim chief's decades of policing experience as one of the reasons why he was chosen, along with Oates' leadership in the aftermath of the 2012 theater shooting.
The city manager said his priorities for Oates' tenure as chief would include implementing the consent decree, tackling an increase in certain crimes and "stabilizing" the police department in the wake of Wilson's termination.
Twombly and Oates took questions from reporters during the conference. In response to the question of what he planned to do about rising crime, Oates said he had "ideas but no plans" and wanted to do more research before committing to a strategy. He did say that he valued data collection to determine where and when crimes are occurring.
Some of the questions concerned the disciplining of officers — one of the areas where the previous chief clashed with police union leaders who described her firing of certain officers for cause as unfair.
Oates said that he was "not coming in with an agenda to change the discipline process." He said he believed there have been "nuanced changes" to how discipline is meted out in the department. However, he said he was confident in his ability to manage and discipline officers.
"The way I think an ideal police department should operate is that the chief decides what's appropriate discipline in a transparent way, for the cops and for the community, and if the community and the elected officials are unhappy with those decisions, then you get rid of the chief," he said.
He said he would respect and support accountability mechanisms put in place by voters and elected leaders.
Though in 2013 he expressed skepticism toward an independent monitorship proposed by then-Mayor Steve Hogan, Oates said he thought the system of an independent monitor overseeing the city's implementation of its consent decree was "the national best practice and exactly the right decision that Aurora should have made." The firm currently serving as the city's consent decree monitor is IntegrAssure.
When asked how he would recruit officers to help the department achieve its goal of representing the community, he said he wanted to make sure qualified candidates progressed through the hiring process as quickly as possible. He said candidates who are told to wait for too long find jobs elsewhere.
"In this hiring climate, if you tell a candidate that, that candidate is going to get hired by another police department," he said. "The entire time I was in Aurora, we struggled around minority recruitment and hitting our diversity marks. We had some success but a lot of frustration and a lot of failure."
He said improving the department's hiring process would be a "very high priority."
Oates is scheduled to arrive in Aurora by May 23, once he recovers from a medical procedure. He will be paid $18,250 per month during his stint as interim chief. A new chief is expected to be chosen by the end of the year.