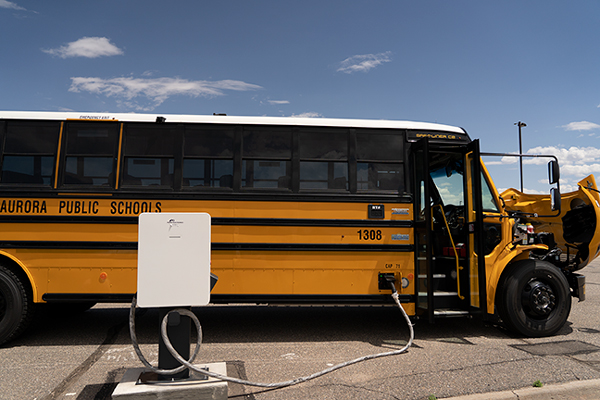 AURORA | Aug. 9 marked the first day back in school for Aurora Public Schools students, who after a summer away were ferried from their homes back to campus on the district's many school buses. For some, it was also their first day riding an electric vehicle — APS purchased seven electric school buses this spring that are being rolled out for the current school year.
Elsewhere in Aurora, the city itself is working to help residents and visitors get a charge out of an EV commute in the region.
The buses were purchased with the help of grant money, and are the first steps in the district's larger plan to improve its carbon footprint. The district also hopes to build a solar panel canopy at its transportation center and to install electric vehicle charging stations at some of its schools to help improve EV infrastructure throughout the city.
The district purchased the electric buses with the help of a grant program from the state designed to help get older diesel buses off the streets. APS qualified and received funding for seven buses and three chargers in seven receptacles.
Without the grant funding the buses would be hard, if not impossible to afford — each costs $369,789, compared to about $125,000 for a diesel bus and $145,000 for a diesel bus equipped with a wheelchair lift. Omar Espinal, the district's fleet manager, said that with the grant the district paid about 20% of the total cost, making it possible for them to get a fleet of seven.
More grant money is now available for school districts across Colorado and the nation with the rollout of the Environmental Protection Agency's Clean School Bus Grant Program, which provides grant money for electric school buses and electric charging infrastructure to schools.
On Wednesday, EPA deputy director Janet McCade came to Edna & John W. Mosely P-8 in APS to discuss the benefits of the program and the additional funding for environmental issues in the Bipartisan Infrastructure Law.
Besides being better for the environment, McCade said that electric school buses are better for children's health because they are not being exposed to diesel fumes.
"It's time to imagine a school bus without a tailpipe," McCade said. "In fact, we don't have to imagine them, because they exist, and there are a couple of them right here," she said, gesturing to APS' electric bus fleet.
The EPA grant program will offer $500 million in rebates for electric vehicles, and more funding will be available through the Infrastructure Law. The first round of applications for the EPA program ends on August 19, and Gov. Jared Polis said that many school districts in Colorado have already applied.
Polis' touted electric school buses' lower maintenance costs, which he said will allow school districts to put more money into the classroom. As current diesel vehicles are replaced by electric buses, Polis said he expects the majority of Colorado's school buses to be electric in about five or six years, and for the last diesel buses to be in operating for about 10 to 12 more years.
"When I think of the opportunities ahead, electric school buses really feel like the real-world 'magic school bus,'" he said, referencing the hit PBS children's TV show.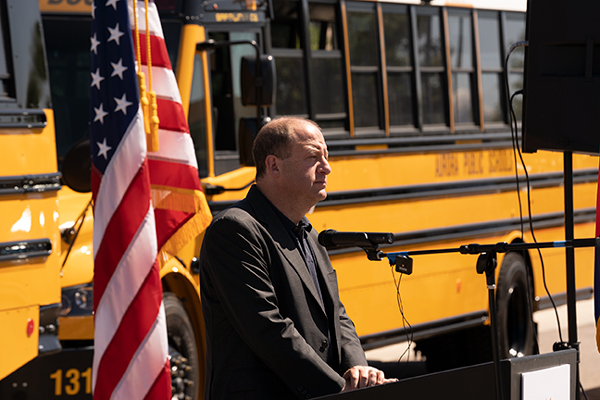 Aside from the fuel, the electric buses are largely the same as the rest of the district's 146 buses, Espinal said, and transportation staff are ready to drive them after a three-hour course over the summer.
The bus battery has an eight year warranty, and Espinal said it will depend on whether it's more expensive to replace the battery or to get a new bus for what the replacement plan will be like. Diesel buses are replaced every 15 years or 150,000 miles. Luckily, clean energy technology is continuing to improve, so he hopes that the price of replacing the battery will decrease in the future.
The three front rows have three-point harnesses for transporting pre-K students, an added perk. And because they run on electricity, the vehicles are much quieter than normal school buses, which makes it easier for drivers to hear what's going on.
"If you're sitting in a traditional diesel bus, you can't hear anybody past that second seat," said Espinal.
The decrease in noise makes student management easier and keeps kids more relaxed.
"They tend to be more mellow," he said.
The buses can charge fully in about an hour, Espinal said, and also have regenerative braking — once the battery is below a certain level, every time the driver hits the brake pedal it pumps juice back into the charging system.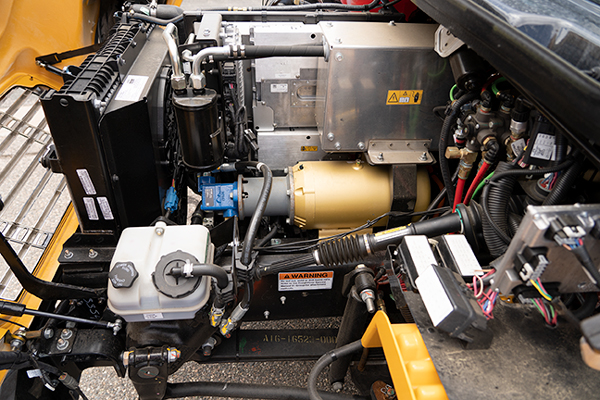 Ultimately, APS' goal is to charge the buses through clean energy as well. The district is exploring plans to build a solar panel canopy at its transportation center, which would provide enough power to charge all the district's vehicles and hopefully some of the surrounding district buildings as well, which include Aurora Quest K-8 and Mosley P-8.
Marcus Harper, the district's energy and building optimization coordinator, said the canopy is part of the district's overall goal to reduce its carbon emissions. 
"The end goal is to have zero emissions within part of the fleet and eventually the whole fleet," he said.
Supply chain issues and rising costs due to inflation have slowed down the district's plans, and the team is currently exploring what is most fiscally responsible, Harper said. A design for the canopy should be finalized in about three to four months, at which point it would be presented to the school board for consideration.
Along with the canopy, Harper said the district hopes to install EV charging stations at schools that can be used by district employees, students and parents.
"The more affluent areas of town are more densely populated (with chargers) and when you get to Aurora and some other parts of Denver, it's more sparsely populated," he said. By installing public chargers, "we're trying to be good community stewards."
— Carina Julig, Sentinel Staff Writer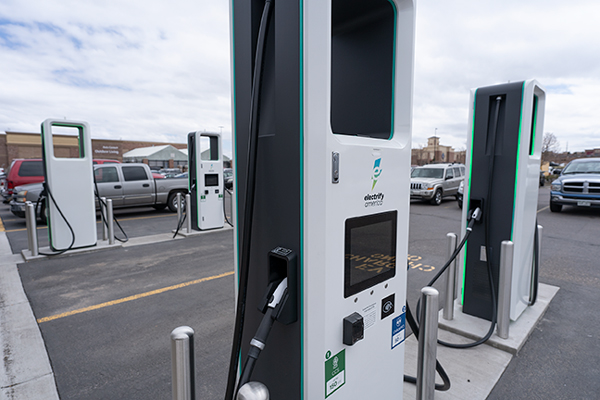 City plugging away at adding EVs
City of Aurora spokesman Michael Brannen wrote in an email that the city currently has 23 electric and hybrid cars, including three available for city business and 20 in use by the police and fire departments.
The city also partnered with Tynan's Nissan Aurora between 2016 and 2018 to promote state-sponsored discounts on electric vehicles, which around 200 people took advantage of, according to city spokesman Ryan Luby.
Statewide, Colorado has better EV infrastructure than many other states, according to Bonnie Trowbridge, executive director of Drive Clean Colorado. But the number of charging stations varies across the Denver metro area and Aurora is on the lower end of the spectrum.
"We have identified Aurora as having fewer chargers than other areas in the metro Denver area," Trowbridge said.
According to Charge Hub, which provides a map of EV charging locations across the nation, Aurora has 141 charging stations compared to 436 in Denver and 274 in Boulder.
Brannen said that the city itself operates 36 public charging stations, located at the Iliff Station Light Rail Parking Garage, City of Aurora Public Safety Training Center, Aurora Hyatt Regency and Conference Center Parking Garage and the Central Recreation Center.
Drive Clean Colorado works to identify gaps in EV infrastructure and to identify apartment buildings, shopping centers and other locations where an EV charging station might be a good fit. If the site is interested, the organization provides coaching to help find grant funding and other resources to get a charging station installed. Trowbridge said this method has been successful in getting more stations installed in Aurora and across the region, particularly since so much grant funding is currently available.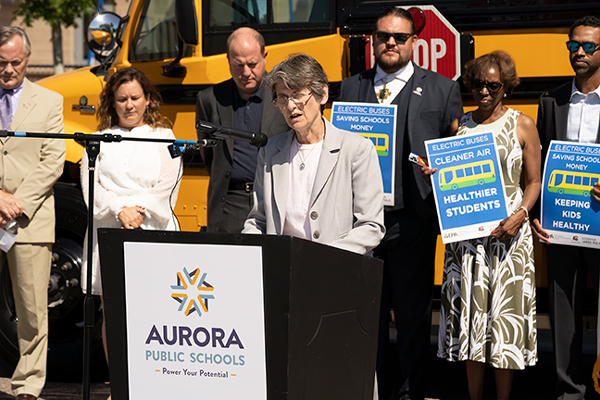 "I hate the term 'no-brainer' but it really does make it easy for these companies to see the benefits," she said.
Electric vehicles still make up a small percentage of cars on the road, with about 61,000 currently in use in Colorado, according to Atlas Public Policy. However, Trowbridge said she is starting to see an increase in interest in EVs.
"We're at this inflection point where we're starting to see the adoption accelerate," she said.
The spike in gas prices over the past several months was a draw for many, and Trowbridge said there is a "direct correlation" between the price of gas and people's interest in EVs. The price of electricity is relatively stable, and she said that people pay the equivalent of about $1 a gallon for their fuel.
Along with their benefits to the consumer, electric vehicles are touted as a more environmentally conscious mode of transportation since they don't use gas. Dave Sabados, a spokesperson for the Regional Air Quality Council, said that vehicles and other small engines like lawnmowers are some of the biggest contributors to ozone pollution, which is heaviest in the summer.

 "If it's hot, not rainy and a bright beautiful day it's probably not a good day for ozone," Sabados said.
The Front Range has made improvements on ozone pollution over the past several years, Sabados said, in part due to the enforcement of stronger pollution standards and an increase in alternative transportation. Sabados said that biking, taking public transportation and switching to public transportation all play a part.
 "Ultimately, we need a mix of all those things," he said.
The RACQ is involved in a number of initiatives to promote clean energy, including encouraging people to switch to electric lawnmowers — movers are even worse for the environment than car engines, Sabados said — and to take more public transit. He touted RTD's "zero fare for better air" campaign where all rides are free during the month of August as a great step towards reducing pollution. But he acknowledged that many people, especially in Colorado, still need to rely on private vehicles to get around. 
Most people who have an electric vehicle won't need to charge it during the day unless they're driving a long distance, he said, and can just charge it in their home overnight. However, he said that putting in more charging stations helps people when making a decision.
 "That's always people's hesitancy when talking about EVs, is there going to be a charging station where I'm going?" he said.
 Along with putting in more charging stations in municipalities, he said that making sure they're available at destination sites such as state parks and mountain communities.
 "It's that peace of mind for folks," he said.
—Carina Julig and Max Levy, Sentinel Staff Writers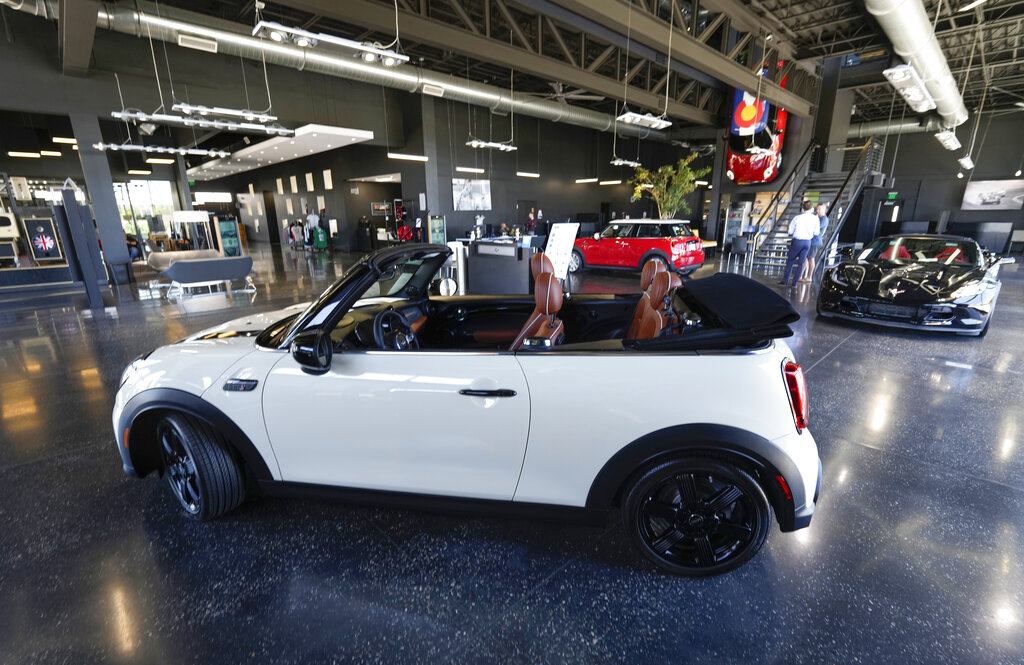 Good news and bad from Congress on getting your own EV
A tax credit of up to $7,500 could be used to defray the cost of an electric vehicle under the Inflation Reduction Act now moving toward final approval in Congress.
But the auto industry is warning that the vast majority of EV purchases won't qualify for a tax credit that large.
That's mainly because of the bill's requirement that, to qualify for the credit, an electric vehicle must contain a battery built in North America with minerals mined or recycled on the continent.
And those rules become more stringent over time — to the point where, in a few years, it's possible that no EVs would qualify for the tax credit, says John Bozzella, CEO of the Alliance of Automotive Innovation, a key industry trade group. As of now, the alliance estimates that about 50 of the 72 electric, hydrogen or plug-in hybrid models that are sold in the United States wouldn't meet the requirements.
"The $7,500 credit might exist on paper," Bozzella said in a statement, "but no vehicles will qualify for this purchase over the next few years."
The idea behind the requirement is to incentivize domestic manufacturing and mining, build a robust battery supply chain in North America and lessen the industry's dependence on overseas supply chains that could be subject to disruptions.
Production of lithium and other minerals that are used to produce EV batteries is now dominated by China. And the world's leading producer of cobalt, another component of the EV batteries, is the Democratic Republic of Congo.
Though electric vehicles are part of a global effort to reduce greenhouse gas emissions, they require metallic elements known as rare earths, found in places like Myanmar, where an Associated Press investigation has found that the push for green energy has led to environmental destruction.
Under the $740 billion economic package, which passed the Senate over the weekend and is nearing approval in the House, the tax credits would take effect next year. For an EV buyer to qualify for the full credit, 40% of the metals used in a vehicle's battery must come from North America. By 2027, that required threshold would reach 80%.
If the metals requirement isn't met, the automaker and its buyers would be eligible for half the tax credit, $3,750.
A separate rule would require that half the batteries' value must be manufactured or assembled in the North America. If not, the rest of the tax credit would be lost. Those requirements also grow stricter each year, eventually reaching 100% in 2029. Still another rule would require that the EV itself be manufactured in North America, thereby excluding from the tax credit any vehicles made overseas.
Automakers generally don't release where their components come from or how much they cost. But it's likely that some versions of Tesla's Model Y SUV and Model 3 car, the Chevrolet Bolt car and SUV and the Ford Mustang Mach E would be eligible for at least part of the credit. All those vehicles are assembled in North America.
The tax credit would be available only to couples with incomes of $300,000 or less or single people with income of $150,000 or less. And any trucks or SUVs with sticker prices above $80,000 or cars above $55,000 wouldn't be eligible.
There's also a new $4,000 credit for buyers of used EVs, a provision that could help modest-income households go electric.
— The Associated Press