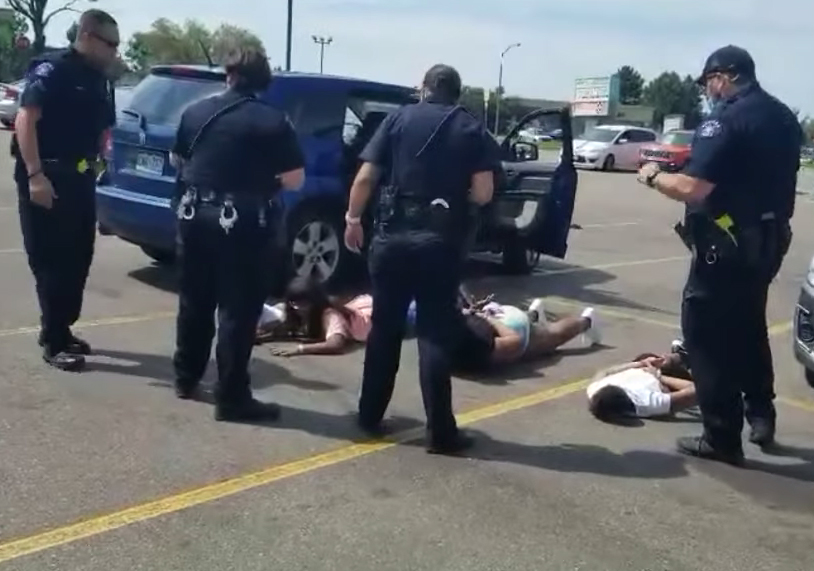 AURORA | Prosecutors in the 18th Judicial District on Friday announced that they will not file any criminal charges against the Aurora Police officers who detained several members of a Black family at gunpoint this summer after erroneously accusing them of driving in a stolen car.
Chief Deputy District Attorney Clinton McKinzie wrote that attorneys do not have enough evidence to convict either of the two officers who first stopped the vehicle in a parking lot near South Chambers Road and East Iliff Avenue.
"There is insufficient evidence to support the filing of any criminal charges against Officers (Darian) Dasko and (Madisen) Moen," McKinzie wrote in a nine-page letter to Police Chief Vanessa Wilson. "The evidence that exists would not support a reasonable likelihood of a criminal conviction at trial."
Dasko and Moen were the first officers to stop and interact with Brittney Gilliam and four members of her family on Aug. 2, 2020. With their guns drawn, the officers eventually ordered Gilliam and her passengers — four girls ages 6, 12, 14 and 17 — to lie prone on the pavement as they handcuffed several of them. Other officers eventually arrived to the scene with at least one unholstered handgun and two Tasers as investigators attempted to discern whether Gilliam's blue Dodge SUV was stolen.
Video captured by witnesses shows Gilliam and the young girls screaming and sobbing, including the 6-year-old, who was ordered out of the car while wearing a pink crown, according to McKinzie's report.
Police at the scene and at department headquarters eventually determined that a license plate reader had mistakenly listed Gilliam's car as stolen. In the days after the incident, Wilson  said the readers only search by plate numbers — not by state or vehicle make and model.
Gilliam's plate shared the same numbers as a motorcycle registered in Montana that had been reported stolen in the area. Officers did not cross reference Gilliam's plate in a national database, which would have shown that her vehicle did not match the registered state or make of the stolen bike in question.
David Lane, a lawyer for the driver and the girls, said he wasn't surprised by decision, which he said fits a pattern in Aurora and the U.S.
"When white cops point guns at small Black children, there are no consequences in America," he said.
Lane plans to sue the city and the officers as early as next week under a new police accountability law passed in Colorado during protests over racial injustice. He thinks a local jury familiar with the city and includes more people of color would be more likely to grant justice than a federal jury from a wider area.
Officers eventually apologized and released the group from custody. Video of the incident prompted International outcry, including strong condemnation from a bevy of local lawmakers.
Wilson issued a lengthy apology in the days after the debacle, though she contended officers acted in line with departmental policy.
A consultant tasked by McKinzie to review the incident also determined police followed their training protocols, but urged the department to amend its current procedures.
"All of the officers involved in the  incident acted in a professional, safe, and respectful manner in all their interactions with the driver and the other occupants of the vehicle during the encounter," Paul Taylor, a former police officer and associate professor of criminology at the University of Colorado Denver wrote in his analysis. "The officers' actions were consistent with the high-risk stop training they had received … I would highly recommend that the Aurora Police Department change the high-risk vehicle tactics that they train their officers to use."
McKinzie, too, urged police to alter their current policies.
"It is our hope, however, that APD will immediately undertake a review of their policies to try and ensure that nothing of this sort ever happens again," he wrote.
There is currently no specific training on Aurora's books regarding officers encountering children during so-called "high-risk stops," according to McKinzie.
A spokesperson for Aurora police said there have not been any specific changes to the department's high-risk stop policies in recent months.
The department declined to comment on McKinzie's decision, citing an ongoing internal affairs investigation into the incident.
Gilliam did not immediately respond to a request for comment.
David Lane's comments were contributed to this report by the Associated Press.