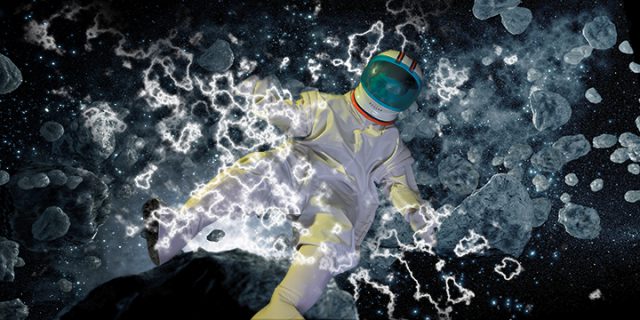 As it turns out, after decades of the airline and space industries being some of the coolest jobs in the world, we need to make space school a blast. So we are.
The need to explore is something that is an inherent human trait. Since mankind could walk, the desire to see what is just beyond the horizon has driven us to build boats, climb mountains, strap ourselves onto giant rockets and shoot ourselves into the lethal darkness of space.
The drive to discover is just as strong today as it has ever been. But as humans begin to look toward the sky and beyond as the next stage of human exploration, there is something that is missing: the explorers.
Throughout the world, there is a deficit of people trained and ready to be the next generation of pilots, mechanics, engineers, and designers who will take to the skies and the stars to carry the banner of exploration — and commerce. As more and more of the current generation retires, there are too few people lining up to take their place, experts say. That lack of talent has serious implications, both for the future of the aerospace industry and the world economy at large.
In the face of that problem, Wings Over the Rockies has partnered with teachers, pilots and engineers to work on how to entice and teach the next generation of explorers. And when the Colorado Skies Academy takes off in less than two years at the Centennial Airport, the founders hope it will help be the model on how communities across the country and the world can train the next generation to touch the sky and push forward into the unknown.
---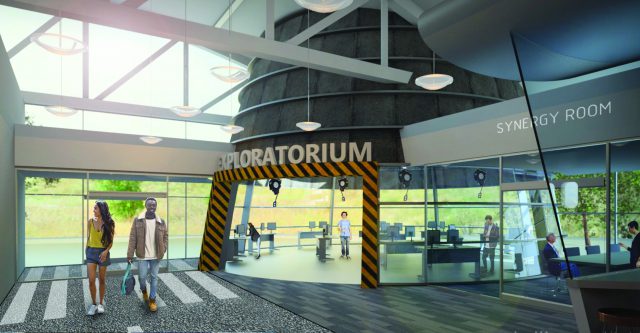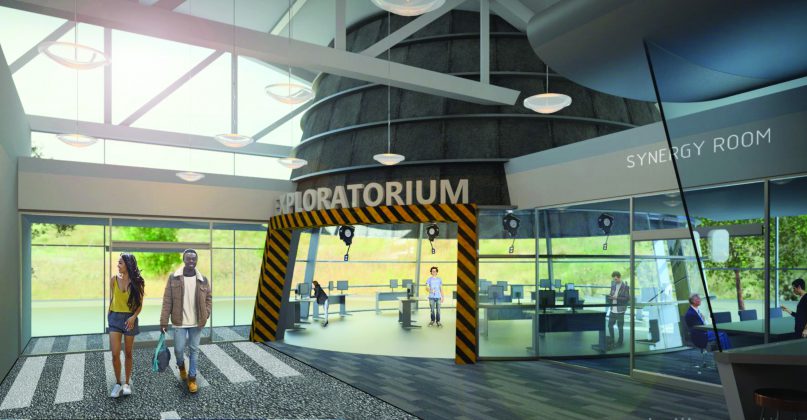 An industry in crisis; a replicable solution
Space school. It might seem far fetched and something more at home in a subplot of a Star Trek episode than in the middle of one of the busiest general aviation airports in the country.
But Colorado Skies Academy, which is set to open for the 2019-2020 school year, plans to be the first in the nation to combine project based learning, STEAM (science, technology, engineering, art and math) education and focus it all on the aerospace industry. The charter school, which will serve sixth through eighth grades, aims to take kids who are already intrigued with the idea of aviation and put them on the fast track to becoming the next generation of leaders of the skies.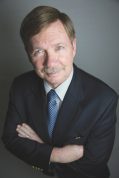 The school will start in 2019 with about 225 students and add more kids to the roll to reach a total of 375 by the start of the 2022-2023 school year. John Barry knows something about flight and education. A former superintendent of Aurora Public Schools and retired two-star Air Force general, Barry currently sits at the helm of Wings Over the Rockies museum. The museum is set to expand onto a new campus at the Centennial Airport. Called the Exploration of Flight Campus, the project will also feature two new museums, one dedicated to space exploration and the other on the future of flight, set to open this year.
Wings' mission is to educate and inspire Coloradans of all ages about the history and possibilities of manned air and space travel. As part of that, the museum partners to provide flights to students across the state in the Young Eagles program and to educators with its Teacher Flight Program.
While free flights and museums built to inspire can help push kids toward a career in the aerospace industry, it will not be enough to meet the growing demand for employees in the aerospace industry. Major airlines are already having to poach pilots from smaller carriers, companies are giving out major bonuses just to find mechanics to fill a massive demand for skilled labor, and positions continue to go unfilled while more and more of the current workforce retires.
A shortage like that affects everyone, but it certainly hits Colorado harder than most. The Centennial State has the second largest aerospace workforce in the country, both in per capita and in total employees, with every major aerospace corporation having a presence in the state, Barry said. If those companies struggle to fill positions, it will be a drag on the economy.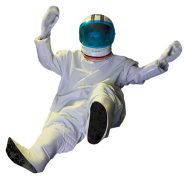 Faced with these issues, Barry, the board of directors for the museum, philanthropists and members of the industry decided major change needed to happen. And thus the idea for space school was formed.
"(This school) can be replicated anywhere in the country. We're not going to solve the shortage of pilots, aircraft mechanics, air traffic controllers in the country. But we can serve as the model on how it can be replicated anywhere in the country," Barry said. "If this school serves the purpose of helping to solve the bigger issue we have with shortages in aerospace, we will have done a great service for the country. And maybe the world. This is not a national problem on the shortage of personnel. It's an international problem. You're seeing this in every country."
For Barry, a successful school will be something everyone in the state and the world will want to copy. And be one of the crown jewels of what he and others have started to call Colorado Aerospace Alley.
---
Training the next astronauts, engineers and, yes, the space artists
The non-profit school will be run by a local board and in partnership with California-based iLEAD Schools. The charter intends to apply to be part of the Cherry Creek School District and will submit a formal application in August. iLEAD and the leaders of the school  have given a presentation to the Cherry Creek Schools school board.
Cherry Creek Board President David Willman said the idea is interesting but what happens with approval would depend heavily on the application that's submitted to the district.
"If it's the right fit for students and different from what we're already doing in our district, I think this school will be very successful, and it will probably grab students from different parts of the metro area. We hope the application is solid. Until I see it and get it vetted, it's hard to say," Willman said. "I'm excited for them and for the region. But for our board to move it forward it has to be the right thing for kids."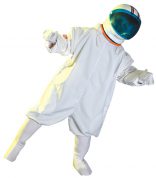 The focus of the school will be based on the idea of project-based learning in combination with lecture-based instruction. As part of the educational process, students will combine lecture-based classroom work with different projects, like building engines and designing gear for space travel, which will be lead by students themselves.
"Project based learning really puts the kids in the driving seat," said Dawn Evenson, CEO and founder of iLEAD. "Having kids empowered in how they will move a project forward, having that voice and that choice really develops their leadership, which is a strong focus of who we are. We want our schools to graduate the leaders our country needs at this time."
While iLEAD works with more than a dozen charter schools across the country and includes elements of aerospace in its curriculum, Colorado Skies Academy will be the first school in the nation that creates all of its lessons through an aerospace lens.
"It will be the first charter school that focuses on aerospace engineering and related industries. The project based learning for me is important because not every kid wants to sit in a chair and be lectured to as their key educational experience," said Steve Goodman, the chair of the Colorado Skies Academy board of directors. The focus of the school will be the aerospace industry, but that won't mean that students will be pigeonholed into a career by the time they leave the school and enter into ninth grade. Goodman and the team from iLEAD said the school will not only meet state standards for curriculum, but as part of the process students will work with a counselor on an individualized learning program that will focus their education on their interests.
So for one student, that might mean focusing on mechanical engineering, but for another, it could be learning how to document the progress of a project through words and video and turning that into a dynamic presentation. The system makes sure that students discover their passion and have the skills they need to pursue that after they leave campus, said Kathleen Fredette, iLEAD's director of STEAM initiatives.
"Trying to expose kids through these projects and through STEAM lab to as many opportunities as we can to broaden their horizons," Fredette said.
The school's placement in the midst of a busy hub for air travel and aerospace companies means that students won't have to look far for inspiration and apprenticeships to learn. And while there is a long road to go to see if  Colorado Skies Academy will be brought into the Cherry Creek School District or it will be certified by the state charter school association, Barry said the academy fits perfectly with what CCSD is doing with its own innovation campus.
He has a vision of students being able to leave the academy with hands-on experiences and a vision for what they want to do with their lives, and then moving into Cherry Creek and utilizing the innovation campus to continue learning and compliance skills that will allow them to pursue their dreams once they graduate.
---
Finding the passion and planting the seed
It might seem like Colorado Skies Academy's focus on middle school students doesn't make sense. Many vocational schools and job training programs happen later on in the student's K-12 educational career. But finding the passion of a student early, and letting them focus their educational career around it will pay dividends for that child as they move onto a college career.
Waiting until a student has moved onto college for them to find a career just doesn't make sense, Goodman said. An engineer himself, he said he didn't start considering his career until he was in college when he was able to get into a lab and start to be hands on with ideas he had learned about in high school and the college lecture hall.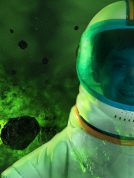 It's why iLEAD has focused this new school on middle school students. Not every student is going to end up being a pilot or an airplane mechanic. But putting students into situations where they get to take ownership of their education and giving them a chance to explore what they're passionate about will lead them to a career path long before they have to start thinking about college majors and potential careers.
"We found that engaging kids at a younger level with authentic experiences and professional experiences is really key to helping them move into an area that will inspire, and give them a reason to go on with their education," Evenson said.
Barry understands all too well what impact an experience at a young age can do for finding the path they were meant to travel. Growing up in a one-bedroom apartment in the Bronx, the closest Barry ever got to airplanes as a child was watching one fly overhead. The first time he flew an airplane was when he was at the Air Force Academy.
But his desire to fly was created when he was 10 years old, when a neighbor took him and some friends out to Long Island to watch him fly a model airplane.
"I had never been on an airfield, I had never touched an airplane and I had never talked to a pilot until that day. Then bingo. It was one of those things where I realised I could do this," Barry said. "It's so important to get kids excited about learning and not just the rote memorization. Finding that passion is so important."
---
21st century learning for 21st century problems
Barry's excitement for this new school is palpable when one hears the pilot talk about what it will mean, not just for the aerospace industry but to the students who will fill the classrooms and labs. The former superintendent sees this model as a way to help move the educational system forward from the old system where each child is presented with the same lessons at the same time and at the end of their educational career, they are told to decide what they want to do with their lives.
Instead, Barry said this school will focus on finding where the interests lie and then using that to find avenues for a student to explore their passion. And the project-based learning system will give children every opportunity to find what truly motivates and excites them in the learning process and zero in on what gives them that spark.
"You just need to get out of their way.," Barry said. "You get out of the way or they will run you over because they are so exciting. That's how excited it can be when a kid's light comes on."