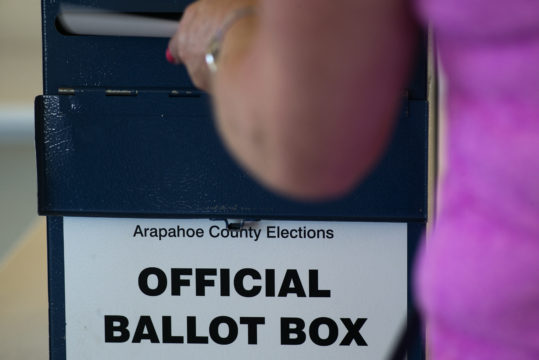 What started as an attempt to align local campaign finance laws with state and federal requirements has landed the city in an unusual predicament: an unprecedented lawsuit from Mayor Mike Coffman, who says the law passed last fall is unconstitutional. 
City legal staff can't recall a sitting city council member suing the city, and it's not yet clear how the city will handle closed sessions where council members are briefed about litigation, when the lawsuit's plaintiff is one of their own. Council members appeared to be briefed on the lawsuit Monday evening in executive session. Instead of Coffman summarizing the closed session to the public, like usual, he deferred to Mayor Pro Tem Francoise Bergan at Monday's regular study session for the summary.
Coffman didn't respond to a request for comment on whether he'll challenge the city if excluded from a meeting about the litigation.
Coffman, who was elected in 2019, a year after losing a re-election bid to Congress, is, by the laws enacted on Nov. 16, a candidate because his candidate committee is still active, even though he hasn't announced a re-election bid or may even start campaigning for one.
His mayoral term is up in 2023. Because he's still designated as a candidate, the new local law says he cannot coordinate with any other political committees, including those that are known for being conduits of so-called dark money. The label refers to money raised to sway public opinion on election issues or candidates, usually through advertising, but donor's identities are shielded by campaign laws and regulations. Critics of dark money in politics say loopholes in the law allows for it since modern election laws all focus on transparency in campaign finance.
It's normal for issue and candidate committees to pop up during elections. In 2019, several independent groups filed with the city. For example, the Better Jobs Coalition IEC's purpose was to elect then-candidate Marsha Berzins for mayor. The group, which is tied to conservative political activist Rick Enstrom, raised $85,000, but it's not clear where that money came from — it's simply tied back to the Better Jobs Coalition organization. Under the new city rules, Berzins herself could not sit on or work with that IEC because she directly benefits from how the organization spends its money.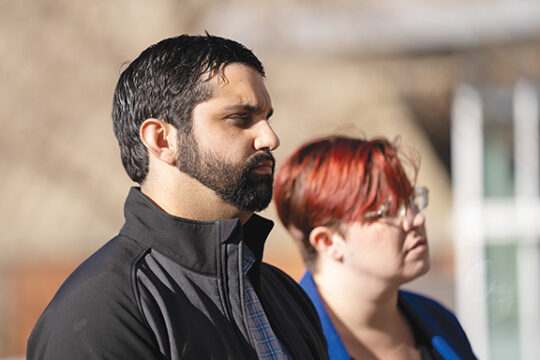 The rule is cemented into state and federal laws, too, but Coffman argues in the lawsuit that a "coordinated expenditure" under the new local law is too broad of a term, and that "if a committee uses any consultant, fundraiser or volunteer that is also used by another committee, then every expenditure of those committees is 'coordinated.'" 
The lawmakers and groups behind the campaign finance are challenging Coffman's assertions, saying that the law's intentions are clear: improving transparency and accountability in local elections. 
"Our goal isn't to step on speech," said Councilmember Juan Marcano, who co-sponsored the local campaign finance reform ordinance.
Rather, he pointed to the rules at the state and federal level the new legislation mimics.
The definition of coordination at the state level is pretty narrow, said Christopher Jackson,  who teaches election law at the University of Denver law school. Even so, determining whether the standard of coordination is met can be tricky in specific cases.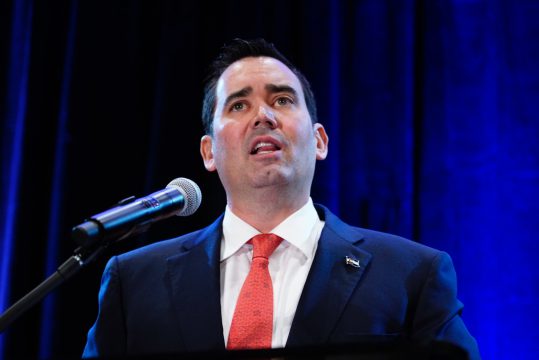 The intent at the state level is that candidates don't coordinate with an independent committee that would directly benefit them, but if a candidate wanted to aid another committee that was helping a candidate other than their own campaign, that might squeak by the state's coordination rule. It could ultimately be up to a judge to decide.
Typically, though, candidates avoid independent expenditure committees altogether because they can be fluid and operate to support a candidate, a slate of candidates or only candidates of one party. That may land a candidate in a position of coordinating with a group that benefits them at the end of the day.
Political spectators and election watchdogs said in 2017 that Walker Stapleton stretched state election law when he was a special guest at a private fundraiser for Better Colorado Now, a PAC organized by Republican fundraisers and a long-time adviser of Stapleton, before announcing his bid.
After becoming a candidate, the PAC formally recognized its support for Stapleton.
Since then, the state has updated language in its campaign finance laws to close loopholes that made Stapleton's fundraising through a friendly IEC possible.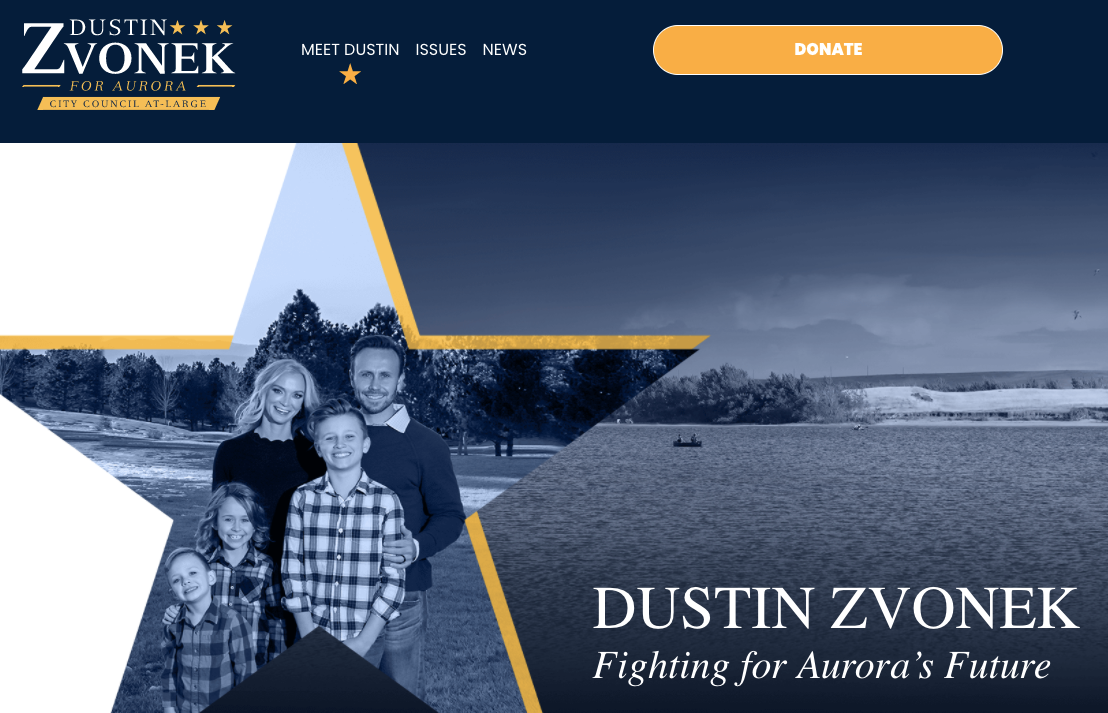 Coffman alleges in his lawsuit that Aurora's rules make it impossible for him to help out council candidates he wants on the dais, namely, he told the Sentinel, Dustin Zvonek, Coffman's former Congressional press secretary, who is running for an at-large seat.
Amanda Gonzalez, executive director of the nonpartisan, left-leaning civic group Colorado Common Cause, helped write the rules. She said Coffman can still be "deeply involved" in the race this year, stump for Zvonek and share volunteers with his other preferred candidates — he just can't be treasurer of a group funneling cash into the race, she said. 
The rule is part of a bigger goal of creating more public trust in Aurora's elections, she said, by taking away some tools councilmembers might have had to stack the council with their political allies. 
"That's not the kind of system that voters feel good about," she said. She added that Aurora's reform brings the city in line with federal rules and those of "most jurisdictions" which have generally been upheld by the U.S. Supreme Court. 
Gonzalez said the high court, in the landmark 1976 court ruling Buckley v. Valeo, expressed support for rules limiting cooperation between candidates and various committees.
State and federal candidates often set up their own leadership PACs, which donate money to other like minded candidates. That's not been a typical occurrence in city elections, however. 
Marcano, who co-sponsored the Aurora campaign finance ordinance, said he also believes many of the acts city council candidates already do — like endorsing each other, door knocking, or donating individually to a campaign — would still be allowed under the regulations. Marcano himself has already endorsed an at-large candidate.
The Aurora ordinance was passed on a 7-3 vote after council members shot down two amendments from Coffman, which ultimately became part of the lawsuit he filed on March 16.
"The most egregious part of the new law, that I'm challenging, strips me of my right to organize and lead campaigns for or against local ballot questions even when I'm not up for re-election and even when the local ballot question is not on a general election ballot when there are no municipal candidates on the ballot," Coffman said in a statement he posted to Twitter. "Not only in this blatantly unconstitutional, but it has virtually nothing to do with campaign finance reform."
So far there aren't any local ballot questions slated to be submitted to the 2021 ballot.
"We have the city's mayor using taxpayer money to sue the city on an issue that provides for transparency and accountability in elections — and it's an issue that as mayor that he can't vote on," said Councilmember Nicole Johnston, a chief author of the campaign finance reform measure.
Coffman is being represented in the lawsuit by a third party group, but the city will have to defend itself, which is an expense footed by taxpayers.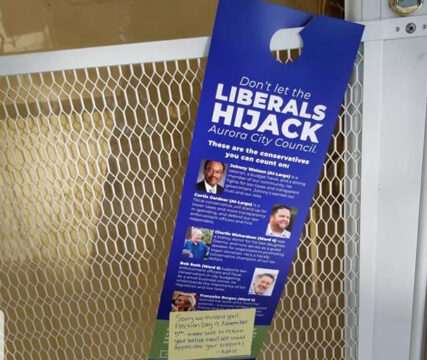 The lawsuit also challenges a section of the new rules that allow Aurorans to glean donors behind political advertisements, like TV clips and mailers, that have stirred up controversy in recent elections. 
The ordinance requires the organization responsible for the message to list the group's top five donors on the ad if they've raked in donations of more than $1,000. Aurorans checking their mailbox have to be able to clearly read through the groups' top donors on print materials or hear the names on the TV. 
The rules are too "burdensome that it impedes the ability of a candidate or group to speak," Coffman's lawsuit says. "The requirement to list the most recent donors also imposes a heavy administration and financial burden on those who engage in electioneering communications."
Gonzalez said the goal here is to peel back the curtain behind mysterious groups spending money in Aurora elections that have vague and "borderline silly names," she said. For example, groups called One Aurora and Aurora First both spent money in the 2019 campaign cycle. Without looking through paperwork, it's tough to see beyond the person who simply filed registration forms under the previous rules. 
"Everyone wants to understand what they're voting for and who is trying to influence their vote," Gonzalez said. 
While Coffman is opposed to parts of the ordinance, he didn't disagree with all of the new reforms. He agreed with Johnston and Marcano that there should be donation caps. Prior to the majority of council approving the ordinance, Coffman had submitted his own competing plan, which would have allowed no more than $1,000 contributed to any candidate for mayor or an at-large seat on the city council and $500 to ward candidates.
Marcano and Johnston's plan settled on $400 for ward candidates and $800 for at-large and mayoral candidates.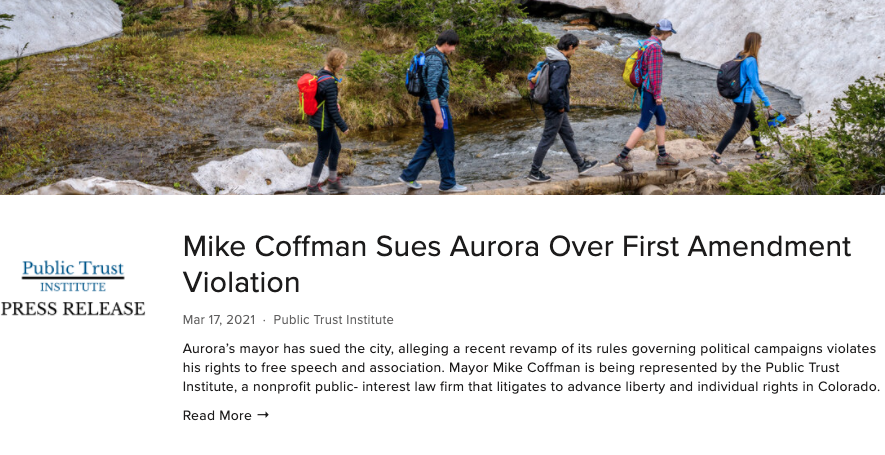 The Public Trust Institute is representing Coffman in the lawsuit. The organization is described by the firm's legal director Dan Burrows as a "right-of-center public interest law firm" which takes cases pro-bono that "advance open and accountable government."
Other recent actions the firm has taken include the ethics complaint against former Gov. John Hickenlooper, which resulted in Hickenlooper having to pay $2,750 in fines for two illegal gifts he accepted while in state office, and another against former State Rep. Joe Salazar for alleged illegal lobbying, which was dismissed by the state ethics commission. In October, Salazar said he was suing the institute and its former executive director Suzanne Staiert, a former Republican state house candidate and deputy secretary of state, for malicious prosecution. 
The institute has also recently sued the city of Boulder over its oil and gas moratorium, a Colorado Springs school district for wanting to shut a special needs school down, and the town of Estes Park for alleged TABOR violations.