AURORA |  An Aurora police officer who turned himself in to Arapahoe County deputies Monday night has been accused of strangling, pistol-whipping and repeatedly threatening to shoot an unarmed man in the 3100 block of South Parker Road on July 23, according to court documents released Tuesday morning.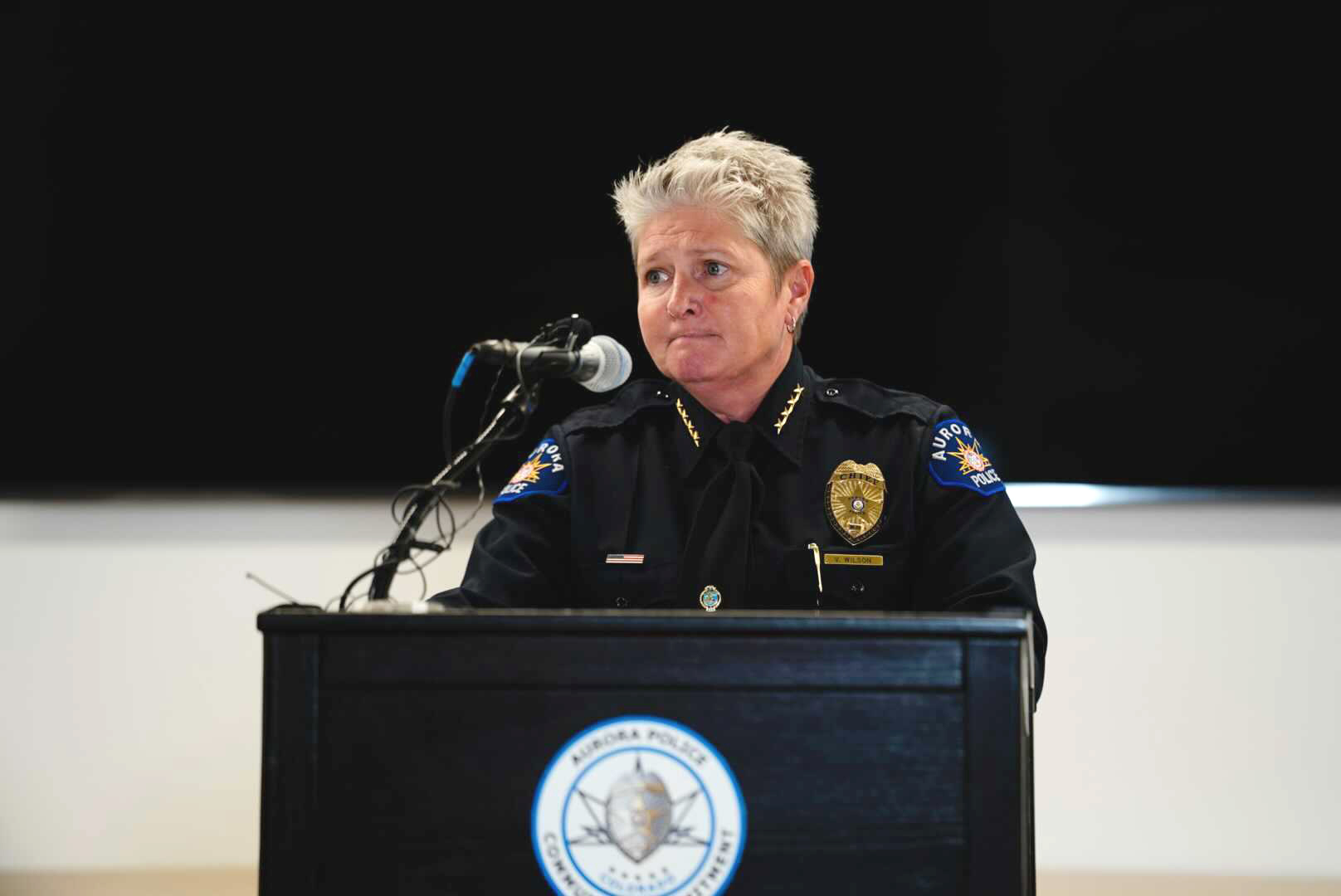 Officer John Haubert, 39, faces charges of attempted first-degree assault, second-degree assault, felony menacing, official oppression and first-degree official misconduct in connection with the arrest of 29-year-old Kyle Vinson at about 2:15 p.m. last Friday, according to an arrest affidavit filed against Haubert.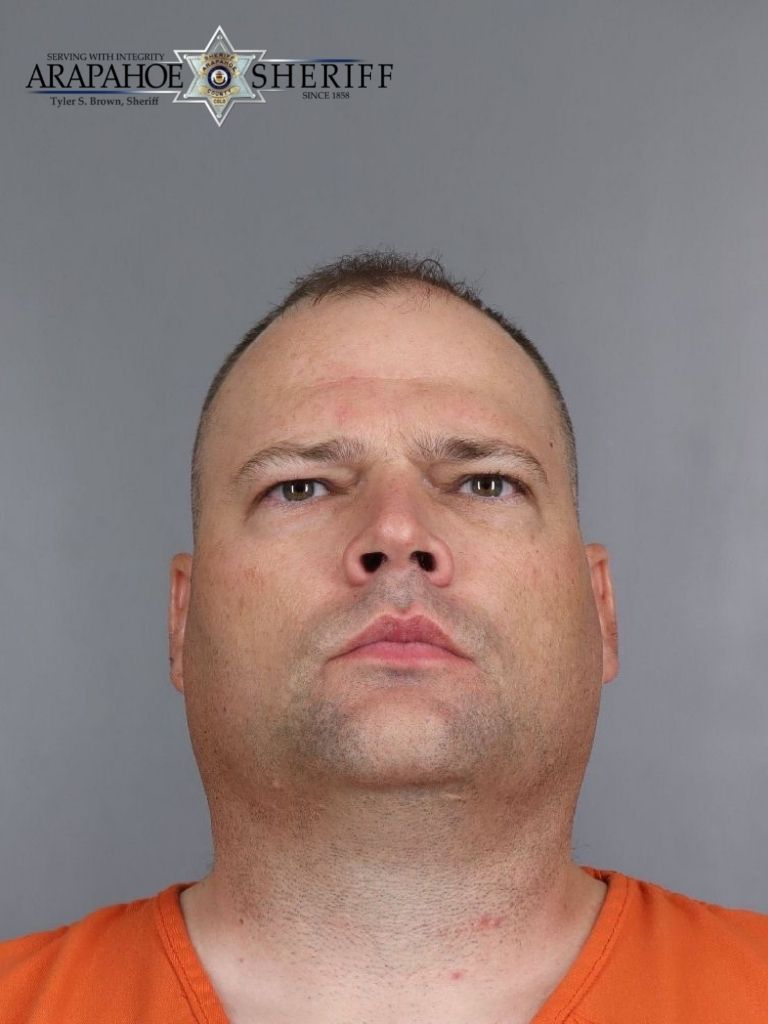 Images from body camera footage show Haubert repeatedly strike Vinson's head with the butt of his department-provided gun and squeeze his throat, causing the man to cry, beg for his life and nearly faint, according to the arrest document.
"This is not the Aurora police department," Aurora Police Chief Vanessa Wilson said at a Tuesday press conference. "This was criminal."
The incident started as a trespassing call at about 1:30 p.m. at 3138 S. Parker Road, where Haubert and Aurora Police Officer Francine Martinez, 40, detained Vinson and two other men wanted on felony warrants.
As Martinez attempted to place one of the men into handcuffs, he and another man freed themselves and ran away. They successfully fled the scene and remain at large as of Tuesday afternoon.
Haubert then tried to place Vinson into handcuffs, telling the man to roll onto his stomach as he pressed the barrel of his pistol against the back of his head. Vinson initially complied, according to Aurora Police Detective Ethan Snow, who wrote the 15-page affidavit seeking a warrant for Haubert's arrest.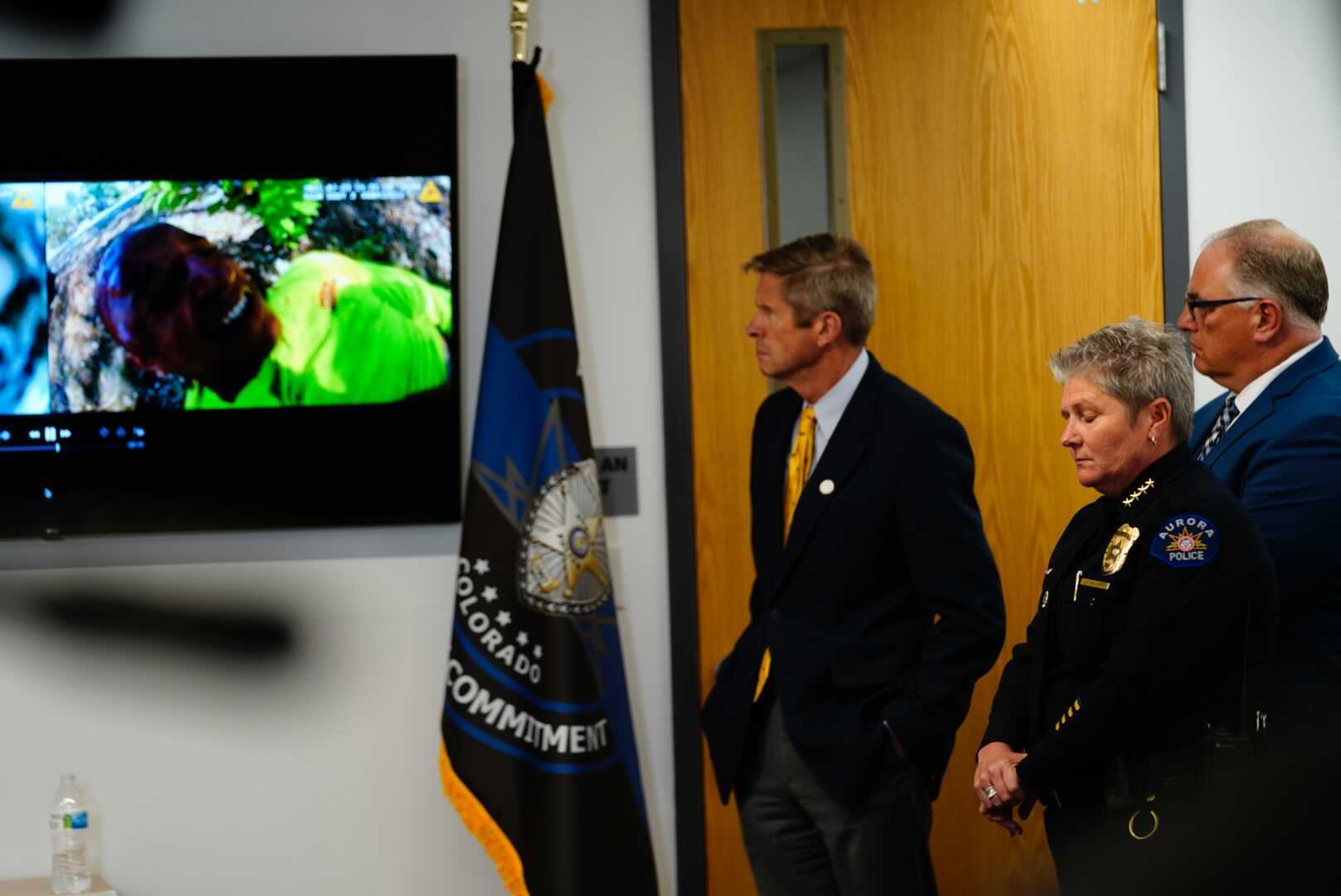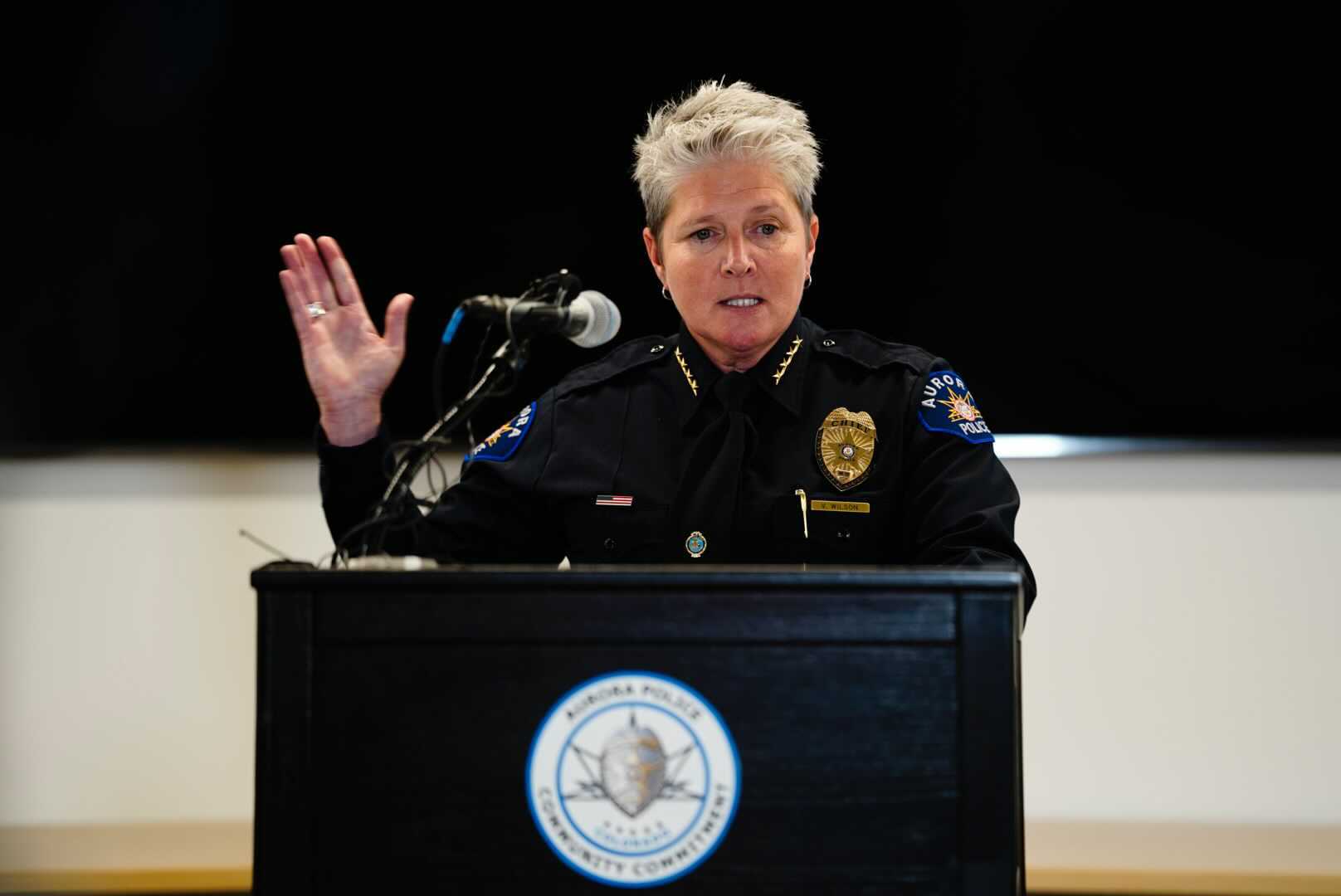 "Officer Haubert continued to press his duty pistol against Mr. Vinson's head despite Mr. Vinson's compliance," Snow wrote. Vinson then tried to free one of his arms from the arresting officers "while squirming his body."
Haubert proceeded to get on top of Vinson and struck his head with his gun more than a dozen times, creating multiple gashes around his face and head . Gashes and cuts covered Vinson's neon green shirt with blood.
As the struggle continued, Haubert put his hands around Vinson's neck for at least 39 seconds, according to the document. Haubert repeatedly threatened to shoot Vinson and told him to stop resisting, even though Snow determined: "It did not appear that Mr. Vinson had made any attempts to fight Officer Haubert."
Through labored breathing, Vinson told Haubert "you're killing me" and repeatedly asked the officer not to shoot him.
Throughout the encounter, Vinson repeatedly tells officers that there is no warrant for his arrest and "you have the wrong guy."
Police officials have since clarified that Vinson was wanted for felony strangulation in connection with a domestic violence incident in Denver, though he likely didn't know there was a warrant for his arrest as it may have been tied to a probation violation.
Other officers eventually responded to the scene, and one officer shot Vinson in the leg with a stun gun. He was placed into handcuffs and medically evaluated moments later.
"Mr. Vinson stated over and over again that he can't breathe," Snow wrote.
When conversing with other officers who arrived as Vinson was apprehended, Haubert could be heard saying "All that blood on him is from me f****** pistol whipping him … I was wailing the f*** out of him," according to the affidavit.
Though doctors determined that Vinson did not sustain "serious bodily injury" in the encounter, he sustained multiple cuts and bruises to his neck and face, and he received six stitches for a 2-inch gash on the left side of his head. He also incurred a large welt on his right temple.
Police officials said it was determined Vinson did not sustain a concussion in the incident following CAT scans.
While receiving medical care at the Aurora Municipal Jail, Vinson reportedly asked a nurse for a medication intended to mitigate the effects of opioid withdrawal, according to Snow.
Vinson has retained civil rights lawyers @RMLawyersLLC and Charles Nicholas. RM has represented family members of several people who died following interactions with APD, including Gary Black and Elijah McClain.
In March of 2009, Haubert was accused of DUI, felony menacing and a misdemeanor weapons charge for being drunk with a gun, court records show. He pleaded guilty to the weapons charge in October of that year. The other charges were dismissed.
Haubert was sentenced to three months of probation, 24 hours of community service, and ordered to pay court fees in the 2009 case.
Wilson said she was only made aware of Haubert's previous gun charge Monday morning, but she reiterated that she has no control over the hiring process of basic recruits entering any given police academy. Aurora's civil service commission has the final say on the hiring and firing of police and fire personnel.
"That is a civil service commission question," she said.
Wilson said she has started an expedited internal affairs investigation into the incident, the results of which could be made public next week. It is only the second time she has made such an expedited request in her some 18 months as chief, she said.
Wilson cannot impose any departmental discipline on Haubert until the internal affairs process is completed.
Still, she fervently condemned Haubert's interaction with Vinson last week.
"We're disgusted," she said at a news conference Tuesday afternoon. "We're angry. This is not police work … We don't train this. It's not acceptable."
Haubert has not faced any internal discipline for his work conduct since he joined the Aurora Police Department three years ago, according to a department spokesperson.
Haubert turned himself in to the custody of the Arapahoe County Detention Center in Centennial in connection with the July 23 incident Monday night, and he was released shortly after posting a $50,000 bond, according to a spokesperson for the Arapahoe County Sheriff's Office. He was due to appear in court at 9:30 a.m. on July 27.
He has been placed on administrative leave without pay pending the outcome of the internal affairs probe, according to Aurora police.
An arrest warrant was also issued for Martinez for the misdemeanor charges of failure to intervene and failure to report use of force by peace officer. 
Her arrest has since been processed and she paid a $1,000 bond to gain her liberty as her court case moves ahead, Wilson confirmed Tuesday.
The only other Colorado court case that lists a 40-year-old Francine Martinez as a defendant was a traffic case in Denver in which she was found guilty of driving an unsafe vehicle in February 2009.
Martinez has been disciplined for her work conduct twice in the past: Once for receiving a written reprimand for how she handled evidence, and a separate incident in which she was suspended for 10 hours for how she conducted a preliminary investigation, according to the department.
Martinez has worked with Aurora police for six years. She has been placed on administrative leave with pay as her case moves forward.
Haubert was stripped of pay because he was charged with a felony; Martinez is able to remain on the city payroll because she has been accused of misdemeanor crimes.
Neither Haubert nor Martinez agreed to speak with Aurora detectives after the incident, citing a desire to consult with their attorneys, according to the affidavit.
It is nearly unprecedented for police to face criminal charges for conduct in the line of duty, especially just days after an incident. Some of the charges appear to point to new police reform laws enacted last year by state lawmakers.
The incident last week marked the sixth time in about one month that an Aurora police officer has struck a resident with a weapon. In June, officers shot a man with a stun gun and a bean bag fired out of a shotgun, piercing his abdomen. Officers then shot at residents, striking at least three people, in four incidents between July 6 and July 20.
Because officers did not deploy a gun when interacting with Vinson, the incident will not be forwarded to a regional investigations team composed of various agencies, Wilson confirmed. All of the other recent incidents are currently being reviewed by the so-called critical response teams in the city's two judicial districts.
Aurora's troubled police department has been involved in several abuse-of-force incidents in recent years. The most egregious was the death of Elijah McClain, a 23-year-old Black man who died in 2019 after being confronted by police responding to a citizen's call about a "suspicious" person in their neighborhood.
Wilson became the first female to permanently lead the Aurora Police Department when she got the job in August 2020. At the time, the department was looking to regain public trust following a tumultuous year since the death of McClain, whom officers stopped on the street and put into a now-banned control hold.
Wilson, who is white, has 23 years of experience with the police department in Colorado's third-largest city, a diverse community east of Denver. She got the job over three other nationwide finalists — all Black men.
Colorado's Legislature passed a bill last year that, among other things, requires all officers to use body cameras by July 2023, bans chokeholds, limits potentially lethal uses of force and removes qualified immunity from police, potentially exposing officers to lawsuits for their actions in use of force cases.
The 2020 law also bars police from using deadly force against suspects they believe are armed unless there is an imminent threat of a weapon being used. It requires officers to intervene when seeing use of excessive force by colleagues and to report such cases to superiors.
Lawmakers strengthened that law this year, too, in part, to encourage more officers to use their body cameras and promote "de-escalation techniques" in police encounters.
Wilson has touted such techniques since unveiling a multi-pronged plan intended to restore public trust in her department last fall.
— The Associated Press contributed to this report.