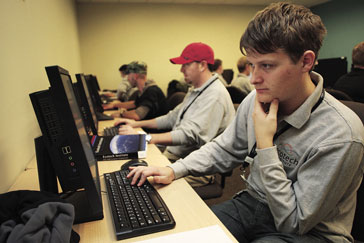 AURORA |Aurora for-profit college Ecotech Institute, which trains students for renewable energy jobs, will close next year as its parent corporation closes schools across the country.
The school will close October 2019 because of insufficient demand for degrees and diplomas in wind and solar technology, said Diane Worthington, a spokesperson for Education Corporation of America, which owns Ecotech. New students will not be admitted.
Education Corporation of America will phase out 26 of its 70 for-profit colleges around the country by April 2020, Worthington said.
Worthington said that not enough students were enrolling for Ecotech to be profitable. Three of the 250 students may not be able to finish their courses before the school's closing date and will be assisted in transferring to another school or be fully refunded, Worthington said.
Ecotech Institute runs programs in electricity and solar and wind technologies to place graduates in the region's renewable energy sector.
Dan Fink, a professor of solar technology at Ecotech, said the announcement was disappointing. He stressed both the success of the program, which landed about 70 percent of graduates in solar energy jobs, and the challenges of working under corporate leadership.
"I think we did the best we could. It was a pretty good program," Fink said. "We all wish Ecotech would have been a nonprofit," he said of the staff.
One challenge was having equipment conducive to student learning: according to Fink, educational equipment is more easily donated to nonprofits than for-profit schools like Ecotech.
A nine-month diploma in Wind Energy Technology costs more than $16,000 according to the Institute's website.
"It's an expensive school," Fink said.
Worthington did not have immediate data on the number of graduates or their rate of job placement, but said Ecotech is "proud of our history, and we look forward to the success of our final class of students."
Fink is worried about the lack of specialized renewable energy programs in Colorado. Colorado State University and the University of Colorado are focused on research, not job training, Fink said, and there are few renewable energy colleges in the state.
14,000 Coloradans worked in the renewable energy sector in 2016, mostly in solar and wind generation, according to trade group Environmental Entrepreneurs.