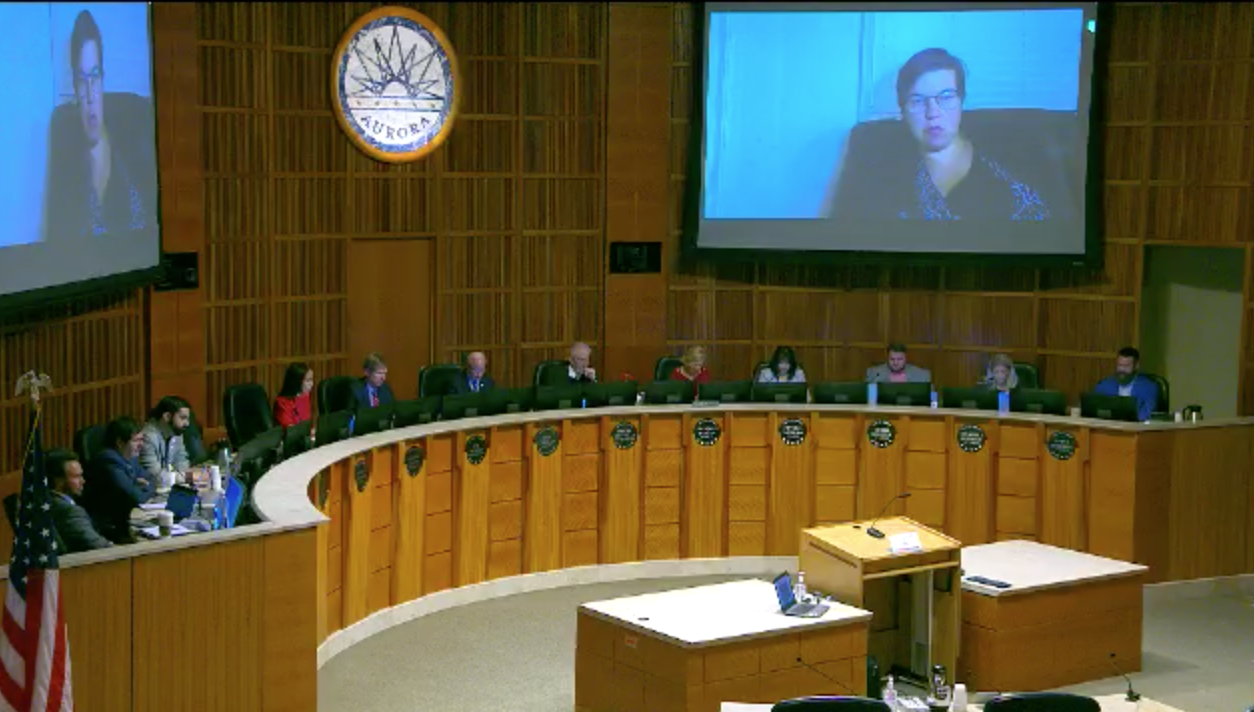 AURORA | City Council members voted for a second time on Monday to create a specific ban on unauthorized camping in Aurora, including new language providing for temporary storage of homeless campers' belongings.
The group cleaved to the same 6-5 split they voted along Feb. 28, with unaffiliated Councilmember Angela Lawson expressing opposition next to self-proclaimed Democratic progressives Alison Coombs, Juan Marcano, Ruben Medina and Crystal Murillo. Republican Mayor Mike Coffman, who reintroduced the ban six months after it was shelved by a past divided council, again broke the tie in favor.
For the past few years, partisan politics has often overshadowed the polarized city council on controversial issues and during elections. 
Murillo earned the support of Coffman, Republican Curtis Gardner and Lawson to amend the camping ban ordinance so City Manager Jim Twombly would be directed to create a policy for storing campers' personal property left over when camps are swept.
"We are taking away everything that people have in this world with this ordinance," Murillo said. "How dare we not even provide an opportunity to store that safely for people. … This is everything that people own."
Gardner said he was sympathetic with homeless people having their property seized by the state.
"I don't like the idea of someone facing their camp being abated and the government taking their property and destroying it," he said. "It's just like when somebody goes to jail. We don't take their property and destroy it."
The amendment, which passed 6-4, would be triggered once campers are given at least 72 hours to clear out of a campsite, after which the camp could be cleared and anyone refusing to relocate to city-sanction shelter space could be arrested or fined up to $2,650, according to the rest of the language of the ban.
Coffman offered his own amendment to the ban he sponsored, which would have prevented homeless people from being adjudicated on violating the ban, in effect prohibiting them from incarceration and court fines. The amendment, which failed, would have instead directed police to ticket camping scofflaws with trespassing, which would create a criminal charge.
Coffman has consistently said the ban does not "criminalize" homelessness, as opponents have charged, even though the ban specifically outlines incarceration and court fines for violators.
Opponents of Murillo's amendment questioned why it wasn't more detailed and what might happen if items such as clothing or sleeping bags were stored by the city.
"Bed bugs come in with those items. Lice have come in with those items," Councilmember Danielle Jurinsky said. "I think that city staff are already very committed to preserving personal documents, identification and medication. … I understand this is vague, but they are already storing those items."
Jurinsky was told by city staffers that items which are obviously valuable, such as IDs, are not thrown away currently when camps are cleared, and that developing a policy could take around five or six weeks. Providing storage would likely cost the city an undetermined amount of money and would require space beyond the limited storage at the Aurora Day Resource Center.
Another opponent, Dustin Zvonek, said he would not support Murillo's amendment as such because of its lack of specificity but might support it as a companion resolution. Murillo declined to bring the change forward as a resolution.
"This felt like the most appropriate way to move forward, to give our subject matter experts the ability to craft what that looks like," Murillo said of the broad language of the amendment. She also said that she considered adding language about handling of hazardous materials to the amendment, but wanted to leave the crafting of specifics to staff.
The scope of the changes accomplished by Murillo's amendment to the ban means the council will have to vote on the ordinance one more time on March 28 before it's finalized.
For this reason, Jurinsky accused Murillo of using "delay tactics" to stall the ban two weeks — Murillo pointed out that the failed amendment proposed by the mayor would also have postponed the implementation of the ban, which will be 30 days after the final vote.