AURORA | Aurora police have arrested a man suspected of fleeing the intersection of East Iliff Avenue and Interstate 225 after striking and killing a pedestrian there early Saturday morning.
Police arrested Jackson Donald, 23, in connection with the incident over the weekend. Donald is being held on a felony charge of "accidents involving death or personal injuries," police announced late Monday.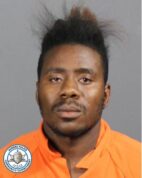 Police responded to the intersection of Iliff and I-225 at approximately 6:40 a.m. on Oct. 12 on reports that a woman had been struck by a car while crossing the westbound lanes of Iliff.
Moments before being struck, the woman had been involved in a separate, two-car crash in the area, according to police. 
A newer model Nissan Altima struck the woman as she was walking to contact the other driver, police said. 
The Arapahoe County Coroner's Office identified the slain woman as Bibi Nafisa Arman, 51, on Tuesday.
The driver of the Altima then fled the scene, but police located Donald by using his car registration to track him to a nearby apartment complex several hours later, according to police. 
Donald is being held at the Arapahoe County Detention Center on a $10,000 cash or surety bond, according to county records. He's scheduled to appear in court at 9:30 a.m. on Oct. 15.
There have been at least eight traffic-related fatalities involving pedestrians in Aurora in 2019.