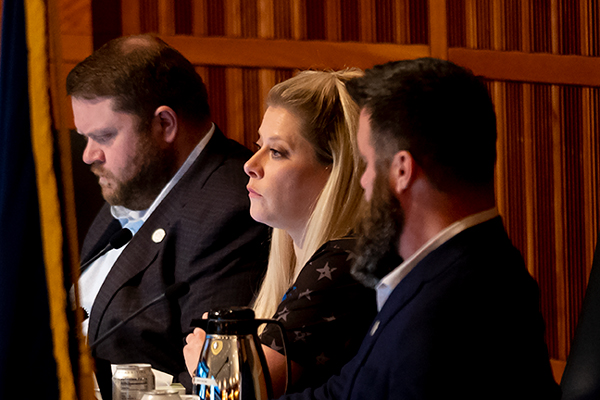 AURORA | Thieves convicted of taking more than $300 in goods from Aurora retail stores may soon face no less than three days in jail, following the City Council's tentative OK Monday for new mandatory minimum sentencing rules.
The group voted 6-3 to introduce the law on first reading, with conservatives voting in favor and progressives Alison Coombs, Juan Marcano and Ruben Medina objecting, questioning why the proposal lacked information about how much incarcerating more people in the city jail and potentially taking more cases to trial might cost.
Mayor Mike Coffman said he supported the bill but criticized the lack of a cost analysis, saying the council was unusual among elected groups he has served on for not requiring that proposals be accompanied by estimates.
"All of the legislative bodies I've been in do estimates," Coffman said. "At this point in the process, we really should have fiscal notes on all ordinances that are brought forward."
The item's sponsor, Danielle Jurinsky, responded by asking why Coffman criticized her bill and not another bill by Councilmember Dustin Zvonek that also lacked a fiscal note.
She accused other council members of "siding with criminals" after they inquired about the plan's cost, saying the expense of imprisoning more people in the city jail was "probably minimal," though she did not offer a specific estimate of the associated costs or data to support her statement.
"I am not going to let this ordinance be hijacked to continue to talk about the criminals in this city," Jurinsky said. "The message has been made very clear … (that if) you commit any theft in this city, you are going to jail. That is the message. And for my colleagues that want to continue to talk about the criminals and side with the criminals, have at it."
Coombs warned that, by not evaluating how much proposed policies may cost the city before passing them, the council was threatening other city-run programs.
"We are putting in jeopardy everything else that we are offering to our citizens," said Coombs.
Pete Schulte of the City Attorney's Office said the plan would have "some cost," but confirmed the city had not prepared an estimate, mentioning that staffers have not been tracking which theft cases would be eligible for mandatory minimum sentences.
He and Councilmember Francoise Bergan said the question was ultimately whether the law's potential to deter retail theft was worth whatever the cost would be.
"What is the fiscal impact to the small business owners, all of the business owners actually, that have continued theft happening?," Bergan asked. "Those businesses actually employ people, people that also depend on the livelihood of having that job. … Don't steal. That's the message."
Marcano and Jurinsky also argued about the effectiveness of jail versus diversion programs at mitigating crime. At one point, Marcano asked Jurinsky whether she considered instead sentencing defendants to a program where they would be forced to wear a tracking device.
Jurinsky replied that she had not, but added, "I believe it's time we start putting people in jail."
Conservative lawmakers passed mandatory minimum sentences for motor vehicle theft earlier this year, becoming one of the first or the first city to do so, according to the city's chief public defender.
The policies come as Aurora grapples with a rise in certain crimes — as of Sept. 4, the police department reported a 9.9% increase in property crime and a 19.2% increase in violent crime, comparing crimes reported by that time in 2021 and 2022.
The ordinance is scheduled to sunset unless renewed in 2024. Council members will have to vote on it one more time at an upcoming meeting before the sentencing changes can take effect. Councilmember Crystal Murillo was not present Monday night and did not vote on the proposal.