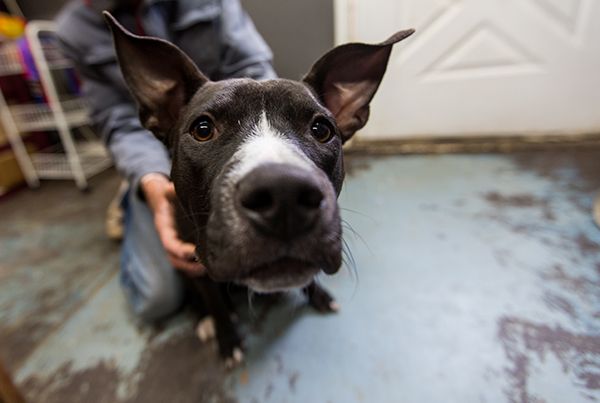 AURORA | It's official: Pit bull breeds will no longer be banned in Aurora. 
A majority of Aurora lawmakers voted to remove the long-standing ban on American pit bull terriers, American Staffordshire terriers and Staffordshire bull terriers during a Monday city council meeting. 
Only council members Francoise Bergan, Marsha Berzins and Dave Gruber voted against the move. Those council members, along with Mayor Mike Coffman, had supported a dueling plan to put the issue to voters in Nov. 2021. 
"I'm thrilled to see this repeal pass," said co-sponsor Allison Hiltz. She said the city's new dangerous dog ordinance, which lawmakers approved in the fall, will apply to registered pit bulls that will soon be legally allowed in the city. All dogs with a record of violence may have to be muzzled when outdoors and more. Repeat canine offenders could be sent to the pound. 
The repeal will go into effect in 30 days. 
On Monday, the opposing lawmakers cited concerns that the city council had overturned the will of Aurora voters. An overwhelming majority of city voters elected to uphold the ban in November 2014.
Berzins was also worried that the ban would put more Aurorans and their animals at risk of a pit bull attack. She said her cousin's dog was attacked by a type of pit bull. 
"When a horrible accident happens, just remember that you voted to have them back in the city," Berzins told lawmakers who supported the repeal. 
The move amounts to a death-knell for the longstanding breed ban. City council members originally passed an ordinance in 2005 barring residents from owning 10 different breeds in the city. 
The issue reliably garnered fierce support and criticism when taken up by the Aurora city council. Notably, the Denver Dumb Friends League threw its support behind the repeal. 
Proponents note that possibly thousands of unregistered pit bulls already exist in Aurora.
"Currently the ordinance is difficult to enforce due to the number of dogs 'hidden' in the city," staff wrote in council documents. "Also for restricted breeds that have not violated the ordinance, other than being in the city, Animal Services is taking them out of homes and may not be able to find another home to place them in out of the city."
The new, dangerous dog rules will guide judges when deciding exactly how dangerous an animal is and hand down punishments in the name of public safety.
The law set up a tiered system. A violent pit bull might fall into one of these categories and have to face face a judge:
On the lowest rung, an "aggressive" animal is one who approaches "any person or other animal in an apparent attitude of attack" without provocation. A "potentially dangerous" animal has actually bitten a human or injured a dog or cat. 
If a municipal judge decides a resident's pit bull, or other kind of dog, falls into these categories, owners will have to apply for a permit and abide by numerous rules for two years, such as muzzling the animal when it's off one's property and completing a training plan. If these or other rules are broken, the city might order the owner to hand over their pet. The animal could be killed if deemed too violent. 
The upshot, Hiltz said in the fall, is that these rules "allow responsible dog owners to keep their family pets" after a nip at a dog park or a bad interaction with a neighbor.
Denver voters also removed that city's pit bull ban in Nov. 2020.