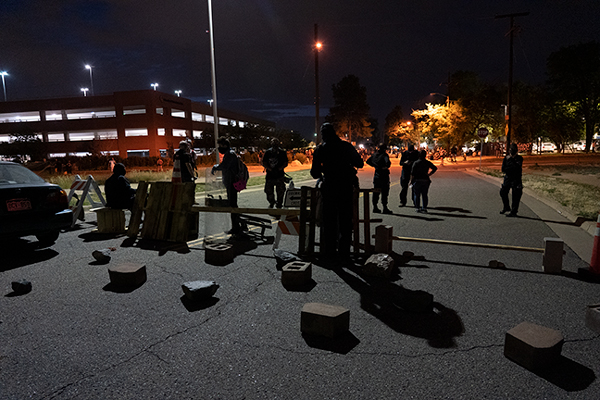 AURORA | Aurora Fire personnel saw complaints related to July 4 fireworks double in 2020, but a hurricane of circumstances prevented firefighters from responding to the vast majority of fireworks calls, according to data released Thursday.
Fire officials received 1,987 complaints of fireworks between July 1 and July 4, 2020, which marked a roughly 120% increase from the 901 such complaints received over the same time frame last year, according to Deputy Fire Chief Caine Hills.
However, firefighters only responded to 151 of those calls this year, a monumental drop from the 1,613 responses in 2017, data show.
The steep decline in responses was due largely to a large demonstration in front of a north Aurora police station that began in the early evening on July 3 and lasted until the early morning hours of July 4. The event scrambled police resources for hours and prevented officers from responding on one of the busier nights of the year for non-emergency calls, officials said.
"I think the critical piece this year and what drove these complaints up in comparison to responses was the incident that occurred on July 3 and I believe on July 4," Hills said. "We didn't plan for that."
More than 1,000 people amassed in front of the police station to demand justice for Elijah McClain, the 23-year-old unarmed Black man who died days after police detained him and paramedics injected him with a powerful sedative on Aug. 24, 2019. Two people were eventually arrested for blocking traffic in the area, and police later shot foam bullets at protesters who were launching "mortar-style fireworks" at officers, according to a department spokesman.
In years past, at least nine Aurora police vehicles have been assigned to handle fireworks calls in the days leading up to July 4, Hills said. This year, no such vehicles were available. Three Aurora Fire vehicles were tasked with managing the nearly 2,000 fireworks calls spread across the city. Only the crews on two of the trucks had arresting authority, Hills said.
The result was a total of three summonses issued for fireworks violations around the holiday. In 2016, 20 such summonses were handed out.
The city also tallied the highest number of early July building fires in recent history this year, with eight structure fires reported. Another 15 wild land fires were called in.
Hills said that the COVID-19 pandemic, civil unrest throughout the country, the perception of law enforcement and the cancellation of the city's annual Independence Day firework show likely all contributed to the rise in calls and drop in responses.
Communications officials said that the city's non-emergency phone lines were inundated by tens of thousands of "opinion calls," which further snarled response times.
"Our resources were completely overwhelmed," Tina Buneta, director of the city's public safety communications center, said.
The increase in calls had been boiling across the metro area for more than a month leading up to July 4, local police officials said.
Aurora police reported a 1,676% increase in the number of reports related to fireworks made in late June when compared to the same period last year.
Across Yosemite Street, the Denver Police Department reported a similarly eye-popping rise in calls for service related to fireworks, with reported 750 fireworks calls between June 15 and June 22, Denverite reported. That's a 987% increase over the same week in 2019.
Small incendiary devices that don't leave the ground upon being ignited were legalized in Aurora in 2017. But such incendiary devices were again shelved in Aurora this year thanks to a burn ban the local fire department imposed in late May.
Anyone found in violation of the fire ban could be slapped with a fine of up to $2,650 and a jail sentence of up to one year.
To combat the morass surrounding fireworks calls next year, Hills encouraged local officials to begin ramping up enforcement in early June. He also suggested asking callers to give more information — such as the exact address of reported fireworks use and their desire to sign a criminal complaint and possibly testify in court — in an online reporting portal.
Hills said in the weeks prior July 4, when firefighters contacted nearly 200 people who had previously reported fireworks in their area, not a single person indicated they would be willing to testify against their neighbors.
"Out of all the contacts made no one wanted to file a complaint or was willing to testify," he said.