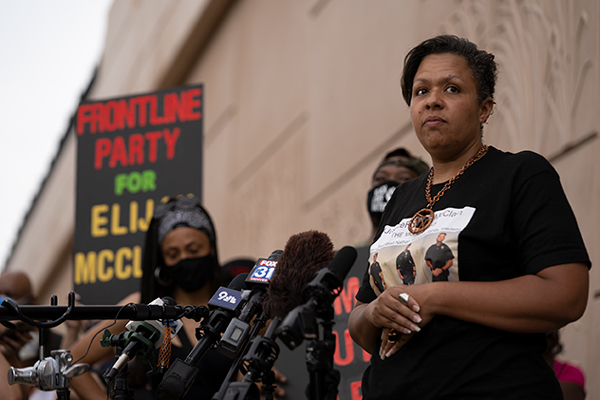 When Candice Bailey announced her run for Aurora city council on Feb. 10, her social media post quickly garnered hundreds of likes from supporters. 
Bailey sits on various government boards and is perhaps best known as an activist leader for racial and economic justice. But her run for an at-large seat on the council quickly hit a barrier: since 1961, Aurora's city charter has banned residents with a felony conviction from running for elected office.
Bailey, 43, was convicted more than 20 years ago of second degree assault — a felony — when she was 22, according to the Colorado Bureau of Investigation. She was also convicted of various misdemeanors in the 1990s and early 2000s. 
"I have nothing to hide, and it's never been a secret," Bailey told the Sentinel. She's adamant that her rap sheet is proof that someone "who makes a mistake" can change their life and others' for the better, so she's fighting to continue her bid for the city council. While talking publicly about running for a council seat, she has yet to file with the city as a candidate.
"That rap sheet tells you that I have f***ed up and I have gotten right," she said. 
Bailey said that the decades-old assault conviction stemmed from an interaction that "escalated." She shot at someone else and was shot at, but neither person was hit with a bullet, she said. 
She said her conviction "was two decades ago as a young, dumb kid experiencing life after trauma," and that she served several years in prison and more on probation because of it. 
Bailey lost her voting rights for years under state law, but she since has gained them back. 
"Every human being has a chapter that they don't talk about, that they skip," Bailey said. "We have to stop skipping the chapters and start identifying and start fixing the root causes. 'Cause we're throwing people away."
Now, Bailey is a member of Aurora's Citizen's Advisory Budget Committee and the Community Police Task Force, where she's advocated for powerful new community oversight of police business. She's also helping write new rules to hold abusers accountable as a member of the state's Child Welfare and Domestic Violence Task Group. 
Outside of government, Bailey has landed in the news for her co-leadership of protests for racial justice, Elijah McClain and Breonna Taylor last year. She's also the co-founder of the Frontline Party for Revolutionary Action. 
Bailey wants to see the felon rule in Aurora removed. 
Her supporters are quick to note that felons can run for city council in most other major Colorado cities, as well as the state General Assembly and Congress in some cases. Bailey's argument that the rule should be struck down is resonating with some members of the city council and civil rights lawyers who say it's time to remove the ban on felon candidates. 
Her options might include asking Gov. Jared Polis for a pardon, she said. She's already fished around to see if city council members would ask voters to decide whether the felon candidate ban should stay on the books. 
That's the only way to change an aspect of the city charter, according to Aurora's city attorney office. But Bailey doesn't think lawmakers have the political will. 
Councilmember Juan Marcano agrees with Bailey that the rule should be removed. He said it's a "Jim Crow relic" that "re-criminalizes" convicts who have already served their time. He expressed some support for placing the issue on a ballot for voters to decide. 
"If they want to do that, they could do that," Councilmember Marsha Berzins said of Bailey and Marcano. "I do think that would open both of them to public scrutiny on who she is, why she has a felony, why she feels like she has changed and can run the city."
But Marcano would prefer that the felon candidate ban is challenged in court. 
"I know Candice personally, I would be very excited for her run," he said. "It's just that we need to get this out of the way first, obviously. And a judge would be the quickest way to accomplish that."
Bailey has been speaking with the ACLU of Colorado about her legal options. Mark Silverstein, the group's legal director, said Aurora's rule is probably unconstitutional. The group's civil rights lawyers are considering whether to challenge the rule. 
"Certainly, I think that the Aurora rule is just arbitrary and unjustifiable discrimination" he said. "…We would certainly look at it." 
Silverstein cited a letter he sent to the City of Colorado Springs in 2001 that successfully asked officials to remove a felon candidate ban, he said. 
Among Denver, Lakewood, Centennial, Colorado Springs, Boulder and Fort Collins, only Fort Collins has a felon candidate ban on the books, the Sentinel found. 
Bailey said her priority is making sure that future candidates with felony convictions won't face the same barrier. But she doesn't intend to continue suffering for a decades-old conviction, she said. 
"The mistakes of your life aren't a life sentence," she said. "You screw up. You're bound to screw up in life."