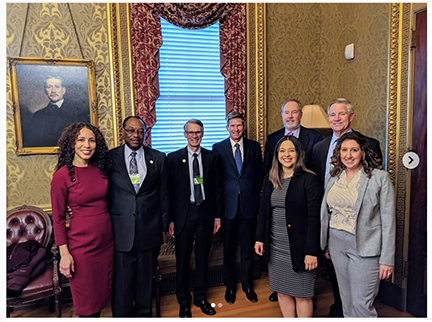 AURORA | Seven Aurora City Council members traveled to Washington D.C. earlier this month on a lobbying trip with various federal agencies, congressional staffers and White House aides in what some say could be a violation of state open meeting laws. 
City staff defended the meeting, saying that despite coordinated discussion about transportation, housing and Buckley Air Force Base, no "public business" was conducted on the trip, making the event immune to Colorado open meeting laws.
Council members Allison Hiltz, Crystal Murillo, Dave Gruber, Charlie Richardson, Johnny Watson, Angela Lawson and Mayor Bob LeGare traveled for three days of meetings — Feb. 12-14— which included stops at multiple members of Congress from Colorado, the Department of Transportation, Housing and Urban Development, and the Deputy Director of White House Intergovernmental Affairs.
City spokeswoman Lori MacKenzie said no "public business" was conducted on the trip, likening the trip to a ribbon cutting ceremony that was attended by several council members. "They are there to participate and maybe hear presentations, but they are not discussing public business," she said in an email to the Sentinel.
The cost of the trip was about $8,000, paid for with city funds.
 Colorado open meeting laws say that when three or more elected officials meet to discuss "public business" a meeting has occurred. Timely notices are required of meetings — MacKenzie said no notice was posted before the seven members left for the trip.
First Amendment lawyer Steve Zansberg, who serves as a lawyer for the Colorado Press Association of which the Sentinel is a member, said that simply listening to presentations could qualify a public meeting.
"The discussion has to bear some relationship to the body's policy making function," he said, adding that the discussion must be "connected in some logical way (to a measure) that could be brought before that body."
The city council often discusses affordable housing policy, transportation policy and economic development related to Buckley Air Force Base. But it's so far unclear whether any of the specific topics discussed on the trip will come before the council in the future.
The city spent $8,063.62 to send the seven council members and two staff members to D.C. A line item in this year's budget carved out $15,000 for the annual trip. MacKenzie said it's typical that seven members attend the annual event.
Rachel Allen, a lawyer in the city attorney's office, said the three days of travel didn't qualify as a public meeting because the issues being discussed aren't in the council's decision-making purview, they are decisions by federal agencies and federal lawmakers.
An agenda of the trip was provided to the Sentinel — which shows a total of nine meetings. MacKenzie said a majority of attending council members participated in the meetings, which were described as mostly "presentations."
This week during a formal city council meeting Gruber highlighted the trip, saying he believed it to have been beneficial.
"…I think it helped being able to talk eyeball to eyeball to the people that are reviewing the requests that we're sending forward and to listen to them and listen to their advice to us as to how we can improve the grants we're asking for," he said, noting that some of the discussion revolved around transportation projects and the future of Buckley Air Force Base.
Council members have previously discussed federal and state policy priorities for the city at study sessions.
The 2019 federal priorities include constructing the I-70/Picadilly Road interchange — the city approved direction to ask the Colorado Congressional delegation and the DOT to support a request for $15.6 million in federal funding. The priorities also call on support from the Colorado Congressional Delegation for assistance in getting a F-35 program to Buckley Air Force Base and implementing a buffer project to "protect the viability of the base's operations." Community development, housing, water and aquatic nuisance species are also on the city's federal priority list this year.
Council members met with representatives from DOT, the Air Force and the U.S. Department of Housing and Development. Additionally, council members met with staffers from U.S. Rep. Tim Scott's office. He's been a leading lawmaker on Opportunity Zones, geographic areas meant to improve economic development efforts through federal tax incentives. Aurora is home to four of those zones.
Allen said she and the city feel confident about the lobbying trip not being subject to the state's open media laws, but are re-examining protocols for similar trips in the future.
Council member Charlie Richardson, who formerly served as the city's attorney, said he couldn't see a downside to posting a notice about the trip — though he also didn't believe the lobbying trip qualified as a meeting.
*A former version of this article described the presentations as "powerpoint" presentations.