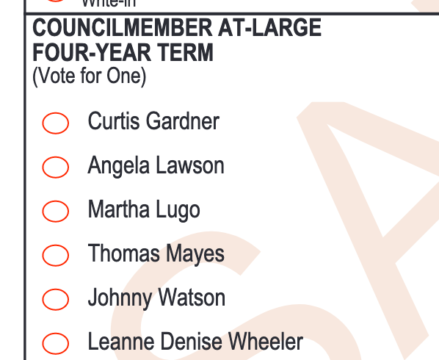 AURORA | Aurora voters living in Adams County will receive a new ballot due to an error in the directions of a previous ballot.
The original ballot instructed voters to pick one candidate for the at-large seat. They should pick two. 
Adams County Clerk and Recorder Josh Zygielbaum said Wednesday afternoon he is working with the county's printing service to issue more than 17,000 corrected ballots.
Aurora City Clerk Steve Ruger said in an email his office was alerted to the error Tuesday night. Per state law, ballots should be arriving to voters this week. Many counties mailed ballots on Friday, within the timeframe set by the state, because of the federal holiday on Monday. Zygielbaum said the corrected ballots will be sent to voters by Oct. 18, which is still within the legal timeline to send out ballots.
Voters should send back the corrected ballot, Zygielbaum said. If voters have already sent in the ballot with the error, sending back the correct ballot will void the first, incorrect, one.
"If voters return only the incorrect ballot, election judges will review and count those ballots after they've been separated from the return envelope, ensuring voter anonymity," a county news release said.
Ruger said his office provided the correct wording for the ballot — that voters should pick two candidates — but the error still occurred. Zygielbaum said in a news release the mistake occurred when "the department created the proof of the ballot. The ballot proof was then sent to and approved by the Aurora City Clerk, and the ballots were sent to the printer."
"Regardless of receiving approval from the city, this error should never have taken place. It's unacceptable to have errors in ballots," said Zygielbaum. "Our focus now is to get corrected ballots to residents in Aurora so they have ample time to submit by Election Day."
There are six at-large candidates in the Aurora City Council race: Johnny Watson, Angela Lawson, Curtis Gardner, Martha Lugo, Leanne Wheeler and Thomas Mayes. 
Mayes said while the county is doing all they can, he's still concerned about the situation.
"In any case, there is no solution I can see that would mitigate all concerns about election integrity that have been created," he told the Sentinel in an email. "Personally, I am concerned that this mishap occurred in the most diverse part of our city, and it may serve to repress the voices of those important voices in our city elections."