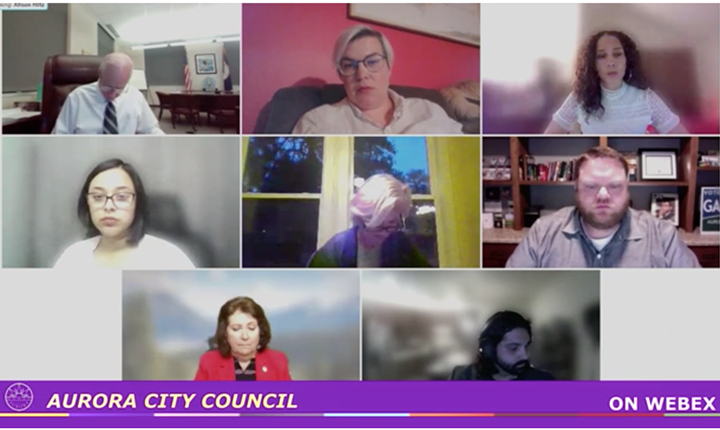 AURORA | The Aurora City Council is no closer to filling the Ward II vacancy after Monday's meeting than it was two weeks ago when the body originally delayed the vote because of a stalemate.
Members decided to layover the vote once again after 41 rounds of voting. The remaining council members and mayor dug their heels into a 5-5 standoff vote between two final candidates for the seat vacated by Nicole Johnston last month. 
Council members Francoise Bergan, Marsha Berzins, Dave Gruber, Curtis Gardner and Mayor Mike Coffman voted for local tavern owner Steve Sundberg, a registered Republican, while council members Alison Coombs, Allison Hiltz, Crystal Murillo, Angela Lawson and Juan Marcano backed college administrator Ryan Ross, a Democrat, who is endorsed by Johnston.
The next vote is scheduled for July 26, just days before the body must make an appointment or face being in violation of the city charter, which states the body "shall" make an appointment within 45 days of the vacancy. The city attorney has held that the word "shall" equates to a mandate in the charter.
Not doing so could open up the city council to both civil and criminal penalties, though the city attorney said Monday night his office would likely dismiss any criminal complaints that came against the city if it were not to make the appointment because of an impasse.
Earlier in the meeting, a proposal attempted to address the penalty set in the charter for not making an appointment. The proposal would have dictated that if a vacancy is not filled within the designated 45 days, a special election should be held, and if the vacancy was not filled within 180 days of a general election, the seat would remain open until then.
Even if the proposal would have passed — it failed to get 6 votes — it still would have meant the city council would be in violation of the charter. 
Marcano said he's already looking at submitting a ballot question to voters in 2022 that would mimic the proposal and allow for special elections.