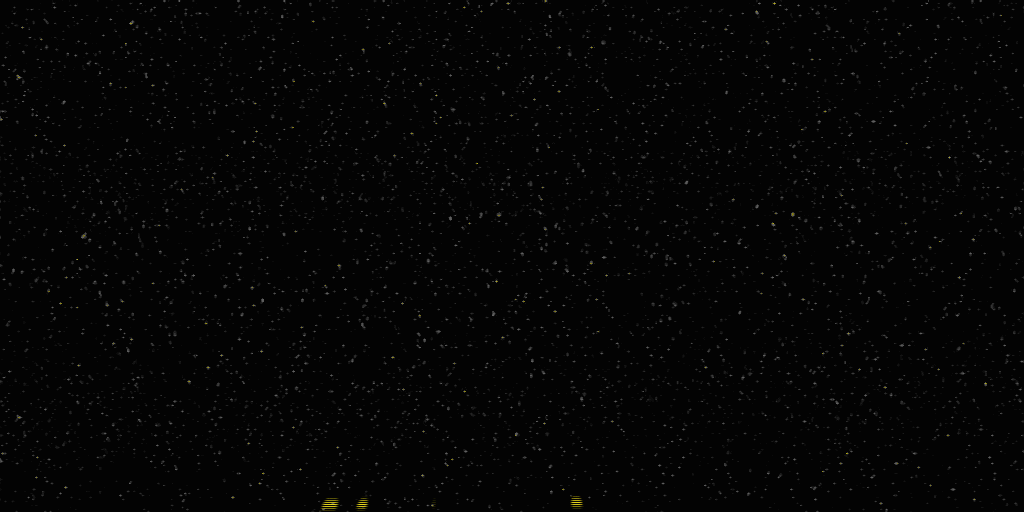 Cover art by SETH HATLAND • Animation by ROBERT SAUSAMAN
There was a time we would have marveled at flying to 380,000 feet to experience the curvature of the Earth, weightlessness, and the darkness of space.
In the next few decades, space travel may become so ordinary that we don't even bat an eye. In Colorado that will be a reality thanks to Dave Ruppel, CEO of the newly-dubbed Spaceport Colorado.
"Our goal is to make this more commonplace," Ruppel said from the Spaceport headquarters. Outside, planes from Denver International Airport, about five miles away, thundered overhead. "That is reality in the future."
Maybe not yet.
Ruppel, who calls himself a "space geek," has taken the small Front Range Airport near Watkins on Aurora's eastern edge through preliminary approval from the Federal Aviation Administration to become Colorado's first hub for space tourism and the 11th in the nation.
In the next decade, the airport cum spaceport will count down to launching spacecrafts from the likes of Virgin Galactic, Airbus, and Reaction Engines to carry commuters and thrill seekers.
The FAA's green light last week allows for ships that will takeoff like normal planes and fly east, away from the metroplex, but quickly climb to altitudes of 50,000 feet — about 14,000 feet higher than current commercial planes.
Then, planes engage rocket engines and soar as high as 380,000 feet, into the darkness.
At that point, passengers could begin to float out of their seats.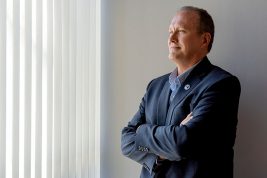 It's rocket science
These hybrid-plane-rockets would not only fly high, but fast. A 17-hour flight to Tokyo could be reduced to 90 minutes when it's all said and done — the time it takes to finish "Lost in Space." Or, you could take the trip into the Earth's orbit just for fun before dramatically re-entering the atmosphere.
The details are still up in the air as aerospace companies develop sub-orbital flight technology, although there are several prototypes and plenty of concepts for horizontal takeoff space-planes. UK-based Reaction Engines, which works out of a Castle Rock office for U.S. operations, is already testing their technology at Spaceport Colorado.
Adam Dissel, president of Reaction Engines Inc., said the company put a couple of million dollars into a testing site on the edge of the airport for an air pre-cooler on a military jet engine. The goal is that the part would be on a Sabre engine that allows planes to move at rocket speeds. But because no aircraft can fly that fast yet, Dissel said, the company is recreating that scenario on the ground at Spaceport Colorado.
For right now, there's no immediate change the spaceport designation will bring for Reaction Engines. But that could all change.
"In the further term, our technology would enable horizontal spacecraft to launch," Dissel said.
Any prototype flying out of the spaceport would have to be approved by the FAA before taking off from Watkins. The industry is so emerging, that when the FAA conducted its environmental impact study before granting the spaceport's license, authorities studied the impact of a hypothetical "objective space object." There are no prototypes currently on the table. When an aircraft is chosen, the study will have to be adapted to that particular space-plane.
Rocket-like ships, such as the Blue Origin New Shepard, are off the table for now. That's because of the potential for debris to fall from crafts and the sheer amount of energy required to vertically lift a sizable payload that would include space tourists.
Ruppel said the goal is to get everything squared away for the rocket-boosted planes.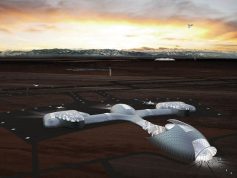 Spaceportlandia
That's a lot of potential for a small stretch of tarmac in rural Colorado.
The spaceport is also slated to boost Colorado's growing aerospace industry — which is already a big contributor to the economy in Aurora and the metro region. There's more than 400 aerospace firms in the state, according to data from the Colorado Office of Economic Development and International Trade. That equates to about 163,000 existing employees and a $3.2 billion payroll, making Colorado the largest space economy in the U.S. in 2013, according to the most recent statistics available.
Gov. John Hickenlooper's office said the designation of the spaceport could help bring 200,000 new jobs to the state, though it's not clear what all those jobs would entail. A lot of them could be in software development, said Jay Lindell, an aerospace and defense industry specialist at COEDIT.
Space travel is still many years off, he said. But getting there is going to mean a lot of programming and technological work.
"We want the message to be that Colorado is open for business," Lindell said. "What's important is that we are open for all of the development. We're years away but that technology is advancing rapidly. Someday we will have commercial capabilities."
How many years until tickets are available? You can book a flight on Virgin Galactic now, but it's not scheduled for takeoff. Principals don't want to commit to a time frame, but talk is about years not decades.
John Barry, CEO of aviation museum Wings Over the Rockies, wants to take that development a step further and establish Colorado as an "aerospace alley" akin to Silicon Valley's reputation for tech.
He's a former combat pilot and a graduate of the Navy's TOPGUN fighter pilot program.
Along with the strong employment figures, Colorado is also home to several military space command centers. Buckley Air Force Base in Aurora hosts the 460th Space Wing division, and two other Space Wing groups are based in the state.
Plus, all major aerospace companies have a presence here — except for SpaceX, according to Barry.   
The location of the spaceport is also ideal for commercial capabilities. Being located six miles away from DIA is important, Lindell said, as is being at a halfway point between the east coast and west coast.
Location, location, location
Sitting at more than 5,000 feet above sea level doesn't hurt either. It's great for marketing, too. Any conversation about the spaceport inevitably includes the phrase, "In Colorado, the first mile to space is free."
"People always laugh when you say this, but we're a mile closer to space," Barry said. "And the toughest part is getting out to space."
Any business that wants to neighbor the spaceport will call Aurora home. The city annexed most of the land surrounding the Front Range Airport years ago. At a recent city council study session, Councilman Dave Gruber said identifying the spaceport "just outside Denver" would probably be more accurate as "just inside Aurora."
Adams County did a lot of the heavy lifting to get the spaceport designation. County Manager Raymond Gonzales said in a statement about the designation there are huge developments in store for the nearly 10,000 acres surrounding the airport.
"When combined with other developments planned for the area, this part of Adams County is poised to become a major international commercial hub," he said.
Gruber and other local leaders see that vision, too. Currently, they're working on a vision statement for Spaceport City, which Gruber describes as potentially being similar to the Lockheed Martin Waterton Canyon campus in Littleton.
Transportation including rail, I-70 and DIA make that location near Front Range Airport attractive, Gruber said. The city will have to look at zoning and getting water out to the region — that'd be after the vision statement, which is slated for completion within the next six months, Gruber said.
But all that development looks to be even further off in the future.
"We don't want to get too far ahead of ourselves," he said. "Designation doesn't mean people will be flocking to us right away. Commercial space is such a new enterprise that there's a big question on profitability. We don't want to get too excited or get too hyped. But based on zoning, we won't limit what could be."
Ruppel is optimistic about working with aerospace companies and developers to build a new era in Colorado's economy. However, he's cautious about "developing haphazardly," and instead prioritizes planning.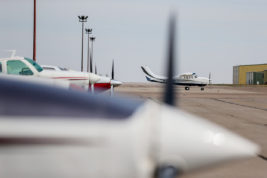 Aside from the FAA permitting process, which lasted for about six years, not much work is needed to allow for space planes.
"What's good for the airport is good for the spaceport and vice versa," Ruppel says. He hopes to build more aircraft hangars, taxiways, and tarmac or otherwise improve the existing infrastructure, which can be used for space and air flight.
Ruppel also envisions futuristic headquarters for Spaceport Colorado, and has offered renderings of what the new building could look like.
"It would be an iconic building that captures people's imaginations," he said.
Such a building would certainly stand out from the gravel roads, cattle ranching, and oil and gas wells that surround the spaceport.
However, no changes will likely be made overnight. Ruppel stressed that the spaceport is run just like any other business and won't be developing dramatically until more clients fly out of Watkins.
The FAA will also have to OK the space planes before they can be based in spaceport hangars. That will bring another round of environmental and safety analysis and a period of public comment that could prevent any space tourism or travel in Colorado.
"As with anything that is new like that, there's going to be resistance to it because people don't really understand it," Ruppel said. "It either seems crazy, like it's science fiction, or it seems scary because it's an unknown."
Space travel has opened the imaginations of Americans for decades. Ruppel said he'd jump at the opportunity to take a flight to space one day.
"I'd love to take one — though I don't think I have an extra $250,000 laying around," Ruppel said.