AURORA | An Aurora police lieutenant fired for making a "racially inflammatory comment" last year — and who faced similar accusations a decade ago — has been reinstated, police announced Tuesday.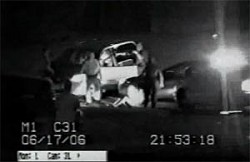 Chief Nick Metz fired Lt. Charles DeShazer in September just a few months after DeShazer made the comment following a police pursuit and officer-involved shooting in Denver. In a statement Tuesday Metz said an officer's body camera recorded the comment, and two officers on the scene that night reported it to the department.
Police did not release further details on what the comment was. The body cam tape, however, recorded DeShazer saying, "We have the Alabama porch monkeys all contained."
DeShazer appealed the firing to the city's Civil Service Commission, which held a two-day hearing last month.
Metz said the commission agreed with his ruling that the comment warranted punishment but overturned DeShazer's firing and said he should be demoted to sergeant. The commission also said DeShazer should not receive any back pay for the 10 months he was out of work.
Metz said DeShazer will be assigned first to the police academy to make sure he has all the required certifications but his next assignment hasn't been determined.
The chief said in the statement that wherever he assigns DeShazer the sergeant will not "be in a supervisory or citizen-facing role."
"The racially insensitive comment made by Sgt. DeShazer is in direct contradiction to the values of the Aurora Police Department. We hold ourselves to the highest standards, and when one of our officers fall short, we strive to take immediate and necessary action to ensure they are held accountable," Metz said.
DeShazer was accused of hurling racist epithets at a black woman and her daughter during a 2006 arrest.
DeShazer arrested Loree McCormick-Rice and her daughter in June 2006 while he was working as a security guard at a local grocery store.
Security camera footage of the incident shows DeShazer yanking on McCormick-Rice's arm to get her out of her van and arrest her.
McCormick-Rice, who is black, has contended that DeShazer, who is white, hurled a racial epithet at her during their altercation, something DeShazer has insisted he did not do.
McCormick-Rice and her daughter were charged with four crimes as a result of the arrest, but the charges were later dropped.
An incident review board made up of four citizens and four police officers, ruled that DeShazer used "reasonable and appropriate" force when he arrested McCormick-Rice and her daughter.
The board also found that the incident wasn't racially motivated and that department policies did not need to be changed as a result.