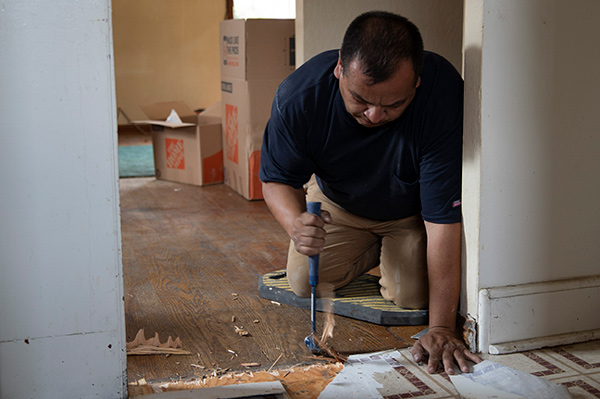 It's always something. On a rare day off, an Aurora general contractor gets a call from a worker telling him they don't have the right equipment for the tedious task of removing the aging popcorn insulation from a ceiling at a project site.
Niggling aggravations that never end and always crop up at just the wrong time.
It's not the biggest problem on his mind. Job-site drama is nothing compared to worrying about being deported. That's something El Salvador refugee Edgardo Borja worries about a lot.
He's hardly alone.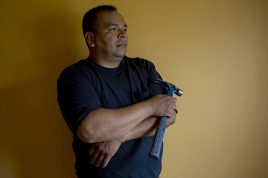 Edgardo has lived in the United States legally since the early 1990s because he has Temporary Protected Status. That could change for him and thousands of immigrants like him in a year, forcing him to leave the country he has long called home.
He and his partner, the mother of his son, and anyone else from El Salvador are at risk for deportation as the Trump Administration and Congress review the TPS program.
The couple's 9-year old son, Marlon, can stay, since he was born in the United States, making the families mixed-status even more complicated. It's a problem thousands struggle with in metro Aurora.
---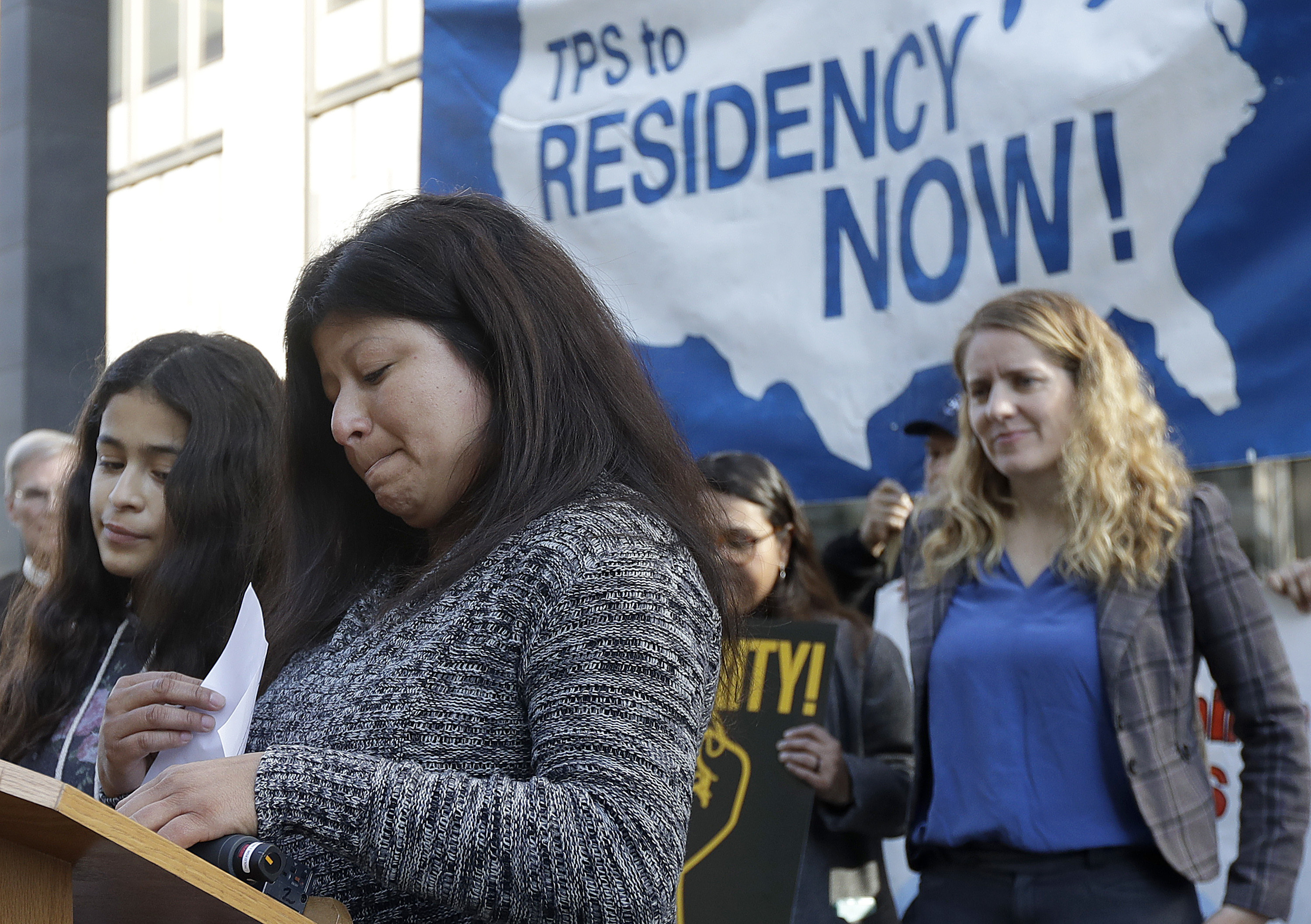 Temporary Protected Status: A new word for an old problem 
In 1990, the U.S. government began granting a temporary protected status to immigrants from countries that suffered from calamities like civil war, political corruption, unfathomable crime and severe drought. The status was intended to bestowed until conditions in their native countries improved.
With disputed improvement in places like El Salvador, TPS immigrants have lived here for years, making this their home.
They have jobs. They pay taxes. They struggle and enjoy life just like all Americans.
On Sept. 9, 2019, barring any legislative change, a large swath of immigrants who fled their Central American homes looking for safer, better lives will be sent back to El Salvador.
Most say very little has changed there during the 17 years since TPS was offered to El Salvador nationals. However, in a Jan. 9 phone call with reporters, senior Trump officials described their decision to end TPS based on what they saw as a program that had run its course.
The decision is hardly a political consensus.
Aurora GOP Congressman Mike Coffman is bucking many in his party and wants to grant those people with TPS permanent residency in the U.S. In Aurora alone, nearly 4,000 Salvadorans call the city home now, according to the El Salvador consulate, located in Aurora. It's unclear how many are living here under the TPS program.
As of the 2010 Census, there were approximately 13,000 El Salvador immigrants living in Colorado. Consular officials estimate the number has increased three-fold. It's unclear how many now live here under TPS.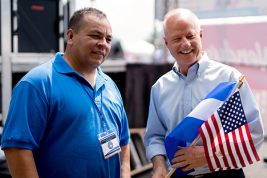 Coffman said he wasn't even aware of what embattled program meant for Aurora until last summer when holding regular meetings with immigrants from Latin American countries. Coffman often deals with issues surrounding Deferred Action for Childhood Arrival program, which allowed for children illegally brought to the U.S. to remain in the country and move toward legal status.
"They'd kind of smile and nod throughout the whole thing," Coffman said.
But then they revealed what's keeping them up at night: Losing their temporary protective status and being forced to return to a country they think is hardly better than when they left, in some instances, close to three decades ago.
Salvadoran immigrants make up the third-largest immigrant group in Aurora, after Mexicans and Ethiopians.
Earlier this year, Coffman introduced the TPS Act of 2018, which would eliminate the program after three years, but it would grant permanent legal residence to more than 436,000 people living in the U.S. who fall under the status created through legislation in 1990. Ninety percent of those who have TPS are from El Salvador. Other TPS immigrants are from Haiti, Nicaragua and Honduras. Their status is ending, too, and at different times.
Coffman says his bill wouldn't create a net increase in immigrants to the United States. It's  a major point of contention among Republicans. The bill dictates that each year 50,000 green cards from existing categories would be deducted to allow for the people with TPS to apply.
Winning approval for the measure won't be easy. Coffman said the bill really doesn't have a lot of traction in the House.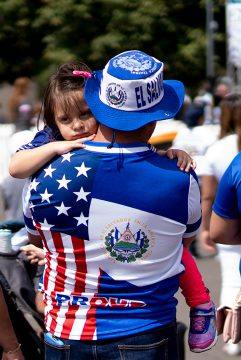 The interest and sympathy just isn't there for TPS like it is for DACA, Coffman said. DACA would affect close to 690,000 recipients, according to U.S. Citizenship and Immigration Services.
Unlike most immigrants with TPS, those in the U.S. under DACA have never known a life outside of the country. But Coffman said that those under the TPS program should be viewed as Americans, who pay taxes, work, attend school and contribute to their communities.
"We've got to try everything," Coffman told the Sentinel earlier this year. That includes the possibility of extending TPS — despite the dismal outlook of the measure.
Even so, Coffman announced a new bill this week that would at least extend TPS for three years. Currently, each of the 10 participating countries under TPS have different end dates. Coffman's legislation would change that to Sept. 15, 2021, for everybody.
Having separate expiration dates for different countries causes unnecessary hardship on a population already facing uncertainty about their futures," Coffman said in a statement regarding his new legislation.
Part of the battle has been just educating fellow Congressional members what TPS is and the impact it will have on people across the country. Then there's the notion that Republicans should wait to tackle anything immigration-related until after the midterm elections.
---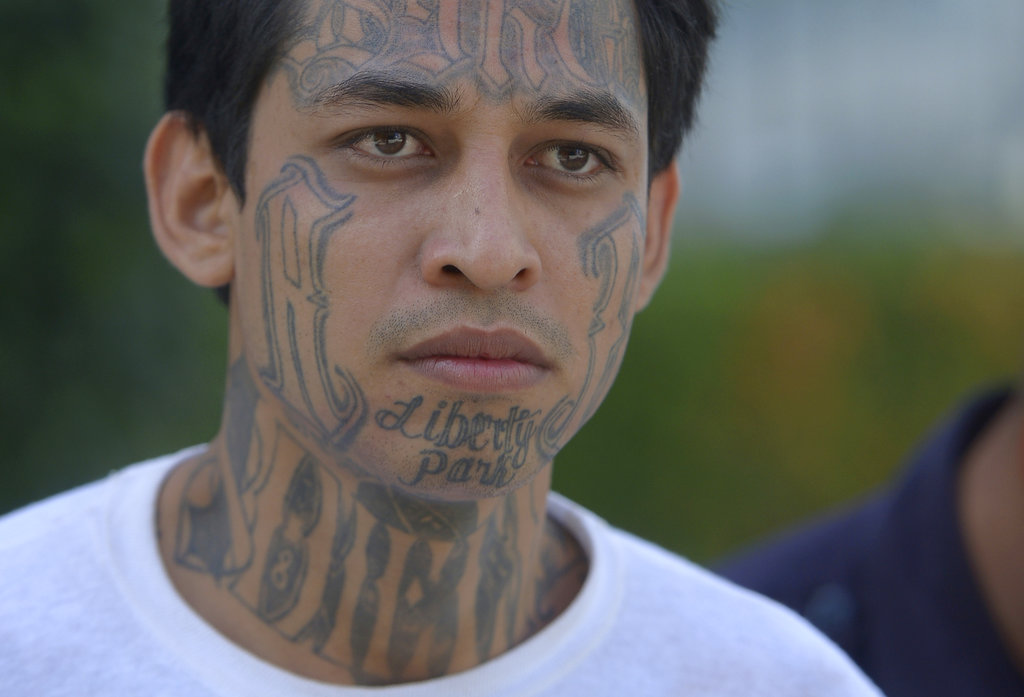 Measuring better
In El Salvador, improvement in conditions that's sent tens of thousands of emigrants to the United States are hardly better, most of the community here says. The country is still slow to recover from the earthquakes that shook the nation in January and February of 2001. Two natural disasters that resulted in 1,259 deaths, 9,000 injuries and left 1.6 million people homeless.
American Friends Service Committee said in a report that hurricanes and tropical storms resulting in heavy rains and flooding and a long running drought have progressively hindered the recovery process.
Basic needs, such as water, housing and electricity are still scarce and in demand for large numbers of the population. Robbery, extortion and murder rates remain high, and health crises such as the Zika epidemic, dengue and chikungunya have plagued the country.
Residents and activists say El Salvadoran police don't regularly leave city centers, making the rural areas of the country breeding grounds for violent gang activity.
With improvement lacking and an influx of crime, El Salvador regularly ranks near the top on lists ranking the world's most dangerous countries.
El Salvadoran officials dispute the reputation, saying improvements are clear to those who visit the country, if they visit.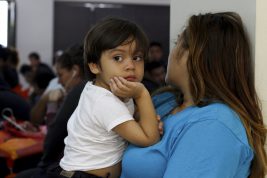 Despite those conditions, the Department of Homeland Security said the decision to terminate TPS for El Salvador was based on improvements since 2001.
"Based on careful consideration of available information, including recommendations received as part of an inter-agency consultation process, the Secretary determined that the original conditions caused by the 2001 earthquakes no longer exist," the announcement read. "Thus, under the applicable statute, the current TPS designation must be terminated."
That opinion — that conditions have improved enough not to warrant a threat — isn't exactly a congruent message throughout the Trump administration though. President Donald Trump referred to El Salvador as a "shithole country," while discussing immigration policies in a meeting early this year.
Currently, there are more than 250,000 Salvadoran nationals living in the United States. Those that were not already here under political asylum from the civil war, which lasted from 1980-1992, were granted TPS after a major earthquake rattled the entire nation in 2001.
Historically the extension of TPS has been widely accepted, from both sides of the aisle, until this administration. The administrations of both George W. Bush and Barack Obama extended TPS throughout their presidencies.
The International Rescue Committee reported that many TPS holders have lived in the United States for more than 15 years and have been significant contributors to the American economy. They also cite that senior US diplomats have warned against ending TPS stating that these countries remain unsafe and that mass deportations would further destabilize the regions.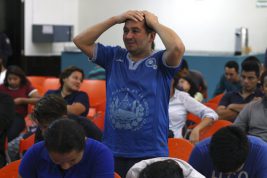 Manuel Castillo, consul of El Salvador in Colorado, says that there are steps being taken in El Salvador to lighten the brunt that taking in more than 250,000 would have on a country.
Programs such as "El Salvador es tu casa" are working to create future labor opportunities, loan options and healthcare programs. The hope with this program is to ease the reintegration process of nationals returning to the country.
Castillo also said that there have been people already buying property and land in preparation of having to leave.
But that option of buying homes is only financially feasible to a small percentage of Salvadorans living in the United States, local El Salvadoran immigrants say. They say that as with all programs, "El Salvador es tu casa" is politically manipulated much like many other programs run by the country's government.
---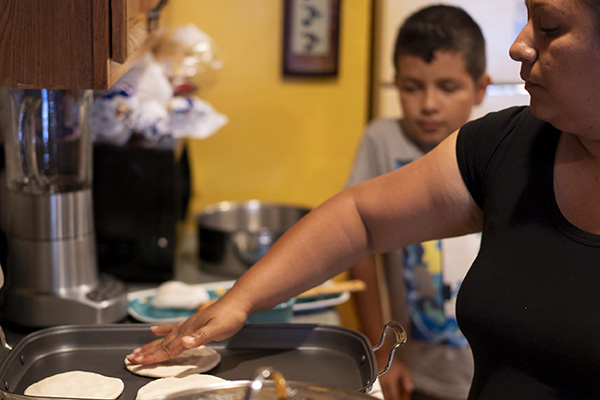 Making a life in Aurora
One summer evening after a dinner party at Edgardo's house, Edgardo sat with his girlfriend and their friends Janet and Milton at the kitchen table talking about their treks to America.
The kitchen is a virtual gallery of knick-knacks and family photos. Prominent are a variety of artisan suns, Edgardo's collection. They line the walls, exuding the flavor of Central American art. Refrigerator magnets include a Colorado flag in the shape of a moose on the fridge, alongside the artistry of their son.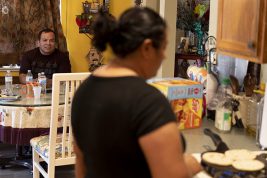 Among the chatter and laughter, everyone dips fresh strawberries into a mug of melted chocolate. It's a regular favorite in the household.
The sweet treat is a foil to the harrowing stories.
Janet's journey to the southern border of the United States was 22 days through the desert from El Salvador to Arizona.
She was fleeing El Salvador for the reason most do: to escape murderous gangs in her small rural town.
As with most outlying areas in the country, there is little or no police presence. And what presence there is, is corrupt.
The trip was very much an "every man for themselves." Emigrants lost or dead aren't rare.
During Janet's journey she badly injured her ankle in the desert in the dark. She couldn't  keep up with the group. A strong man helped her keep up with the group.
She says he saved her life.
The trip cost her $7,000.
As the stories continue, Milton tells of his eight-day journey to the border.
The trip began in June of 1999 and was a struggle through the desert. Assisted by paid coyotes, Milton and those he traveled with were told to bribe the Mexican officials with 300 pesos at every checkpoint, about $20.
Everything was moving as smoothly as it could until they got to a checkpoint where the federales wanted dollars and not pesos. No one in the group had any U.S. dollars and the group was detained.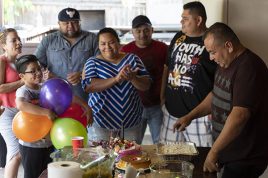 The plan was to get the group to identify their coyotes, but the unspoken rule is that no one talks to the federales.
The federales picked Milton to give information and after refusing he was beaten.
As Milton tells his story about the ordeal, he explains how the federales singled him out identifying him as the "little fat one," at which point the table erupts in laughter.
It cost Milton $6,000 for help with passage to the United States. He left El Salvador because his town was being slowly overrun with gang members and he was unable to get a job that paid a livable wage.
When time came for Edgardo's girlfriend to tell the story of her treks to the United States, she demurely said no, then broke into tears.
---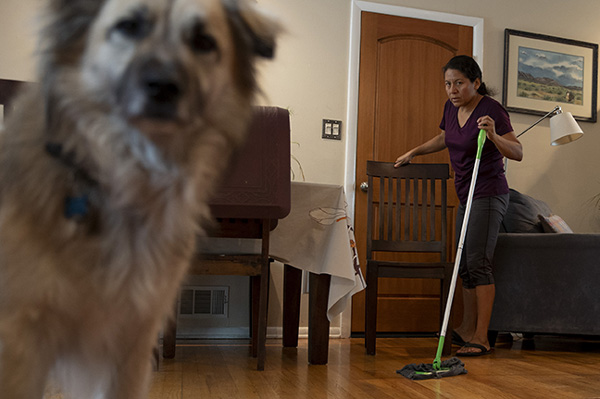 Determination
Llanira Duenas is a practical person.
"I don't want to go back to El Salvador and be killed," said Llanira, as casually as summing up her feeling about cloudy days. "Everybody feels that way."
Worrying about starving to death, dying of disease, being homeless or even murdered keeps the constant threat of deportation in check.
Her sister was murdered in February, apparently by gang members for her not paying kickbacks to them from her small local market.
Llanira, whose name pronounced "ja-near-ah,"  didn't go back for her sister's funeral.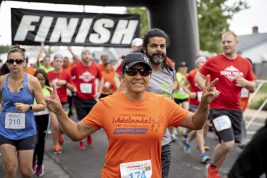 She was afraid. She was afraid of being killed herself for being a family member of a gang target, and she was afraid of not being able to get back in the country, despite being a legal TPS recipient.
Under the Trump Administration, she sees the political climate as too dangerous. She doesn't want to risk not being let back across the border.
She knows how difficult it is to get on this side of the border.
Llanira was with a group of about 40 Salvadorans, and one of the immigrants in particular had been deported from the United States once before. He still had family in the states, sending him money and supplies, which he shared with others in his group.
She took a bus from Santa Ana, El Salvador to Guatemala. There she crossed a river into Mexico and rode in the back of a truck during her month-long journey across deserts. She was uncertain where exactly she crossed into the United States, but knows it was in California. She flew out of Santa Ana, Calif. to Miami to meet one of her brothers.
She left El Salvador after her brother tried to murder her with a machete. He had very little education and was unable to find work, so he stole from their father. Llanira saw him stealing. He immediately thought she was going to tell their father, so he tried to kill her.
She escaped, but he was intent on silencing her by killing her. She had no choice but to leave the country, she said.
In 2012 she went back to El Salvador, and while there, she saw her brother. She still didn't feel safe around him.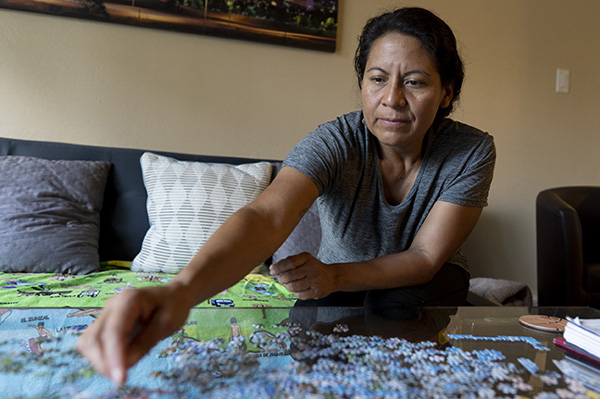 From Miami she went to New York to live with her sister, where she started doing house cleaning until eventually she moved to Denver in 2003. She spent 10 years as a manager for a cleaning company, and in 2013 started her own house cleaning and landscaping business.
She has had some clients as long as 13 years, many of which now think of her as family. The relationships are so strong that Llanira said that if she were to get a deportation letter next year, they would take her in as sanctuary.
The photos of the kids at her home are those of her clients.
One of her clients is Rhada Marcum, who lives in Boulder. She's been a client of Llanira's for more than a decade.
"We have a long-term relationship, and certainly consider her an extended member of our family," Marcum said of Llanira. "With all of the issues with immigration coming up, she is certainly someone we think of."
Local consular officials say Llanira is important to people here and at home.
She is very active at the Consulate, on top of all of her other daily and weekly activities.
"I don't know how many days a week she sleeps," Manuel Castillo said jokingly. "Probably one or two."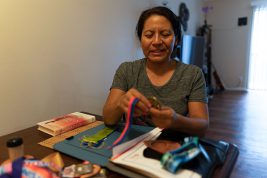 She is also an active member of SARCO, which is an advocacy group for Salvadorans in Colorado. In addition to her work with SARCO, she is also a member of the Purple Card group, which is made up of immigrants with the focus of bringing forward fair immigration reform.
She prefers not to be sedentary, whether it be hanging out with her friends or running a 5K or half marathon, camping or playing in the soccer league she just recently joined.
Being a part of Aurora and Colorado are important to her. She thrives on being anchored here, and she's sentimental about it.
She keeps a folder full of various certificates, from Cheeseology 101 from Chuck E. Cheese to her GED certificate she had to take when she came to the United States. She beams with satisfaction as she thumbs through a binder filled with Colorado accomplishments.
Llanira was fortunate by Salvadoran standards, to be able to attend school. But none of that progress transferred when she came to the United States. She started from scratch.
Exercise and living an active lifestyle is important to her. Her father lived to be 97 years old, and he was a runner, so she makes the correlation between the two and says she wants to live to be at least the same age as her father when he passed.
She just wants to live out that life here.
---
Endless work
During the summer of '94, Edgardo, then 20, got a job driving a truck for a moving company in California.
The job took him all along the Pacific coast of the western United States. He worked hard, rose through the ranks, and became a manager.
In 2000, he moved from California to Colorado, taking a job at an interior design firm where he started as a warehouse manager. He quickly moved up the ladder eventually becoming a designer and builder.
Then came the recession.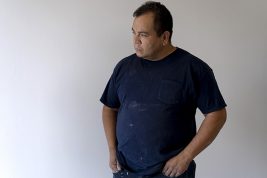 Expensive interior design business all but evaporated. He started a general contracting company in 2013 and has steadily grown the business. He has clients all over the metro area.
Now in his 40s, he's always worked. Paid taxes. Raised a family. He's living the American Dream.  He doesn't want to give it up.
Edgardo came to the United States on May 24, 1991, after a 21 day voyage from El Salvador to Los Angeles.
He was seeking political asylum, fleeing the violence in his own country, during the 12-year Salvadoran civil war.
When Edgardo got his job with the moving company, his boss saw promise. He wanted to see Edgardo rise through the ranks of his company and eventually take over as manager, while the owner began his retirement.
He needed Edgardo to become fluent in English.
He bought two copies of the same grammar book for Edgardo's birthday, one in English and one in Spanish. Edgardo received the English version. Together they taught each other their respective languages by reading the same book and then talking together about it. That's how Edgardo learned English. His boss learned Spanish.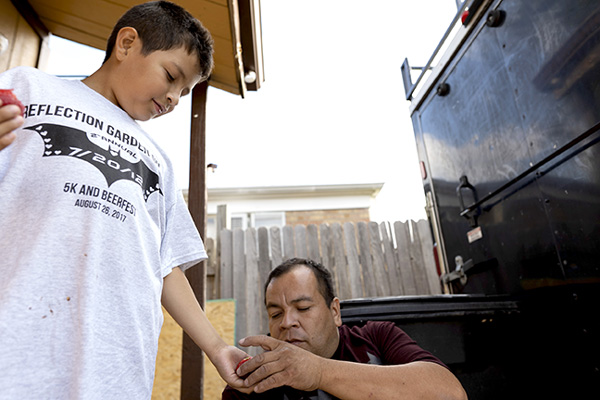 Edgardo's journey to the United States started on the beaches of western El Salvador, where he was taken by boat 30 minutes off the Pacific coast. There, he and others fleeing the country were then told to drop into the ocean. They were given empty gas containers to float for three hours on while the boats returned to the shore to pick up more refugees. They were gathered into a bigger boat for a three-day trip to Puerto Escondido on the Mexican coast. Traveling past Central American borders isn't particularly hard, going from country to country.
After arriving in Mexico, he boarded a bus and traveled through the country, stopping in Acapulco, boarding another bus which took him to the border where crossed into Brownsville, Texas. There, he boarded a plane to Houston and then another to Los Angeles.
"I wasn't comfortable until I was with my aunt," Edgardo said, knowing his trip was not complete nor his safety guaranteed until he was with his family.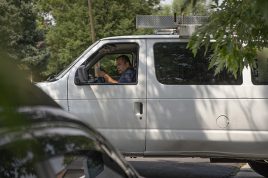 Edgardo paid $5,000 to the coyotes to get taken to the southern border of the United States.
"Everything is hard," Edgardo paused, "Seeing people go through this. It's not an easy trip from El Salvador."
He pointed around the table, "My story is not easy, her story is not easy, her story is not easy."
Despite fleeing their troubled homeland, they remain deeply devoted to El Salvador, The Savior. Edgardo is the vice president for the non-profit agency, ACAUNIDA. Manuel Castillo has strong respect for Edgardo.
"He keeps ties with El Salvador," Castillo said. "He stays attached to our country."
Every year, Edgardo pays the tuition for five children in El Salvador, $250 each, so they can attend school that year.
"This is a very personal thing that I do. It feels good," Edgardo said.
Castillo said he's a model citizen in both countries.
"He is a very hard worker," Castillo said. "He is very responsible and transparent."
Edgardo's girlfriend is from El Salvador but is not a TPS recipient, so she is unable to get a work permit. That makes him the sole breadwinner.
"I'm pushing myself to take every job that I can to get money, because I don't know what is going to happen," Edgardo said.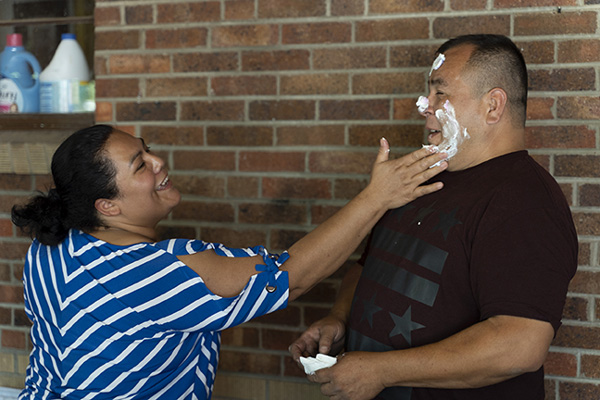 He worked three, 16-hour days in a row so he could have a single day off to celebrate his 44th birthday recently.
It was worth it, he said.
The party was in his backyard with friends and family.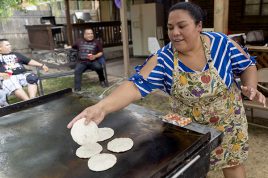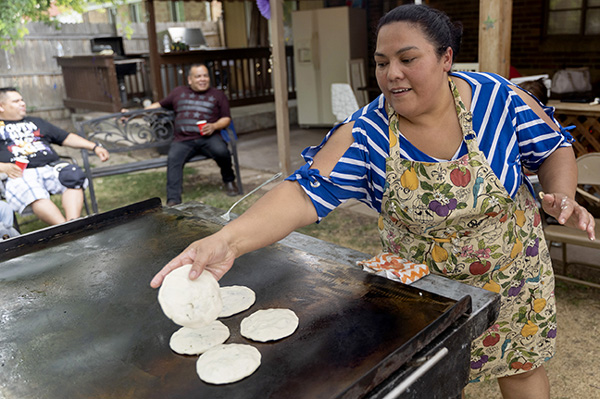 Latin guitar hits booming from a backyard sound system wafted across the festivities. The backyard was dotted with balloons and birthday banners. Kids yelled and kicked a soccer ball across the grass. Edgardo's girlfriend and Janet stood over a gas-fired griddle, making tortillas for pupusas, a traditional hot-pocket like food, filled with meats, cheeses, beans and salsas.
Homemade horchata was on tap. The birthday dinner ended with homemade flan and impossibly sweet tres leches cake.
Despite the festivities, just like every day, the threat of being sent back to El Salvador is a unshakable cloud.
If it comes to that, Costa Rica is Llanira's plan. She fears that if she returned to El Salvador she'd face retaliation from the gang that she believes murdered her sister.
For Edgardo and his family, it's Canada.
"There is no path for us here," Edgardo said. "I will die before I go back to El Salvador."
Staff writer Kara Mason contributed to this story.