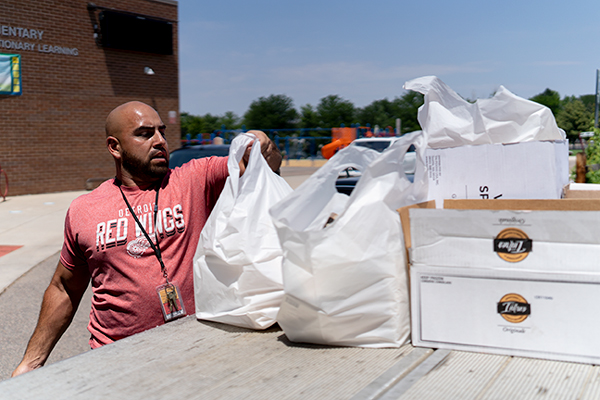 After Aurora Public Schools' summer meals program ends in August, nutrition 
 services director Shannon Solomon will have exactly two days to train her staff, make sure the kitchens are clean and get everything up and running again for the first day of the next school year.
Normally, she has a lot more time. But it hasn't been a normal year.
As the coronavirus pandemic turned life upside down in the spring of 2020, school districts across the country raced to figure out how to provide their students with the resources they would need to attend school remotely. At Aurora Public Schools, it quickly became apparent that one of those resources was food.
As Colorado's fifth largest school district, APS serves roughly 40,000 students across Aurora, about 70% of whom qualify for free or reduced lunch.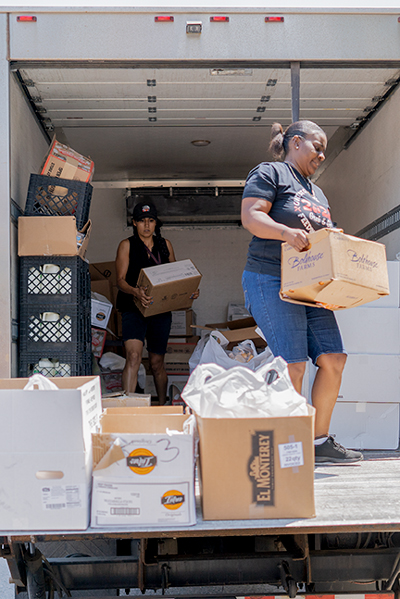 "It was very apparent on Aurora's end that we needed to not only figure out how to keep teaching our kids, but how do we keep feeding our kids," APS Chief Financial Officer Brett Johnson told the Sentinel about the district's decision-making process at the start of the pandemic.
Instead of serving students on campus, the district established 16 drop-off spots where families could pick up meals, and partnered with Children's Hospital Colorado to host food bank sites where people could pick up shelf-stable goods. 
"It was very clear we were meeting a need in the community," Johnson said.
From March 2020 through the present, the district's nutrition services team has distributed a staggering 8 million meals, making it the largest provider of meals in the city during the pandemic.
Superintendent Rico Munn described that distinction as "a point of pride but also a point of pain" at a special board meeting in June.
Food insecurity was a national problem during the pandemic, as the economic fallout caused many people who were already struggling financially to fall even further behind. Defined as a lack of consistent access to safe and nutritious food, the nonprofit Feeding America estimated that as many as 45 million Americans may have been food insecure in 2020.
Colorado was not spared. In a survey published in April, the nonprofit Hunger Free Colorado found that one in three Coloradans were struggling with hunger, a historic high for the state. Among families with children, 44% were unable to consistently put healthy food on the table and 30% reported having to regularly cut back on or skip meals.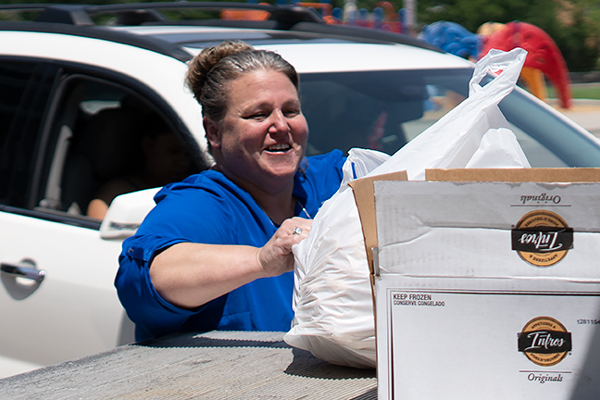 Food banks and nonprofits across Aurora said that the demand for food in the city was pronounced during the pandemic, and is still higher than usual as the virus begins to taper down.
"Last year was completely a madhouse," said Christina Stimson, executive director of Aurora Interfaith Community Services. "It was so busy."
Friends of St. Andrew's, a soup kitchen on Dallas Street, had a 100% increase in the amount of meals it served from 2019 to 2020.
"We definitely saw the need skyrocket," director Siobhan Latimer said.
At the Dayton Street Opportunity Center, director Maisha Fields said that the center went from feeding 300 people each weekend prior to COVID to feeding 100 people a day at the height of the pandemic.
Fields noted that food access is particularly acute in Aurora because there are parts of the city without a lot of grocery stores. According to the Colorado Health Institute some parts of Aurora along South Parker Road and near the CU Anschutz Medical Campus are technically considered food deserts, which in urban areas is defined as being more than one mile away from a grocery store. Many Aurorans rely on public transit and may not have internet access or a credit card to be able to get groceries delivered.
"There's a lot of systems in place that make it even more difficult to access quality food during COVID," she said.
At APS, because of the clear need, the district decided to expand its offerings. Usually in the summer the district has a program where any child 18 or younger can pick up a meal for free, and the cost to the district will get reimbursed by the U.S. Department of Agriculture.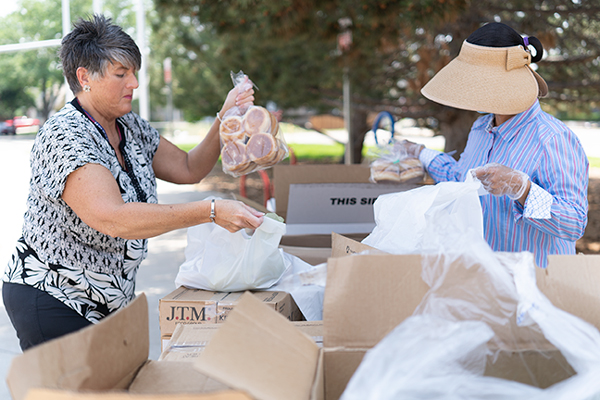 The USDA expanded that program at the beginning of the pandemic, and will continue reimbursing the district for student meals through the upcoming school year, Johnson said.
Along with providing meals to minors, however, the district also decided to provide free meals to adults in the community. The APS Foundation, a fundraising arm for the school district,  provided the funding for that, Johnson said.
Each day, about 7% of people served were adults, Solomon said.
"You see it very clearly when you're out on the front lines," she said. " The need is there." 
Solomon described her mantra during the pandemic as "faith over fear." The nutrition services team consists of 271 people during the school year and about 57 during the summer, and she said she made sure that the lines of communication were completely open among staff.
"There were no feelings that weren't spouted," she said. "There was no right or wrong answer. We just embraced everything."
The district tried to be as consistent as possible with how it provided food, she said, staying open five days a week in the same locations instead of constantly shifting around.
"We outpaced all school districts throughout the metro area," Johnson said. "There's an argument to be made that we served as many meals as the rest of the metro area combined. I haven't seen their data, but I wouldn't be surprised if we were close."
The district's summer meals program usually only goes through early July, but this year it will continue right up until the start of school this year so there are as few gaps as possible. The last day for food distribution will be Aug. 6, where families will be given enough food to last through the weekend.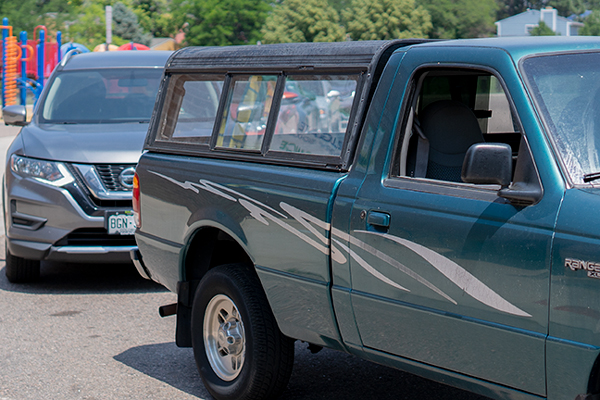 Nutrition services will then take two days off so that Solomon can train new staff and the kitchens can be cleaned. They'll re-open Aug. 12 for the first day of the new school year.
At the start of the school year, the district will go back to its usual program of feeding only students. Johnson noted that the one time over the last year that APS served fewer adult meals was when school was fully in-person.
"Once we return to kind of an in-person normalcy, it may be the case that schools might not be the right place for that meal service to adults anymore," he said. 
He also noted that the city is aware of how many meals the district has been serving "as a data point to show there's demand for this."
Jessica Prosser, director of housing and community services for the City of Aurora, said that in 2020 the city gave more than $1 million in CARES Act funding to a number of different nonprofit organizations in the city providing food and other aid.
This year, it is using Community Development Block Grants to fund similar services. The city is allocating $587,000 to go to nonprofits that provide food assistance, and $130,000 for baby supplies. The grant money is one-time funding from the U.S. Department of Housing and Urban Development, Prosser said.
The organizations receiving the block grant funding to distribute food are SECORCore Cares, the Rocky Mountain Welcome Center, the Colorado Oromo Muslim Community Center and the Village Exchange Center, she said. WeeCycle is receiving funding to distribute diapers, formula and other baby supplies.
The nonprofit agencies the city works with saw "a huge need" for services during the pandemic, Prosser said. More recently, "things have seen a little bit less demand, but it's still definitely there."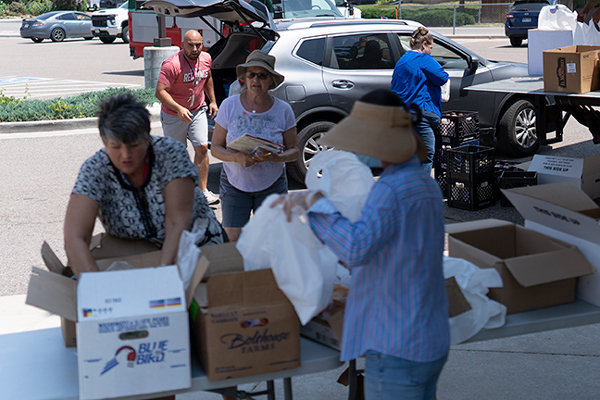 Nonprofits the Sentinel spoke to said it was difficult to gauge the current level of need for food aid in the city, or to predict whether it will continue to wane. Most said that the need has declined from the height of the pandemic in 2020 but was still above pre-COVID levels.
At the Aurora Interfaith Community Services' last mobile food pantry event, it brought enough to feed 1,000 people and only about 500 showed up, Stimson said. That's a decrease from when it was feeding 800-900 people each week last year, she said, but it's still quite a lot of people who need food. The organization is also getting a lot more requests for utility assistance than it usually does.
Latimer, the St. Andrew's director, voiced a concern that the expiration of the federal eviction moratorium at the end of July will push people back into financial jeopardy.
"I'm definitely getting the feeling that there are a lot of people on the edge for when that starts," she said. 
For her part, Solomon said she is proud of how hard her team worked to provide food to the community during the pandemic. The district made a collective decision that it didn't want families to be scared about where their next meal was going to come from.
"We answered the call," she said. "And I feel blessed and privileged to have been able to do that."