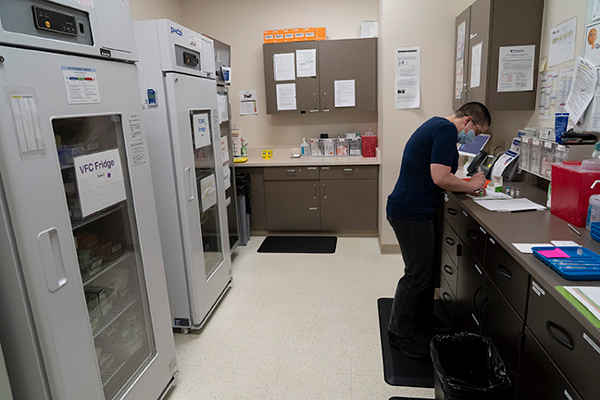 AURORA | The end is nearer for the Tri-County Health Department. 
Arapahoe County commissioners are slated to consider a resolution today for the county to remove itself from the agency, the last of the three counties signaling it will do so.
After more than a year of dispute between the beleaguered health department and Douglas County officials over mask mandates during the pandemic, all three counties will apparently abandon the three-county cooperative at the end of 2022.
The demise of what was once the largest health department in the state, during the biggest public health crisis in state history, puts Aurora in a precarious position. If split-up is completed, Aurora, which straddles three counties, will be under the auspices of three health departments.
Officials in all three counties have signaled an openness to contract some services from what remains of or could be rebuilt from Tri-County Health. The department, like others across the state, is responsible for a vast array of services and regulatory tasks, mostly mundane and uncontroversial.
Aurora Mayor Mike Coffman was adamantly opposed to the split, saying earlier that the breakup of Tri-County would be "just awful" for Aurora.
"I certainly hope that we can work together and we can stay in some modified version of Tri-County Health going forward and not fragment the city of Aurora into three different health departments," he said during public comment at the Adams County board of commissioners meeting where the county formally voted to exit.
Whatever approach the counties take will lead into uncharted waters, as the dissolution of a health department this size has never happened before in Colorado.
"It's fair to say this is unprecedented," Dr. John Douglas, Tri-County's executive director, said after Adams County voted in October to depart the health-department cooperative.
Douglas County voted to leave Tri-County in September after clashing with other members of the department over public health measures during the pandemic. Things came to a head in August, when the other board of health members overruled Douglas County's representatives to impose a mask mandate in all K-12 schools.
A month later, Adams County voted to leave the department as well, a decision that left the Arapahoe County's board of commissioners in the lurch. 
"We're going to be the adults in the room," Arapahoe County Commissioner Jeff Baker said then. "Now that doesn't mean that we're mad at anybody, but it seems like there could be a lot more partnership among the three counties that is not taking place. We're going to look at what's best for Arapahoe County."
It's unclear what cooperative ventures could survive the breakup.
At its Oct. 26 meeting, the Adams County board of commissioners voted 5-0 to leave Tri-County and form their own health department. During the meeting, commissioners spoke about the need to focus on challenges specific to Adams County, including its high rate of child poverty and pollution from the Suncor Refinery.
"We need to start focusing on Adams County and we need to provide funding for the things that our citizens need in Adams County," Commissioner Eva Henry said. "It shouldn't be influenced by another county."
Adams County regularly ranks lower than Douglas County and other metro counties in terms of various health metrics, Commissioner Steve O'Dorisio said.
"When Douglas County and other counties are ranked higher consistently when it comes to public health outcomes and we're in the same organization, it means the status quo cannot continue," he said.
Not since the influenza epidemic of 1918 has public health been so front and center. However, health departments do much more than manage pandemics, and undergird many of the county's daily operations, from inspecting restaurants and pools, to monitoring septic systems, issuing birth and death certificates and tracking the prevalence of everything from rabies to sexually transmitted infections.  
Tri-County will continue to provide public health services to the three counties through 2022, but Douglas County is now in charge of managing its own COVID-19 response. County and state legislative leaders there have opposed public health measures aimed at reducing viral spread, such as limiting the number of people in an indoor establishment and mask mandates.
That county has fought hard against all mask mandates, including in public schools. A recent change on the Douglas County Board of Education resulted in the school district ending its support for a mask mandate.
The breakup has been coming since the pandemic began in earnest.
Colorado House Minority Leader Patrick Neville, R-Castle Rock, and other top state Republicans in March 2020 urged Douglas County commissioners to "terminate whatever contract exists" between the county and Tri-County after a so-called shelter in place order was put in effect.
Each county has vowed to work with Tri-County to maintain a continuity of services throughout the transition. However, many questions still remain about the extent to which the counties will be able to do as much individually as Tri-County.
A report prepared for the Adams and Arapahoe county commissioners by an outside consulting firm suggests that setting up individual health departments will be more costly for all of the counties while delivering a lower quality of care.
The report, prepared by Highlands Ranch-based firm Otowi Group and delivered to the commissioners at the end of September, estimated that a two-county district with a similar level of services as Tri-County would require a budget of $42 million. An Adams County health department with reduced services would require $18.5 million, and Arapahoe County $22 million. 
The transition cost as a result of the separation is $61 million, the report estimated, $50 million of which is a one-time payment into the state's public employee retirement association.
The Arapahoe County Commission meets at 9:30 a.m. today in the East Hearing Room of the Arapahoe County Administration Building, 5334 S. Prince St. in Littleton.