Adams County sheriff Mike McIntosh is asking for another term to finish turning around management of this growing police and jail department.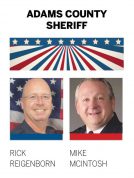 He's challenged by a former employee, Democrat Rick Reigenborn, who spent over 20 years in the Adams County Sheriff's Office.
The sheriff oversees several hundred employees and officers to enforce the law in unincorporated Adams County. The sheriff also oversees the Adams County Jail, which holds inmates from part of Aurora.
McIntosh has spent 31 years in the sheriff's office. He said he has filled almost every position, from patrols, detective works, and administration, and was division chief when elected in 2014.
McIntosh said he has worked to "really establish a relationship with our community that I think has been like none other since I've been with the sheriff's office."
"We've got the support and trust of the community and I want to be able to maintain that and continue that," he said.
McIntosh said he has more experience than his opponent, and touts accomplishments in the Adams County Jail.
When McIntosh took office, he inherited bad blood between the previous sheriff and cities like Aurora in a rift over jail space. McIntosh resolved what could have been a crisis.
Sheriffs have struggled with a high officer turnover rate in the jail, McIntosh said, because that's typically the first position for recent graduates of police academies.
He said there are still staffing shortages at the jail, but the turnover rate is at a historic low and credits "trust and rapport" in the office.
Adams County, like the rest of Colorado and the nation, is struggling with an opioid epidemic, and users often find themselves in jail experiencing horrendous withdrawals that can kill.
McIntosh established a program free of charge to addicts and taxpayers that provides Vivitrol, a drug that helps addicts stay clean for 30 days. Addicts can volunteer to take the drug after they have served their time with no cost, and can acquire free doses after being released.
"That keeps addicts out of jails," McIntosh said.
McIntosh also implemented a mental health wing in the jail. He said about a quarter of inmates have mental health issues.
"That is a huge accomplishment for our mental health community…because just putting them in jail is not helping," he said.
McIntosh encouraged voters to consider experience when voting next month.
"We are set for a lot of population growth, as is the City of Aurora," he said. "From every level of government, to include law enforcement, you have to have leaders in place that have the experience and the vision to … keep up with the things that are coming at us."
Reigenborn joined the Adams County Sheriff's office in 1991 and has worked as an undercover narcotics agent, SWAT member, jail custodian, sergeant, and patrol sergeant.
He said he was one of many officers in the scene of the Columbine mass shooting in 1999.
Reigenborn retired from the sheriff's office in 2013 and works in Mountain View as a detective.
He ran for sheriff in 2014. "I ran then because I wanted to make some changes in the agency and be more geared toward the community — the same reasons I'm running now," he said. Reigenborn criticized McIntosh for running a "top-heavy" office with too much administration, and said addressing the vacancies in the jail would be a top priority.
"Jail staffing is really struggling, causing concerns because it is safety for officers because numbers are low and also safety for the inmates," he said.  "I've gotten calls from people working 28 days straight. That just leads to burnout and people leave quick."
To address the opioid crisis, Reigenborn suggested reestablishing the D.A.R.E program in schools to educate kids and implementing anti-drug education into the jail for addicts.
"Most people, if they spend any amount of time at the jail, they're clean, and then if they get out and use again, that's a bad life decision," Reigenborn said. "Part of that is, educating them while they're in the jail, so if they want to stay clean, we can show them how."
He also said he would reach out to city governments in Adams County to collaborate, and emphasized that the race isn't about party politics.
"It's not Republican or Democrat, it's about the community," Reigenborn said. "I'm there for all of the people when the 911 calls come down."