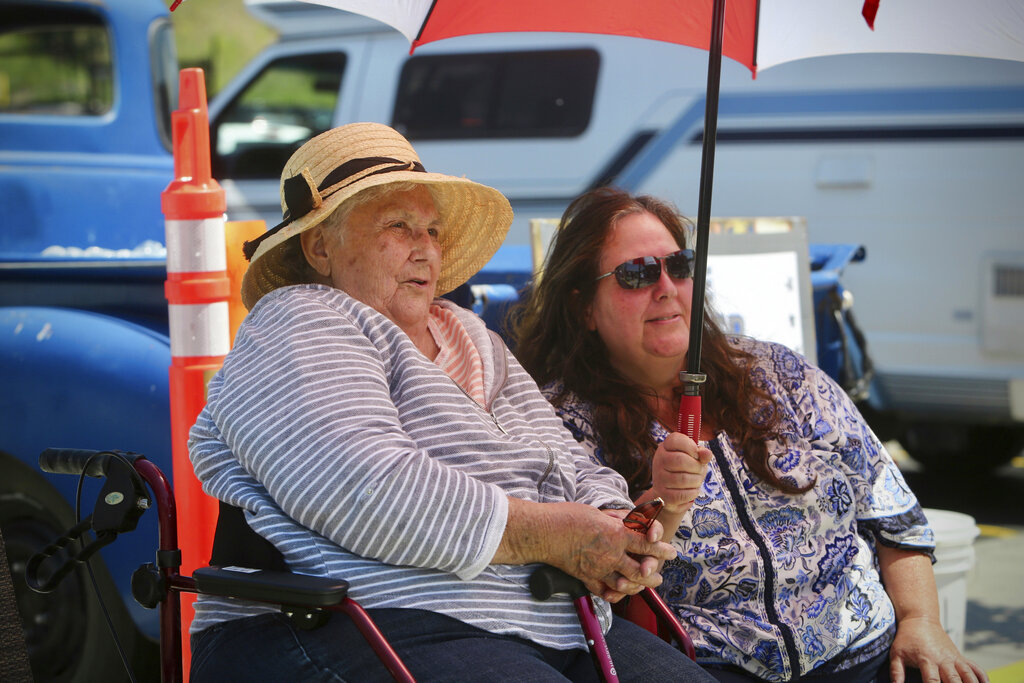 BIGFORK, Mont. | Under the shade of an umbrella, Donna Roberts, peaked out from beneath a sun hat to catch the action at the Bigfork Fourth of July Parade.
The high school cheerleaders waved and spun their way down Grand Drive followed by a dazzling cowboy who wowed the crowd with a series of roping tricks. There were classic cars, bagpipers, floats with bands and work trucks with water sprayers that doused cheering children.
Roberts, who spends her summers on Swan Lake, has witnessed the annual celebration of American heritage evolve over the past 50 years. In fact, she hasn't missed a Bigfork Fourth of July Parade since the mid-1960s. What keeps her coming back for the annual red, white and blue spectacle is the enthusiasm.
"I just really enjoy it, and I think the parade people do their best to entertain," she said.
But Roberts, 95, isn't just an observer of history — she's had her own part to play. She was among the 600 female baseball players in the All-American Girls Professional Baseball League, the real-life organization portrayed in the 1992 film "A League of Their Own." The women's pro league was founded in 1943 by Chicago Cubs owner Philip K. Wrigley as a means of keeping baseball parks in business while teams disbanded and male players were drafted to fight in the war.
Roberts was a true tomboy at heart and spent her childhood playing baseball or shooting marbles with the boys at her school back in Billings.
"I had to play with the boys most of the time. I was on their baseball team," she told the Daily Inter Lake. "There was nothing set up for women or girls."
She learned about the All-American Girls league from a magazine article in Redbook. Her physical education teacher helped Roberts fill out an application and "must have done a pretty good job because they sent back a ticket to spring training."
Roberts, who was just 20 years old at the time, left home for a training camp in Pascagoula, Mississippi.
"We went through spring training scared to death that we wouldn't make the team," she said.
On the final day, players completed drills that would seal their fate. When teams were announced, Roberts scanned the lists until she spied her name on the roster for the Peoria Red Wings. She was in.
Each team had 15 players, a manager/coach, a business manager and a female chaperone. Coaches were often notable male sports figures, selected to garner greater interest from the public. Players received high salaries for the time, ranging from $45 to $85 per week.
In addition to playing well, league members had to meet certain standards of femininity, including attending evening charm school and striving to be as attractive as possible, according to the AAGPBL Players Association.
The emphasis on femininity extended to their uniforms, which featured short skirts with undershorts, knee-high socks and baseball caps. Players also were encouraged to make the game interesting for the crowd, which often involved a lot of dramatic slides into home, leaving them with "a lot of scratches and bruises" at the end of the day.
While their uniforms prioritized fashion over function, the players themselves took the game seriously.
"You were always concerned about doing a good job of playing because they could release you any time they chose," Roberts said. "We got $80 a week, which was pretty good pay in those days. You wanted to be good because that was the best job you could get."
Roberts played shortstop or outfield during the 1946 season, the year after World War II ended.
"I really could catch almost any fly that came our way. I don't remember missing any," she said.
Roberts eventually was let go from the team but continued playing the sport she loved back home in Montana. She helped the Billings Fillies to victory at the Montana State Softball Tournament and went on to work as a teacher for 35 years. In 1999, Roberts was inducted into the Montana Softball Hall of Fame.
Looking back on the experience, Roberts said her favorite part of her short but fulfilling baseball career came at the end of each game.
"Once we got through playing a game, the little girls would come out on the field and they would ask you for your autograph," she said. "There's your future players."