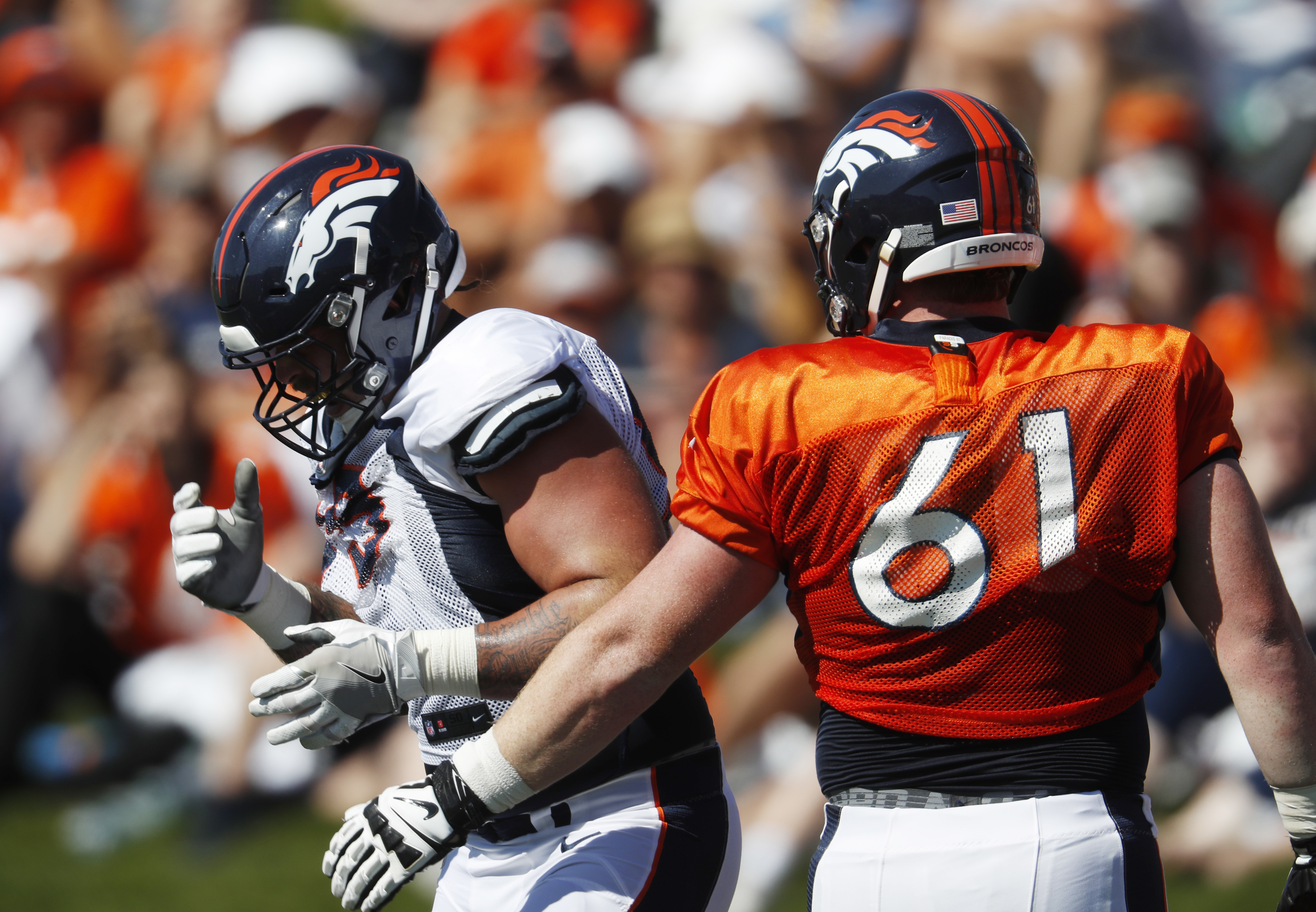 ENGLEWOOD | Coach Vance Joseph said he doesn't expect defensive end Derek Wolfe to miss any time after sustaining a neck stinger at practice Tuesday.
"He should not. He came back to practice. So, he should be ready to go tomorrow," Joseph said.
Wolfe had surgery this offseason after dealing with neck problems off and on since 2013, when he got hurt in a preseason game at Seattle.
Joseph described the latest scare as "a little small stinger," adding, "he's fine. He came back out. He's OK."
Left guard Ron Leary tried to calm Wolfe as he retreated to the sideline to get checked out.
"Wolfe's just a real passionate guy, so he always wants to be out there and anytime he gets a nick and can't perform, he's heated," Leary said. "And Wolfe don't listen to too many people. But I've known him for a while and he knows it's all love when it comes from me. So, it was a good little convo."
Wolfe has dealt with neck issues ever since being whisked from the field in an ambulance after a hit to his head and neck in a preseason game in Seattle five years ago. Later in the 2013 season he suffered seizure-like symptoms on his way to a game and missed the team's Super Bowl run.
Wolfe also missed two games in 2016 because of a sore neck and last year he went on IR after injuring his neck in a game against Oakland on Nov. 26.
Just last weekend Wolfe spoke about how nice it was to play without neck pain and muscle weakness following his offseason surgery, which allowed him to hit the weights with extra fervor.
"You get to focus on your technique more because you're not worried about protecting yourself. You open your game to a lot more, especially pass-rush wise," Wolfe said Saturday. "You don't have to worry about if that center comes and hits you in that right side, 'Oh, I'm going to lose that feeling in my right arm so I have to protect it.' When you can really work your pass-rushing moves all the way through, it changes your game."
Notes: ILB Brandon Marshall (sore wrist) will return to contact drills Wednesday. … LT Garett Bolles returned to practice one day after being carted off and examined for a head injury. … CB Bradley Roby, who's stepping into a fulltime starter's role following the trade of Aqib Talib, got some friendly advice from Joseph heading into camp: "I told Bradley, 'I don't want to judge you on how many plays you make; you're judged on how many plays you give up.' That's what I want from our corners. And if you're in a good position, you'll make enough plays. But don't cheat in order to make plays because that's not what winning's about. That's about you.' So, he's doing a good job playing within the scheme and playing with good technique and just doing his job."