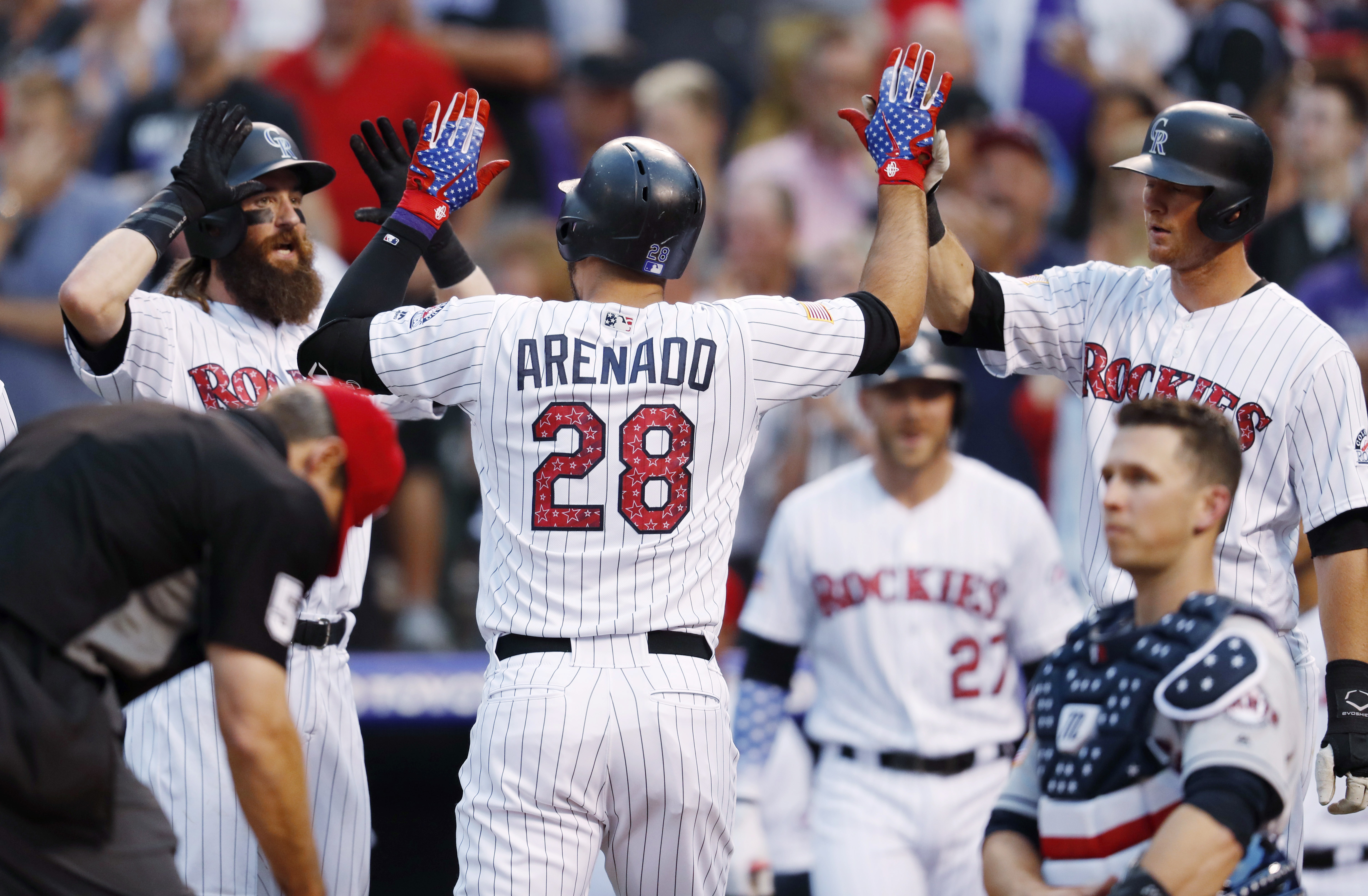 DENVER | Antonio Senzatela's most important pitch came early.
Senzatela worked out of a first-inning jam en route to throwing seven scoreless innings in his first start of the season, Nolan Arenado hit his National League-leading 22nd home run and the Colorado Rockies beat the San Francisco Giants 8-1 on Tuesday night.
Colorado's Charlie Blackmon had three hits, including his first homer since June 20. Trevor Story had an RBI triple for the Rockies, who have won five of their last six games.
D.J. LeMahieu added a run-scoring double for Colorado, which has beaten the Giants in 14 of the past 16 games at Coors Field dating to Sept. 7, 2016.
Senzatela, recalled earlier in the day from Triple-A Albuquerque, struck out four and walked none while limiting the Giants to three hits but two of them came in the first inning. He got out of the two-on, two-out jam by retiring Pablo Sandoval, getting him to pop-out on a 2-0 changeup.
"To get out of that inning with a zero, stranding those runners, was huge," Senzatela said through a translator. "I settled down pretty nicely and I'm glad I gave the team a chance to win."
Arenado said Senzatela's ability to work out of first inning trouble helped set the tone for the rest of the game.
"Getting out of that first inning with no runs was huge," Arenado said. "I feel like sometimes we always give up a run in the first and lately they haven't. He was just great, pounding the zone, throwing strikes getting ahead of guys. It was awesome. Our pitching in general lately has been huge for us and I think that's why lately we have been playing better."
Senzatela started in the spot vacated by struggling Jon Gray, who started for the Rockies in their season opener but was optioned to Albuquerque last weekend.
Senzatela (3-1) made the team out of spring training and began the season in the Rockies' bullpen before being optioned on May 2 to Albuquerque, where he went 3-1 with a 2.15 ERA in eight starts prior to his recall. As a rookie last season, Senzatela had most of his success as a starter, going 10-5 with a 5.03 ERA in 20 starts.
Chris Stratton (8-6) went 5 2/3 innings and allowed eight runs on 11 hits, including Blackmon's solo shot in the first inning as well as Arenado's three-run drive.
"His fastball command wasn't real sharp tonight," Giants manager Bruce Bochy said. "Fastballs missed their spots there. That's usually his forte, he commands it so well. He threw some good fastballs to Arenado and the changeup stayed in the middle. He wasn't real sharp with his command. He threw strikes but he needed to work the edges."
The Giants broke through for a run on Alec Hanson's RBI single in the eighth off reliever Mike Dunn.
The Giants were trailing 3-0 when Arenado broke the game open in the fifth with a three-run homer. Stratton walked LeMahieu to start the inning and Blackmon singled before Arenado drove a 3-2 offering over the left-center field wall.
GIANTS NEMESIS
Arenado has driven in 90 runs in 100 career games against the Giants, the second most among active players. Matt Kemp leads with 93 career RBIs against the Giants. Said Arenado: "I think they bring out the best in all of us. They bring out the best in me — three World Series rings and they've always been one of the top tier teams in our division. It's always a tough place to play and I always want to beat them because I always feel like they've beaten us in the past, a lot."
TRAINER'S ROOM
Giants: The team's starting rotation is nearing full strength again. Manager Bruce Bochy said that RHP Johnny Cueto is slated to be reinstated from the 60-day disabled list on Thursday, when he's scheduled to start against the St. Louis Cardinals. Cueto was placed on the DL, retroactive to April 29, because of a right elbow sprain. RHP Jeff Samardzija is slated to start Saturday's game against St. Louis after being reinstated from the 10-day DL. Samardzija went on the DL after leaving a May 30 start against Colorado following one inning due to tightness in his pitching shoulder.
Rockies: RHP Chad Bettis has gone on the 10-day disabled list with a blister on his right middle finger. Bettis left his last start on Sunday against the Los Angeles Dodgers after three innings because of the finger injury. Senzatela was recalled from Albuquerque to fill Bettis' roster spot and started Tuesday against the Giants in the place of RHP Jon Gray, who was optioned Saturday to Albuquerque.
UP NEXT
Giants: LHP Andrew Suarez (3-4, 4.18 ERA) is coming off a strong outing in which he allowed one run on seven hits over six innings in a 2-1 win against Arizona.
Rockies: LHP Tyler Anderson (5-3, 4.23 ERA) has gone 1-3 with a 5.26 ERA in eight previous starts at Coors Field this season.