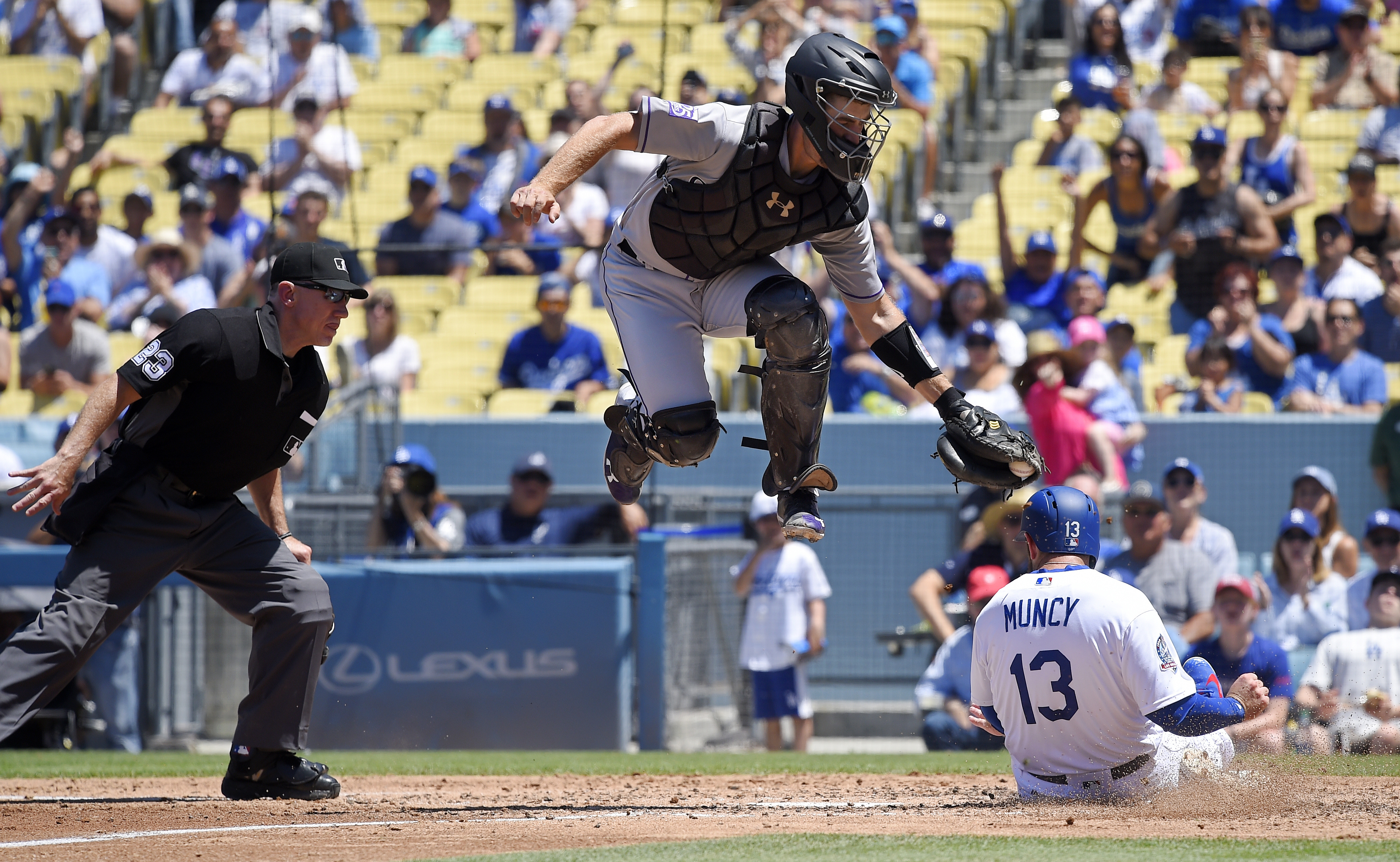 LOS ANGELES | Matt Kemp wasn't supposed to last long in his return to Los Angeles. He was tabbed as trade bait after arriving from Atlanta in exchange for a salary dump by the Dodgers.
The 33-year-old slugger has made himself at home again in a hurry.
Kemp got three hits and drove in four runs, including a go-ahead homer leading off the eighth inning that rallied the Dodgers past the Colorado Rockies 6-4 on Sunday to prevent a sweep and end a three-game skid.
Kemp is on track to earn his third All-Star nod and first since 2012. He's the second-leading vote-getter, ahead of Washington's Bryce Harper, among NL outfielders.
"That's what the All-Star Game is, having a good first half," Kemp said. "My real focus is trying to get to the playoffs and win a championship, something I've never done."
Kemp was 1 for 6 in the first two games of the series, which the Dodgers lost by identical scores of 3-1. He has been solid in his last 14 games against Colorado, batting .438 with 11 RBIs.
"He showed in spring training he was in shape and was hitting from the start," Dodgers starter Ross Stripling said.
Kemp sent his 14th homer of the season over the center-field wall off Adam Ottavino (4-2) to put Los Angeles ahead 5-4. It was the Dodgers' first homer of July after they hit a major league-leading and franchise-record 55 in June.
One out later, Yasiel Puig doubled. Joc Pederson followed and reached on an infield single to second that DJ LeMahieu dived to stop. Puig made a heads-up baserunning play when he scored an insurance run after taking an extra base on Pederson's hit.
Puig took advantage of LeMahieu's soft throw from his knees to first baseman Ian Desmond.
"DJ slipped," Rockies manager Bud Black said. "If DJ wanted to do it over again he would probably give a firmer throw to Desmond to get it back in."
Puig hopped back and forth before taking off for the plate, sliding belly first. He got up and swung his arms in wild celebration with the Dodgers ahead 6-4.
"I do my crazy move and score," Puig said. "I said in my mind, 'He's not going to throw me out, I'm going home.' Not too many players who score from third base in that situation."
Kemp agreed, saying, "Everyone is living right."
Kemp drove in the Dodgers' first three runs with an RBI groundout in the first, a double in the third and a single in the fifth.
Daniel Hudson (3-2) went one inning. Kenley Jansen pitched a perfect ninth for his 22nd save.
Nolan Arenado hit his team-leading 21st homer and had an RBI grounder, helping the Rockies take a 4-2 lead in the fifth.
Rockies starter Chad Bettis was pulled after three innings because of fluid underneath a callus on his right middle finger. The right-hander allowed two runs and three hits, struck out two and walked two in his shortest outing of the season.
"It is really painful," Bettis said. "It is kind of something that is a little bit of a mental block trying to battle through that pain. I felt like it got to the point where I really needed to say something."
Stripling gave up four runs and a season-high nine hits in six innings. The right-hander struck out seven and walked one.
TRAINER'S ROOM
Rockies: RHP Bryan Shaw (right calf strain) will throw a bullpen session on Monday and simulated game on Wednesday. He is working on mechanics with his delivery and more consistent pitch locations.
UP NEXT
Rockies: LHP Kyle Freeland (7-6, 3.29 ERA) makes his second straight start against the Giants on Monday in the home opener of a three-game set. He is 3-1 with a 2.91 ERA at Coors Field in his career against them.
Dodgers: LHP Alex Wood (4-5, 4.00) starts on Monday in the opener of a three-game series against the Pirates. In eight games (seven starts) against them, Wood is 2-2 with a 2.86 ERA.