Andre Shinyashiki led the Colorado Rapids over Austin with a goal in the 29th minute in a 1-0 victory Saturday.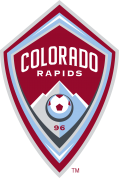 Shinyashiki gave the Rapids (8-4-3) the victory with his third goal of the season.
The Rapids outshot Austin (3-8-4) 1-0, with one shot on goal to zero for Austin.
The Rapids' next match is Saturday at home against Sporting Kansas City. Austin hosts the Houston Dynamo on Wednesday.
The Associated Press created this story using technology provided by Data Skrive and data from Sportradar.