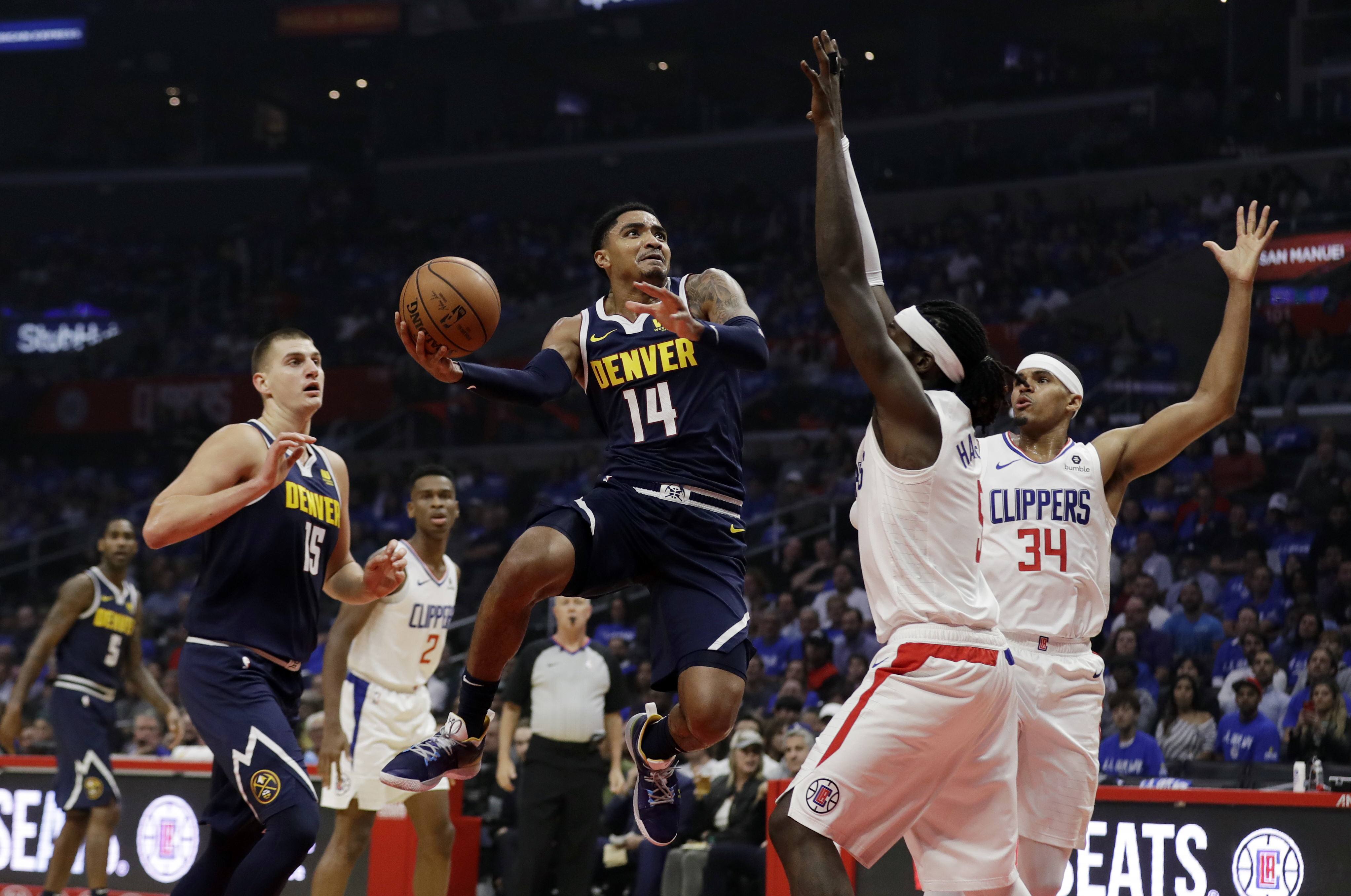 LOS ANGELES | A huge reason why the Denver Nuggets missed the playoffs by one game last season was their road record.
The Nuggets opened the new season on Wednesday by taking care of business away from home as they rallied in the fourth quarter and defeated the Los Angeles Clippers 107-98.
"That's what mature basketball teams do. When everything's not going well they find ways to win," said Paul Millsap, who had 11 points and 16 rebounds. "We stayed with it, didn't panic and were able to execute down the stretch."
Denver was 46-36 last season but won only 15 games on the road, which is why its postseason drought was extended to five years.
It looked like the Nuggets' road woes would catch up with them again. Despite leading most of the game, they trailed 92-84 with 5:14 remaining after the Clippers went on an 11-3 run that was highlighted by a pair of Boban Marjanovic three-point plays.
Denver then closed the game by outscoring Los Angeles 23-6. Gary Harris scored six of his 20 points down the stretch while Millsap, who missed his first six shots from the field, hit a jumper with 2:55 remaining to give the Nuggets a 95-94 lead and then was 6 of 8 on foul shots.
After a Tobias Harris free throw tied the game at 95, Nikola Jokic gave Denver the lead for good with 1:24 remaining with a putback layup off Jamal Murray's missed jumper.
"We closed out the game well, made some shots and defended well," said Jokic, who led the Nuggets with 21 points along with eight rebounds.
The Nuggets were 33 of 87 from the field but outrebounded the Clippers by nine (56-47).
Los Angeles wasn't much better from the field, going 35 of 87, but it was 8 of 28 on 3-pointers.
"What stood out to me was what I said before the year, which was, 'Can we close games?' and tonight we didn't do that," Clippers coach Doc Rivers said. "We had a lead, we had to go offense for defense a little bit. Down the stretch, we really just didn't get good shots."
Tobias Harris had 19 points and 10 rebounds, while Marjanovic added 18 points for the Clippers.
Will Barton added 19 points for Denver, with all but six coming in the first half.
Denver led 59-54 at the half after scoring the final six points of the second quarter. The Nuggets then extended the lead to 63-54 early in the third quarter before the Clippers slowly whittled it down to two (74-72) at the end of the quarter.
TIP-INS
Nuggets: Denver was without Isaiah Thomas (right hip surgery), Jarred Vanderbilt (right foot surgery) and Michael Porter Jr. (lower back surgery). … Trey Lyles added 10 points.
Clippers: Danilo Gallinari had 16 points while Lou Williams added 14. … Shai Gilgeous-Alexander, who was the 11th overall pick in this year's draft, scored 11 points in his NBA debut.
HAPPY EXTENSION
The win capped off a good day for Denver coach Michael Malone, who received a contract extension after Wednesday's shootaround. The team did not announce the terms of the deal.
THUNDEROUS DUNK
Marjanovic's dunk and hanging on the rim with 6:55 remaining in the fourth quarter caused a slight delay as the basket needed to be realigned.
UP NEXT:
Nuggets: Have their home opener against Phoenix on Saturday.
Clippers: Continue their three-game homestand on Friday against Oklahoma City.