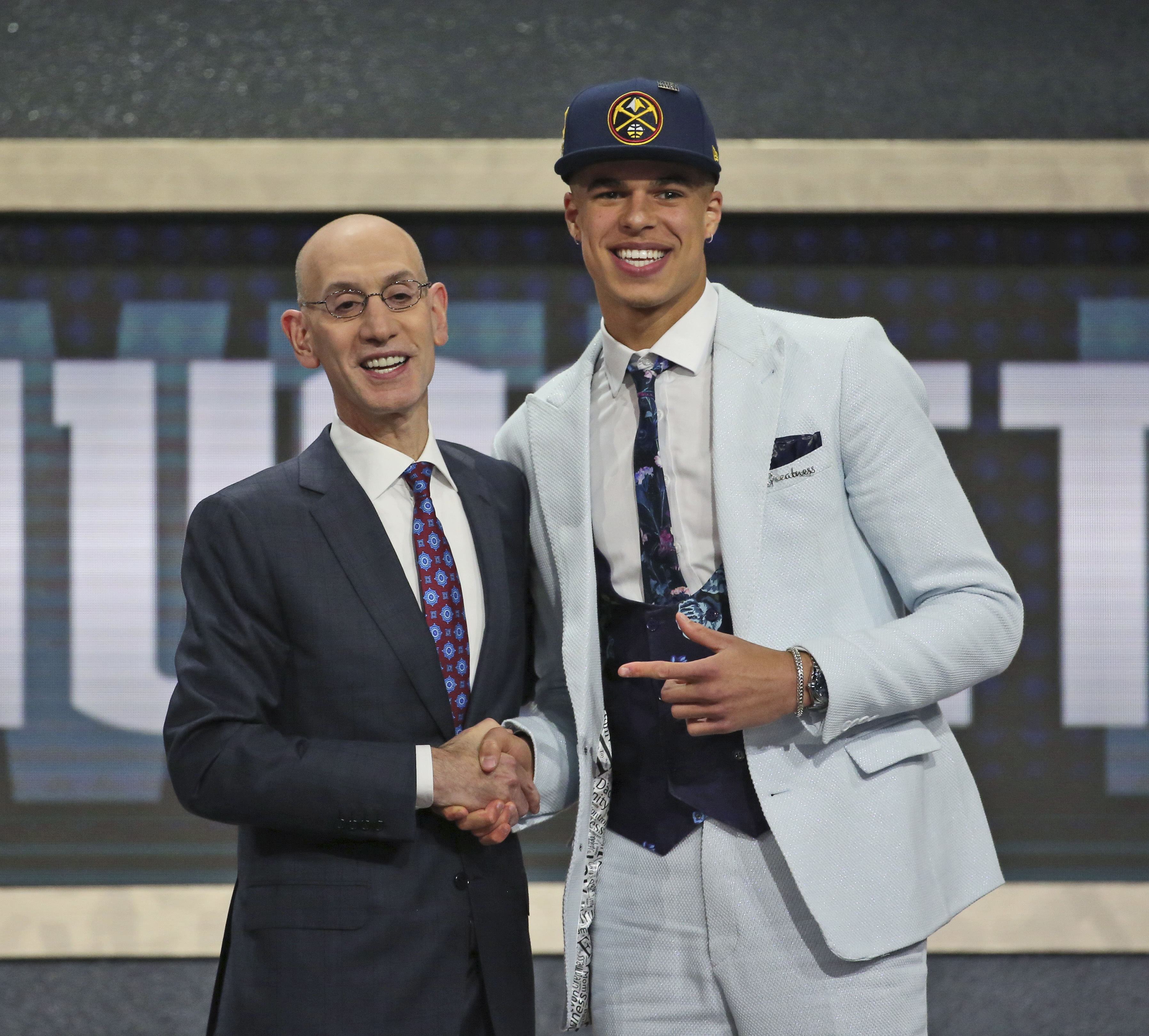 NEW YORK | The first time Michael Porter Jr. actually talked to anyone from the Denver Nuggets was Thursday at the NBA draft. He didn't think there was any need, and neither did the Nuggets.
The fact that he was available at No. 14 surprised both parties, regardless of Porter's well-documented back and recent hip issues.
The oft-injured forward thinks he shook hands with someone from the Nuggets after his pro day workout. He said the first time he spoke to someone from the organization was when he was drafted, either the general manager or the owner — he's not sure who it was.
Still, he made enough of an impression for the Nuggets brain trust to make him the last lottery pick selected on Thursday night.
"I'm not going to lie to you, I was stressed out," Porter said. "All that stress was overcome by joy the moment I got called, no matter what number it was. It's been my dream since I was a kid.
"At the end of the day, the draft is a number and I wasn't going to let an ego get in the way of my joy. I'm happy to be where I'm at and I feel like it's the perfection situation for me."
Albeit an unexpected situation.
Everything Porter knew about the Nuggets was hearsay — "a great city, a great organization." He didn't invest much of his time prior to the draft getting to know the team.
"Honestly, the teams at the very, very top of the draft told me last week I was their guy, they were going to take me," Porter said. "Then the hip episode happened, and then doctors got involved and they got scared. So once one team gets scared, a lot of them get scared."
That's how he dropped.
Porter also had the back history as a red flag. He played only three games at Missouri, 53 minutes total. He sustained a back injury and had to undergo surgery. Then, the hip happened during the draft process and he cancelled a recent workout.
Knowing some teams considered him a gamble, maybe even a risk, Porter just wanted to go somewhere that believed in him, which is apparently Denver.
"I consider it a blessing," Porter said, "because maybe the team I was going to go to at the top wasn't the right team for me."
Right or wrong, it will cost him. Porter is guaranteed $2.4 million. First-pick Deandre Ayton will get at least $6.7 million.
Many fans at Barclays Center wanted Porter to go earlier, specifically ninth. As soon as the New York Knicks were on the clock, chants of Porter's name broke out. Porter looked over to a crowd of fans on his left and smiled.
Both parties were disappointed when Commissioner Adam Silver announced Kevin Knox's name instead.
"That's just motivation," Knox said. "A lot of people want him to get to the Knicks, but I mean, it's all good with me. . They can chant Michael Porter all they want. But they got Kevin Knox, and I'm willing to work and I'm willing to get better."
And Porter is going to do the same — for the Nuggets.
Porter can't wait to prove every team that passed on him wrong. He's not concerned about his health. And he plans to show that no one else should be worried either.
Well, except his competitors.
"For me, we're all in the NBA now," Porter said. "We'll see who are the best players, and we'll see who should have been the top draft picks."